For somebody who starred at the National Youth Theatre, progressed through the ranks of the renowned Bristol Old Vic and adored the theatrical giants of Shakespeare and Noel Coward, the slapstick world of custard pies and bingo fiddles would seem to be far from the ideal starring role. It was in Hi-de-hi!however that Simon Cadell charmed his way into the nation's hearts as Jeffrey Fairbrother, and despite glowing successes in the remainder of his theatrical career, his untimely death at just 45 years old means that his role as the affable but misplaced entertainments manager will be forever etched in the British audience's minds.
Born in London in 1950, Simon Cadell's arrival into the world was a troubled one. A complicated birth that included the warning that only mother or baby would likely survive meant that after a forceps delivery, Simon was left with the uniquely shaped face that made him so instantly recognisable later in his career. The dark warning from the hospital staff was thwarted, and his mother Gillian would thrive as head of the Guildhall School of Music and Drama, but Simon would despise the face that he felt would prevent him from ever being a leading man.
Simon's youth was a troublesome one. He was an intelligent child and interested intently in history and acting, but he despised the education system. With undiagnosed dyslexia, he failed academically and regularly escaped from boarding school, only to be met at Paddington train station to be returned to his perceived captivity. It was in his teenage days at Bedales however that Simon began to thrive from an acting perspective, having met Gyles Brandreth and formed a bond that would last until Simon's passing.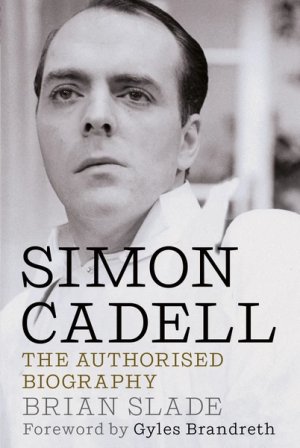 While other boys would compare Beatles albums or swap sporting stories, Simon and Gyles would exchange recordings of Noel Coward and Flanagan & Allen as they dreamed of theatrical stardom. Gyles would create a number of plays at the school, and when health permitted – he was quite a sickly child – Simon would perform a lead role. It was in Gyles's creation of A Study in Sherlock that Brandreth realised that there was a future star in his new friend.
Exams were of no relevance or interest to Cadell and so while Brandreth headed to Oxford, Simon went into the National Youth Theatre, achieving success in the highly acclaimed football hooligan story Zigger Zagger. From here Simon headed to the Bristol Old Vic, where he would be part of a hugely talented intake that included Jeremy Irons, Tim Pigott-Smith, John Caird and Christopher Biggins. His desire to achieve greatness was tempered by his love of entertaining, learning swiftly from his mentors that no laughs should be achieved cheaply – play it straight was the advice that he learned at Bristol and retained so admirably in his future comedy roles.
After several years of touring in repertory theatre, Simon landed a huge breakthrough role alongside theatrical royalty as he appeared in 1974 in Lloyd George Knew My Father. The leading performers were Ralph Richardson and Peggy Ashcroft, acting heavyweights who Simon adored. It was only a matter of time before Simon would become star vehicle material himself.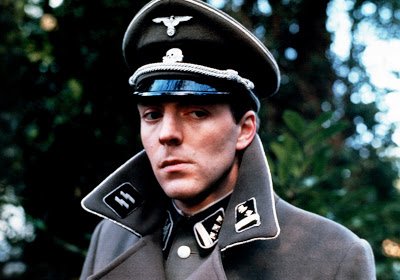 Fortune smiled on Cadell when London Weekend Television began casting for Enemy at the Door, a drama series about the occupation by the Nazis of the Channel Islands in the Second World War. Simon was sharing a home with Richard Heffer at the time and neither was making money in their career. As they pondered the financial viability of continuing their careers, Heffer was given the role of Peter Porteous. When rehearsals began the actor chosen to play the repulsive Hauptsturmfuhrer Reinicke failed to show. Heffer quickly ran to the nearest phone and implored Cadell to get in touch and with that, Simon was given his first recurring role.
The next big break for Simon would be the career-defining moment in every aspect. Enemy at the Door was a significant success, but costs dictated that it was not renewed for a third series. Had it been renewed Simon would have had to turn down the role of Jeffrey Fairbrother in an upcoming situation comedy set in a fictional holiday camp in the 1950s.
Writers David Croft and Jimmy Perry had struck comedy gold with Dad's Army and their second hit show, It Ain't Half Hot Mum, was soon to come to an end. The writing duo were drawing on their own experiences working for holiday camps and were looking for somebody to play the new fish-out-of-water entertainments manager in the series. Croft and Perry were instantly delighted when Cadell auditioned, and Simon did not disappoint.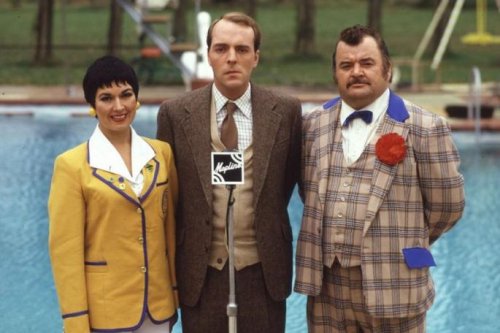 Jeffrey Fairbrother was written as a Cambridge professor who felt stifled by his career and wanted a completely new direction in his life. Entertainments manager at Maplins Holiday Camp could not have been any further from his expected career and so Fairbrother falters on many occasion in his new role. Resident camp comic Ted Bovis, played by Paul Shane, is his frequent adversary as he tries every fiddle known to man, while the on-screen rapport Cadell had with Ruth Madoc, who played the passionate Welsh head yellowcoat Gladys Pugh, endeared Simon to his audience from the off.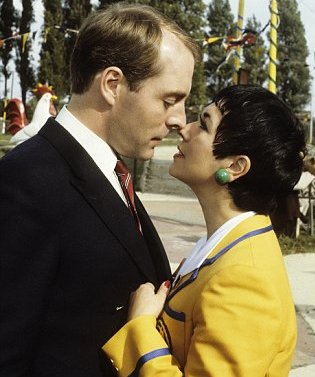 Where Dad's Armyhad been a slow burner, Hi-de-hi!was an instant smash. Simon had gone from being accosted in streets and theatres for being the revolting Nazi to now being hailed by cries of Hi-de-hi! wherever he went. Hi-de-hi!was also where he met his future wife, marrying Croft's daughter Beckie in 1985.
The recognition in the streets for Simon was never a burden, and he never begrudged the success or treated his adoring public with anything less than respect and courtesy. However, he was well aware of the perils of type-casting and so he chose to leave Hi-de-hi!Not wanting any big goodbye episode, Jeffrey was written out between series five and six, leaving a heartbroken Gladys.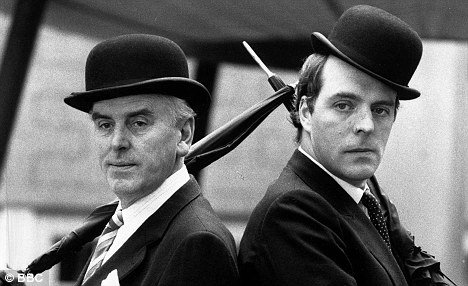 Simon actually left during a successful run of Hi-de-hi! on stage. He swiftly moved from Maplins back into serious theatrical work, starting in Hamlet, after which he had planned to take a short break. However, when the script for Blott on the Landscape arrived through the post, he abandoned holiday plans in order to play Dundridge, the bumbling civil servant in Malcolm Bradbury's excellent adaptation of the Tom Sharpe book.
Despite the success of Blott on the Landscape there was no opportunity for a second series, but when Simon stumbled across his sister-in-law Penny's script for Life Without George he was instantly enamoured with the character of Larry Wade, an estate agent out of touch with dating in the yuppie world. For three series Larry had an on-again off-again relationship with Jenny Russell (Carol Royle) and the guidance from his estate agent partner and apparent playboy Ben Morris, played superbly by Simon's late brother-in-law Michael Thomas, gave some wonderful comedy in amongst some more pensive scenes.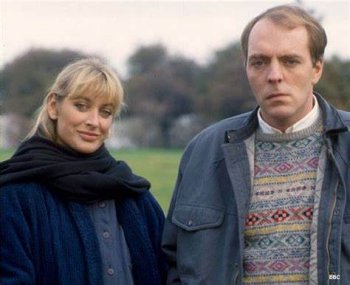 Life Without George finished in 1989, although Penny Croft had planned to revisit the characters years later – but fate would never allow planned follow-up Happy as Larry to come to fruition. Simon's one remaining comedy entry was in Singles, a Yorkshire Television programme that had already had two successful series. Simon joined in series three when male lead Roger Rees headed stateside to join the cast of Cheers. Simon revelled in his role as an egotistical actor whose belief in his own powers is somewhat greater than that of the viewing public. Although only one series for Simon, it was a shackles-off performance that gave him license to poke fun at many of his peers.
Simon continued stage work, but he was beginning to experience health issues. A heavy smoker from his younger days, and a great lover of wine – he wrote a book entitled 'The Right Vintage: A Wine Lover's Companion' – Simon gave his all in his performances and was always in employment, even if just in voiceovers, of which he did many. His ill-health came to a head during a reading of great friend Joanna Lumley's compilation book 'Forces Sweetheart.' Feeling unwell, he made an early exit after the performance and when home an ambulance was immediately called for. After suffering a massive heart attack it was deemed necessary to perform a triple heart bypass, not a particularly common procedure occurrence at that time.
Surgery was a success, although Simon knew that his gruelling stage workload needed to be trimmed. Despite this, he initially continued with his award-winning performance in Travels With My Aunt, the most acclaimed stage performance of his career. But as he changed his lifestyle and continued his recovery he found himself unable to shift a persistent cold and he returned to his doctors for guidance. The cruel bombshell was dropped that after everything he had been through, he likely had just weeks to live having been diagnosed with non-Hodgkin's lymphoma.
Simon and his family chose to go public as rumours were that the press had found out about the diagnosis and were preparing to break the story themselves. As it turned out, Simon's short-term future extended for two and a half more years, which allowed him time with his family as well as a couple of appearances. He played a child murderer in the dark thriller Cold Light of Day, and would be seen in Circle of Deceitopposite Dennis Waterman, a final performance screened after his death.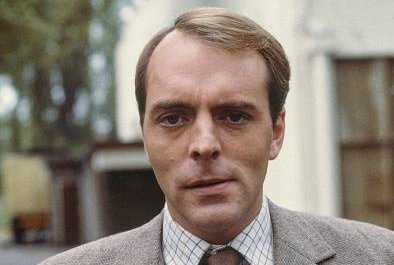 The outpouring of sympathy upon Simon's death was testament to the charm of the man. Despite loving the theatrical lifestyle and delighting in sharing anecdotes over a good dinner and a fine wine, he never dismissed his public, nor the roles that endeared him to them. If he was in discussion with somebody at a party, they knew that he would never be looking over the shoulder to see who else might be entering the room. Had fortune been kinder, Simon Cadell would have undoubtedly become one of England's finest actors. But more than that, he was charm personified to the end. Not bitter of his early exit, he simply reflected, 'I've had a wonderful life. It's been great fun.'
About writer Brian Slade
Born and raised in Dorset, Brian turned his back on a twenty-five-year career in IT in order to satisfy his writing passions. After success with magazine articles and smaller biographical pieces, he published his first full-length work, `Simon Cadell: The Authorised Biography'.
Brian is a devoted fan of the comedy stars of yesteryear, citing Eric Morecambe, Ken Dodd, Harpo Marx and Dudley Moore amongst his personal favourites. He was drawn to the story of Simon Cadell through not only `Hi-de-hi!' but also `Life Without George', a programme he identified with having grown up in the Thatcher era. 
Published on March 26th, 2020. Written by Laurence Marcus for Television Heaven.