Designing Women
1986 | United States
There are words to describe this opinionated workplace comedy of the 1980's and early 1990's: Sweet, sassy, sexy, and unabashedly feminist.
Despite a rocky start and near cancellation; not to mention a much-publicized feud surrounding one of its stars, Designing Women became a hit in part because of the talent of its original ensemble cast. Although Designing Women had some elements in common with NBC's smash hit The Golden Girls (which premiered the year before), the two shows were quite different. For one thing, the "Women", who ran an interior design firm in Atlanta, Georgia, were younger and more outspoken about the outside world. Also, most of "Women's" action was set in the workplace, while the lives of the "Girls" revolved around their suburban Miami, Florida home.
"Sugarbaker and Associates" was a successful interior design firm in the Atlanta area. Julia Sugarbaker was a widow, the business' founder and probably the sharpest of the four ladies. She was also the most opinionated of the group. Not so her younger sister Suzanne, a former beauty queen whose life centred on her ex-husbands, dating rich men and spending money. Also working for the firm was Mary Jo Shively, a divorced mom whose ex-husband often didn't pay his child support, leaving her to use her considerable decorating talents to support herself and her two children. Last but not least was the receptionist and office manager Charlene Frazier, a single gal who loved the tabloids and always seemed to date the wrong men. The fifth and unofficial "Woman" of the show was actually a man. African-American deliveryman Anthony Bouvier was originally meant to be an occasional character, as an ex-con wrongly imprisoned for a crime he didn't do. Actor Meshach Taylor's performances impressed the cast and crew so much that Anthony became a regular character during the show's first season.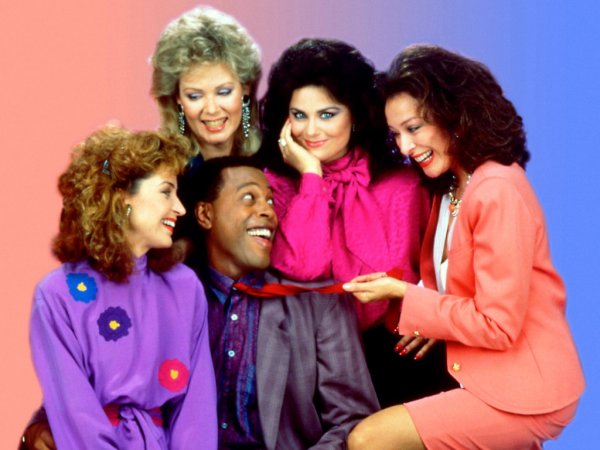 By its second season, Designing Women began dealing with topics not usually handled on situation comedies of the period; prostitution, AIDS, pornography, domestic violence - and managed to do it with both intelligence and laughter. By 1990, Designing Women and the show it followed on Monday nights, Murphy Brown, became a potent top-ten anchor for CBS. But there were major problems brewing behind the scenes. By this time, Delta Burke was suffering from panic attacks, which made her afraid to attend the episode filmings; she eventually found help through therapy and medication. But she also gained a noticeable amount of weight, and the producers wanted her to diet. The behind-the-scenes fights between Burke, series creator Linda Bloodworth and producer Harry Thomason became tabloid fodder. By the end of the 1990-91 season, Delta Burke was let go from the ensemble cast. And hers was not the only departure.
Jean Smart decided to leave the show to spend more time with her family. So the sixth season of Designing Women saw major changes and the show began losing viewers. Bloodworth-Thomason, who wrote most of the scripts in the show's first several seasons, had stepped back from the production. She and husband Thomason were creating other series for CBS, including Evening Shade and Hearts Afire; a new producer and staff of writers were now responsible for Designing Women. Plus, the couple also kept busy in the political field as media consultants for their friend, Arkansas Governor Bill Clinton-who became president of the United States in 1992. In an effort to boost ratings, CBS moved Designing Women to Friday nights; it didn't work. An hour-long season finale with the principal characters each imagining herself as "Gone With The Wind's" Scarlett O'Hara" became the series' swan song in May 1993.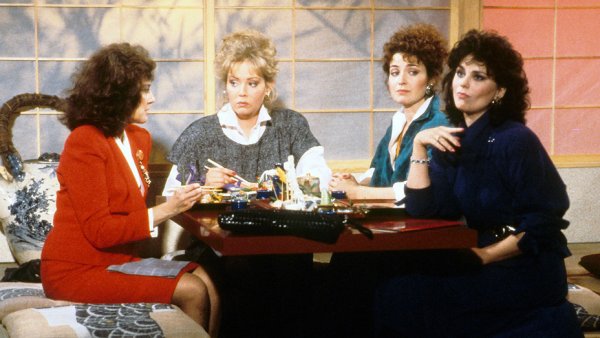 By early 1995, the Thomason's had made up with Delta Burke-and the trio decided to co-produce what became a spin-off of Designing Women. Burke brought her Suzanne Sugarbaker character to the new political comedy, Women of the House. But Women of the House was nowhere near as popular as Designing Women; it was cancelled after a flap over an episode that dealt with the brutal treatment of some women in the film industry. CBS had cut a graphic one-minute piece depicting the violence; Bloodworth-Thomason denounced the network's decision, sealing the show's fate. The entire Women of the House episode (along with several unaired shows) later aired on the women's cable network Lifetime. It also became home to reruns of Designing Women, which grew into one of Lifetime's most popular offerings. So popular that on July 28th, 2003, the original cast of "Women" and Bloodworth-Thomason reassembled for a 90-minute reunion special on Lifetime, featuring clips from much-loved episodes and frank talk.
Some critics denounced Designing Women as a show with a political agenda. But politics aside, Designing Women was a very funny series (in its first five seasons) with one of the best ensemble casts ever in a US comedy. As one guest character correctly pointed out, "We ain't what we should be, we ain't what we're gonna be, but at least we ain't what we were."
Published on January 12th, 2021. Written by Michael Spadoni for Television Heaven.