Don't Utter A Note
1966 | United Kingdom
Call it a fringe benefit - the hoard of banknotes bequeathed to two delightfully dotty old girls, Florence (Dame Sybil Thorndike) and Nellie (Athene Seyler), in Don't Utter a Note a comedy presented as part of ITV's Armchair Theatre strand on Saturday 9th April, 1966. Brother Charles's will did not mention the notes; nor the printing press hidden behind the sitting-room wall. But by the time the sisters realise that the hidden nest egg is counterfeit, the notes have been sent to charities-fortunately anonymously. Faced with the printing press, however, the two dear, daffy spinsters' resourcefulness is equal to the situation. With happy, if confused reasoning, Florence and Nellie convince themselves that "out of evil cometh good". By creating a little extra wealth they can vastly improve many other people's lives. So they decide to enlist the help of their lodger, the breezy Basher Bates (Sid James). Basher has been reclaimed by the sisters, from a life of crime and is an undertaker's mate.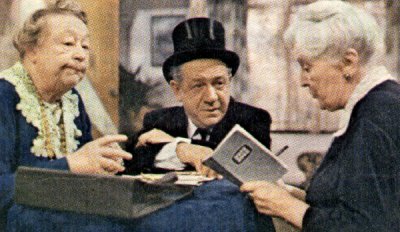 Dame Sybil Thorndike, a brisk 83 at the time of this production, and Athene Seymour, 76, made a splendid pair of shady operators. Crime seemed to pay for them, as they were both appearing as the sisters kindly poisoning lonely widowers in the London production of 'Arsenic and Old Lace' at the same time. This production, written especially for television by Anton Delmar, was part of a season of comedies for Armchair Theatre and was directed by Leonard White and produced by Patrick Dromgoole. Also starring was Peter Bowles, Kathleen Breck, Peter Copley, Tim Preece and Jack Watson. This was an ABC Weekend Network Production. 
Published on July 31st, 2019. Based on original TV Times article 1966.