Drop the Dead Donkey
1990 | United Kingdom
Review: Brian Slade
When Channel Four aired Drop the Dead Donkey in 1990, they offered a glorious combination of topical satire and hysterical sitcom – a glorious mish-mash of the biting up-to-the-minute satire of Spitting Imageand the workplace politics later so successfully mocked in The Office.
The opening episode is set in August 1990, with the opening newsroom exchanges comparing Saddam Hussain's invasion of Kuwait with ITN newsreader Alistair Burnett walking around gardens with the Queen Mother. The staff are reacting to station editor George Dent (Jeff Rawle) as he searches for a good headline story and implores his colleagues to decide who should focus on the European changes coming in 1992. Then suddenly a story of a takeover appears – except this isn't the normally dismissed slow news item – this is the takeover of their newsroom by Sir Royston Merchant, a ruthless megalomaniac who according to chief news anchor Henry Davenport (David Swift) once auctioned his own chauffeur for charity. It's clear which moguls Merchant is based on, even down to the initials shared by the famous Sun and Mirror opposing bosses.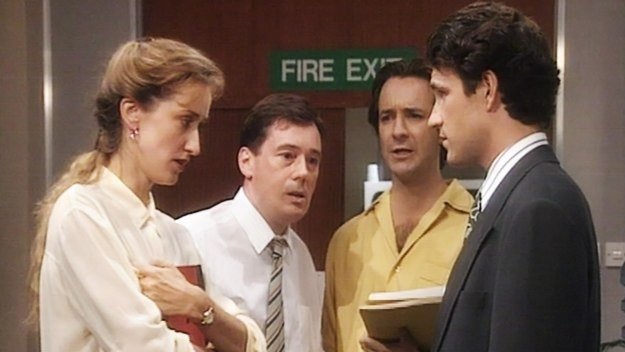 The team are instantly concerned as to what will happen to their standards. Merchant is known for his down market style and as deputy sub-editor Dave Charnley (Neil Pearson) bemoans – 'this will mean "Good evening, here is the news – read by Samantha Fox in a wet t-shirt."' Despite collectively signing a strongly worded objection to the potential ownership change, the team are soon forced to accept the shift in hierarchy and news standards.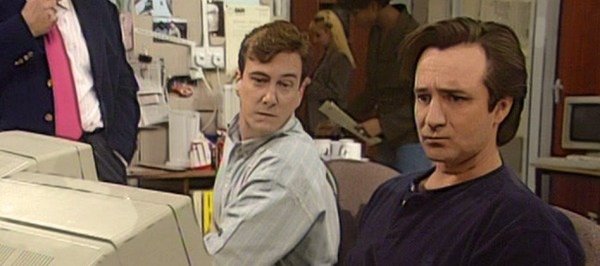 To ensure that the new approach is applied, and also to ensure that Merchant's name is never sullied within the reports, a new man is sent to run the office. Gus Hedges (Robert Duncan) represents the ultimate in superficial yuppies that were so rampant in offices around that time, regardless of industry. With no knowledge, little decision making power or talent and with little or no spine to speak of, his role was simply to do the owner's bidding, delivering orders in amongst a myriad of meaningless vacuous buzzwords. Using glib phrases, wearing slick oversized suits and offering air quotes in his rallying speeches when he 'interfaces' with his staff, he has zero substance behind his office persona.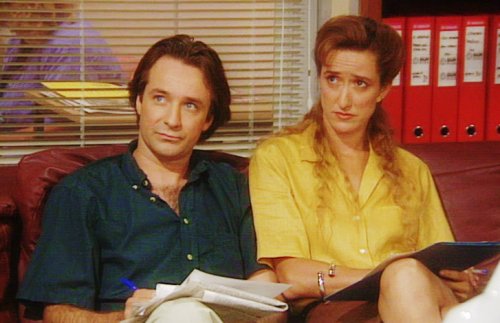 The standards aren't all that high prior to Merchant's takeover. Office minnow Damien Day (Stephen Tompkinson) plants the same teddy bear in scenes of horror to force home a human backstory. When George fires him, he is swiftly overruled by Merchant as Damien's reporting style is considered to be a favourite with both its audience and the owner himself.
Merchant also decides that the aging face of Henry on the news desk needs freshening up. The only established female member of the team at the time of takeover is assistant editor Alex Pates (Haydn Gwynne), although the character leaves after two series. Merchant decides to appoint Sally Smedley alongside Sir Henry. Smedley (Victoria Weeks) has a cv whose proudest achievement is as a children's presenter at Radio Leicester and a researcher for John Craven's Newsround. Existing co-anchor Susan, who we only see briefly in the first episode, is booted from her role and Sally is as vacuous and self-obsessed as the team expect her to be.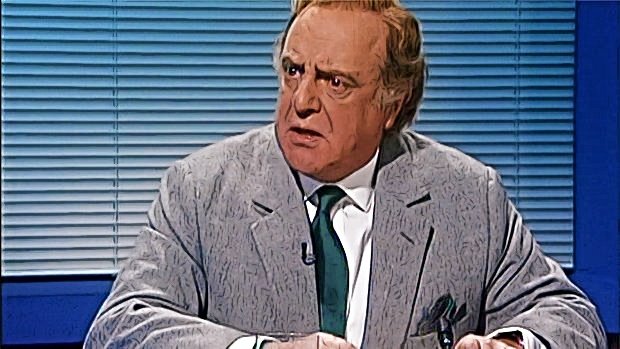 The real joy of Drop the Dead Donkey is its combination of satire on current affairs merging perfectly with a standard sitcom that takes multiple pot shots at the slick office life of the 1990s. Filming of the episodes were held back as late as possible to ensure that their topical elements were as up to the minute as possible, with repeat showings adding voiceovers and newspaper headlines to remind viewers of the headlines of the time.
The comedy of office life covers plenty of topics that remain topical now. When Henry is greeted with the opportunity to work alongside a more physically appealing co-host in the form of Sally, he immediately sets about making a move on her in ways that wouldn't come to close to acceptability today. For all her repulsiveness, Sally does have some credibility as she dismisses his advances, suggesting that she would 'rather go to bed with a one-eyed, syphilitic warthog.'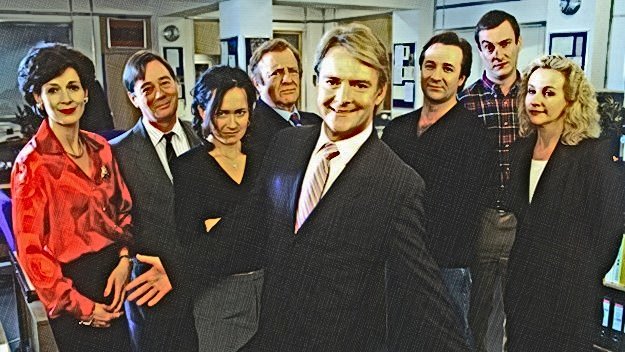 Drop The Dead Donkeyspanned six series across nine years. It was an instant success and a real feather in the cap for Channel Four, still a comparatively new player in the television market in the 1990s. Comedy awards came in on a regular basis and it is great credit to writers Andy Hamilton and Guy Jenkin that they were able to develop the characters enough to sustain such a significant run. Office slick boy Gus becomes an ever more pitiable figures, pinning his entire life to Globelink despite his superiors and juniors holding him in utter contempt. George becomes increasingly neurotic as he realises that while Gus insists George is in charge, any attempt made to go against the owners are doomed to failure.
The show eventually came to an end in 1998. Within the storyline, Globelink is to be closed down and so we see the various team members attempting to move careers with differing levels of success during the final series. Gus, seemingly realising that he has his entire existence wrapped up in the news room, makes desperate attempts to save the company with more dubious televised output and sensational stories, but Globelink is doomed. As the remaining characters scatter, it is with Gus that we say goodbye to Drop the Dead Donkey as he sits in a charred office (rendered so after an arson attack) being emptied of its contents. His last gasp pleas for mercy to Merchant, who has not been seen at any other point in the show's previous seasons, evidences how insignificant he really is as the mogul has no idea who Gus actually is.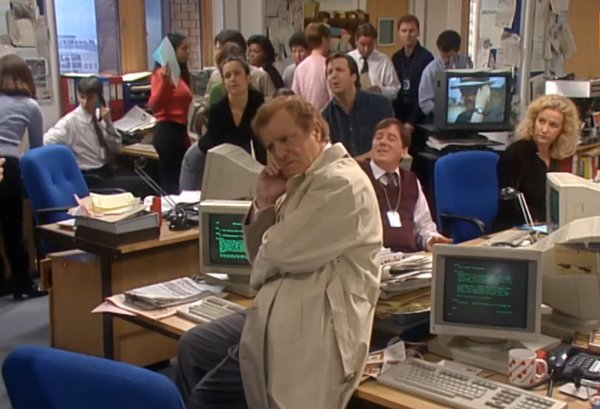 As a satirical take on news stories of the time, Drop the Dead Donkey was pretty much unique with its powers. Passing comment on stories right up to the few days before filming and broadcast, it had a witty and acerbic approach to current affairs. But the real joy of the programme is that it developed its characters and their back stories so well that in retrospect, the programme still works as a pastiche of office life in the 1990s even if its news story references would be lost to new audiences. The writers encapsulate office politics, relationships and behaviours perfectly which is why Drop the Dead Donkey was a jewel in Channel Four's crown for nearly a decade and remains a good watch more than 20 years after its end.
About the writer of this article:
Born and raised in Dorset, Brian Slade turned his back on a twenty-five-year career in IT in order to satisfy his writing passions. After success with magazine articles and smaller biographical pieces, he published his first full-length work, `Simon Cadell: The Authorised Biography'.
Brian is a devoted fan of the comedy stars of yesteryear, citing Eric Morecambe, Ken Dodd, Harpo Marx and Dudley Moore amongst his personal favourites. He was drawn to the story of Simon Cadell through not only `Hi-de-hi!' but also `Life Without George', a programme he identified with having grown up in the Thatcher era. 

Published on September 24th, 2020. Written by Brian Slade for Television Heaven.