First Night
1963 | United Kingdom
First Night presented a series of new plays written for television with an emphasis on action and conflict. The series debuted on BBC with Alan Owen's The Strain on 22 September 1963 and ran through until 1964. Below are some of the plays seen during 1964. Information taken from the Radio Times editions published on the week of broadcast. 
DAY OF THE DRONGO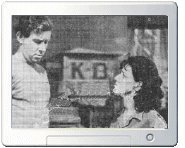 Comedy of the Australian outback which launched First Night's seventy-five minute-long New Year play series. Starring John Meillon and Monica Maughan (pictured) along with Madge Ryan, leading a large Australian cast, it tells the story of Bluey, the show-struck barman of a lonely sheep station. According to the author, Bruce Stewart, a drongo is a dead-beat, a no-hoper. But Bluey is a drongo who has a day of riotous glory when the showmen come to town, and at last he sees a chance of fulfilling a life-long ambition. The Australian contingent stretched to director, Eric Taylor and designers Tony Abbott and Leo Austin who created in the studio a whole township of drinking, fighting, laughing Aussies.
Shown Saturday 4 January 1964
STRAY CATS AND EMPTY BOTTLES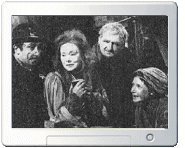 Among the tumbledown buildings on a bombed site in Wapping live a strange trio of human derelicts; Jack (Ronald Fraser), who prowls the streets at night in search of stray cats; Iris (Miriam Karlin), a collector of old bottles; and the dandified Newton (James Booth), a connoisseur of dustbins. When they meet the eccentric White Lady of Wapping (Helen Worth), three grasping minds have but a single thought. She may appear to be a pathetic piece of flotsam, but the word is she is wealthy; and as it is well known in dockland 'all them with it deny they've got it.' If the White Lady has it, then the three villains are determined to part it from her. This First Night production brings together an impressive group of talents. The author is Bernard Kops and the director, John Jacobs, who won a 1963 Merit Award of the Guild of Television Producers and Directors. Music was composed specially for the production by Larry Adler, who also plays it.
Shown Saturday 11 January 1964 
ALL THINGS BRIGHT AND BEAUTIFUL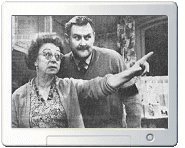 The Hesseltine family motto might well be 'finders keepers'-with no questions asked about where the keepings are found. Albert (Peter Vaughan - pictured), the father, works in a pub and pays himself a nightly bonus by short-changing the landlord. Brothers Charles and Harry are experts in the gentle art of fiddling-and young Rory, a chip off the old block, spends his small weekly allowance on riotous living. At the centre of it is Queenie (Thora Hird - pictured), in a perpetual state of strife with her raucous brood of light-fingered layabouts. When Harry brings home a stolen church lectern in the shape of an eagle it really is the last straw. But to the Hesseltines, shortly to be rehoused under a slum clearance scheme, the large carved bird, much too big to hide, becomes the focus of all their inarticulate hopes for a better life. All Things Bright and Beautiful is a comedy written by Keith Waterhouse and Willis Hall, who were already responsible for the stage and film success Billy Liar. An excellent supporting cast in this BBC production included John Hurt, Jack Smethurst and J. G. Devlin.
Shown Saturday 18 January 1964
MAGGIE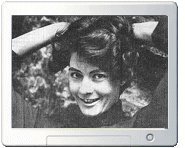 Maggie Proud has that chained-to-the-kitchen-sink feeling. Two demanding children, a selfish mother-in-law, an amiable but uncomprehending husband...what use is a lively mind to an East-End housewife who can only exercise it by a surreptitious glance at poetry in the scullery? When Christopher Shearway, welfare officer at the factory where Norman Proud works, begins to take her to theatres and art galleries as a 'social experiment,' it works only too well. Once Maggie breaks away from the sink the neighbours strike a rich vein of gossip, while Norman is catapulted out of his customary lethargy. All because two people decide to take a day off now and again from existing; a day for living... Maggiewas Leonard Webb's second play for BBC-tv. Born in the East End of London, Webb started writing and acting while at Oxford, later joined the Windmill Theatre and played West End revue and cabaret. There must have been something about the name Maggie he liked - for over ten years later he wrote a sitcom starring Julia McKenzie and Irene Handl called Maggie and Her. Maggie in this First Night production was played by Vanessa Redgrave, Christopher by Jonathan Cecil (in his first TV appearance). Cecil was born in London, England, the son of Lord David Cecil and the grandson of James Gascoyne-Cecil, 4th Marquess of Salisbury. He later called his appearance in Maggie: "a baptism by fire because I was being seen by half the nation". In film and television, Cecil almost always played upper class English characters, enjoying a long career. He passed away in 2011. Norman Proud was played by Joss Ackland.
Shown Saturday 25 January 1964
THE BEDMAKERS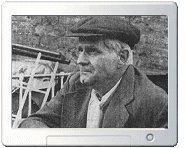 David Turner's fourth BBC play is set in a northern industrial town where Bill Summers has worked for sixty years in the Adams bed factory. Once a valued craftsman, now long overdue for retirement but kept on out of sentiment by Herbert Adams, Bill decides to give his grandson a wedding gift which will be both a magnificent surprise and a lasting memorial to his skill as an ironworker. The gift becomes the obsession of an old man unable to accept that times have changed, but is well aware that his own time is running out. The cast is headed by George Devine as Bill (pictured). The play was also the subject of a BBC documentary which followed every step of the production and shown the following night. The fortnightly arts magazine Monitor, introduced by Huw Wheldon, showed how a television play is conceived, written (from the earliest script conference), rehearsed, and fitted together. How the whole administrative and mechanical apparatus of television is used creatively.
Shown Saturday 1 February 1964 
LAND OF MY DREAMS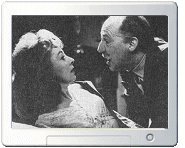 Blinkered by his nostalgia for the past, unable to come to terms with the present, Arthur Walmer (Michael Hordern) lives in a world which he increasingly despises. To him, is is dominated by 'beardies and weardies...blacks, Jews and niminy-piminy intellectuals,' and the country's salvation lies in a campaign by his movement, the League of Colonialists. In his pursuit of his illusions he has contrived to alienate his wife, Margaret (Clare Kelly) and the only support he can count on is from a fawning Irishman, Lynch (J. G. Devlin). When he is faced with a crisis in his own family, Walmer seeks the one refuge he knows: his land of dreams. Clive Exton, who wrote this play for BBC-tv was a British television and film screenwriter, sometime playwright, and former actor. He was later known for his scripts of Agatha Christie's Poirot, P. G. Wodehouse's Jeeves and Wooster, and Rosemary & Thyme. He also contributed, under the nom de plume M. K. Jeeves, two episodes to the first season of Terry Nation's Survivors for the BBC.
Shown Saturday 8 February 1964
THE SCAPEGOAT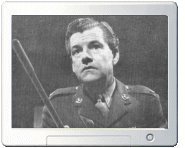 Who killed Tiberius? When Major Colum Fitzgerald (Kenneth More) convenes a Court of Enquiry, as regulations demand, it is without much hope of discovering why anyone should slit the throat of the regimental mascot-an inoffensive goat. But as witness after witness is called, what seemed at first a pointless crime begins to take on a more sinister aspect. The circle of involvement widens, and Fitzgerald becomes determined to unearth all the facts despite the protests of his fellow officers of the Court, like Captain Phipps: 'There is plenty of money in the regimental funds to buy another goat...is it not better that the culprit should remain undiscovered than that we should cause a hideous scandal in the process of discovery?' But for Fitzgerald the enquiry becomes an intellectual exercise in following and finding out the truth-which brings tragic consequences.
Shown Saturday 15 February 1964
THE HAPPY ONES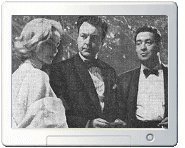 Roger Metcalfe has built up a successful freight company, but when one of his aircraft crashes he loses his pilot's licence. With a big new charter contract at stake, reinstatement is vital to him, and he sets about it with characteristic tenacity-and tactlessness. Among those who try and help him is Stephen Russell, a barrister with a brilliant future, who was concerned in the crash enquiry and now becomes involved also in the private life of Metcalfe and his attractive wife, Laura. But for a man of Russell's position a single indiscretion can be as dangerous to a career as the dramatic gesture with which Metcalfe tries to prove the injustice of his suspension as a pilot. An exceptionally strong cast is headed by John Gregson as Roger Metcalfe, Donald Sinden as Stephen Russell and Elizabeth Sellars as Laura.
Shown on Saturday 7 March 1964
MY ONE TRUE LOVE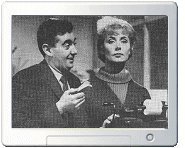 Described as 'a true Irish comedy' My One True Love was adapted by Seon O'Faolain from a short story called Childybawn and looked at what was perceived to be an Irish tradition of late marriages. The hero is Benjy Spillane, a Dublin bank clerk who at forty-one is still attached firmly to Mammy's apron-strings. Angela, a colleague at the bank with whom Benjy has already enjoyed a surreptitious romp with on the Costa Brava, is not happy with this situation. But Mrs Spillane will not be ousted without a struggle, and she lays elaborate plans to keep her Childybawn out of the scheming hands of this jezebel. Starring as Benjy and Angela were real-life married couple Milo O'Shea and Maureen Toal (both pictured). Eileen Crowe played the mother. Four years later, O'Shea returned to the same theme as Bunjy Kennefick in the sitcom Me Mammy, which in itself began life as a Comedy Playhouse presentation. It's roots can be firmly traced back to this First Night play.
Shown Saturday 14 March 1964
TED'S CATHEDRAL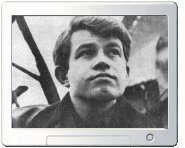 An urgent call from London, and Joe the builder and Anderson the architect find themselves on a building site in Commonwealth Avenue on a Sunday morning with a rush job on their hands. Mrs Venables, newly widowed, wants a memorial to her husband. And quickly. Foundation stone to be laid by twelve o'clock-with, if possible, brass and band speeches. But things begin to get out of hand when Ted, a cheerful young layabout, is hired to help. He has his own views on what should be built in Commonwealth Avenue, and once those views are reported to an enterprising newspaperman, they capture the imagination of the country-not to mention an ambitious architect and a shrewd young widow...Ted's Cathedral was a comedy written by Alan Plater who first made his mark as a scriptwriter for Z-Cars. His subsequent credits include Shoulder to Shoulder, Oh No, It's Selwyn Froggitt! and The Beiderbecke Trilogy. Most of his early television plays had a northern setting - he came from Hull, where he was an architect before becoming a writer. In this First Nightproduction Mrs Venables is played by Pauline Yates, Edna by Angela Douglas and Anderson by Dudley Foster. Ted is played by Alan Rothwell (pictured) who first came to fame in 1960, playing the character David Barlow in Coronation Street.
Shown Saturday 28 March 1964
CAPTAIN RUBIAN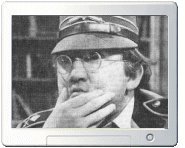 A happily unambitious soldier is Captain Rubian, for ten years commander of a remote mountain outpost. To his brother officers, the outpost in question, Labata, is a kind of army attic, 'somewhere one can put someone who is not entirely welcome elsewhere'; to Rubian it is a peaceful haven where he can pursue his hobby of birdwatching. But he has an ambitious sister, forever nagging him to seek promotion-and when, to keep the peace, he entrusts a letter of application to his new clerk, Private Rica, his whole life is turned upside down. For the private is as effective as the captain is incompetent, and he soon plunges his superior into a headlong course of events which tears him out of retirement and makes him-if only for a brief moment-a national hero. This comedy was by a writer new to television, Gerard Bell, a novelist and short-story writer from Newcastle. Donal Donnelly appeared as Rica, while Ronald Fraser (pictured) had the part of the bumbling Captain Rubian-much keener on quietly spotting Peruvian gulls than on plotting a campaign against an enemy whom, without glasses, he cannot even recognise.
Shown Saturday 2 May 1964
THE IMPROBABLE MR. CLAYBILL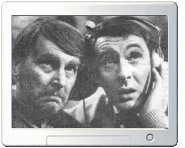 Poor Arnold Claybill, man of vision, the Michelangelo of Crandleton village-born too late, or perhaps too early! The hero of Robert Gould's play is by everybody's admission a genius. He is also a millionaire who has devoted his talents to horticulture. At the age of seven Arnold had a nasty experience in the summerhouse and, having dispatched a series of nannies and tutors, he finished his formal education prematurely when sent down from university for innocently sparking off an orgy. Through the local horticultural show-an annual competition of astonishing viciousness-Arnold dreams of startling the world. But he is surrounded by enemies-his housekeeper 'Aunty' Ester, Will Dent and his four sons; and even his solicitor, Henry, and the local vicar are hardly sympathetic. But Arnold has allies in Will Dent's daughter, Jenny, and in the old gardener Silas Nosworthy. Ronald Stephens (pictured) heads a distinguished cast as Arnold, the single-minded recluse. Susan Hampshire plays Jenny with Alison Leggatt as Ester. Playing the part of the old gardener is (not surprisingly) Clive Dunn (also in picture). Joss Ackland and Michael Robbins also appear. The Improbable Mr. Claybill was First Night's last night.
Shown Saturday 9 May 1964 
Published on April 7th, 2019. Based on original Radio Times article.