Health and Efficiency
1993 | United Kingdom
Health & Efficiency would be Andrew Marshall's next project for the BBC following three series of his wildly popular domestic comedy 2point4 Children.

There have been many sitcoms set in hospitals; examples include the broad 70s comedy Only When I Laugh and the bleak realism of Getting On. Marshall's sitcom falls between these two styles as it is very much a 90s prime time comedy, but drenched in dark humour that doesn't sugar coat the grim realities of hospital life.
Marshall had already displayed the struggles of the NHS through grisly and topical humour in the 1992 episode of 2point4 Children, Thank Your Lucky Stars, and this would be developed further in Health & Efficiency.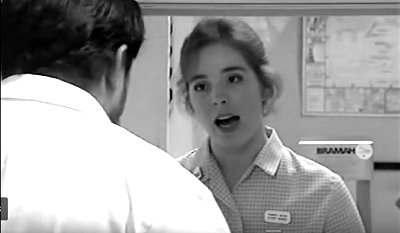 Set in the fictional St James' General Hospital, the premise puts into action the two elements that make up the series' title. The doctors in Surgical B try to provide the best service for patients, which is the "health." Meanwhile, they are in a constant battle with the stringent management who cut back in order to save money; often without thinking about the welfare of the patients and in order to maintain "efficiency." The Surgical B doctor's, including Michael and Kate, are at loggerheads with Diana who is tasked with cutting costs and finding ways to save money. While the characters are very hyperbolised, there is a greater depth that avoids them becoming stereotypes.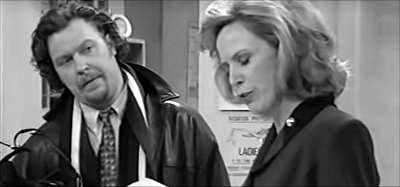 And much of this is down to the brilliant ensemble cast of actors who, nearly all, had appeared in 2point4 Children. Deborah Norton, brought an iron fisted Margaret Thatcher persona to the role of Diana. Everyone is frightened of her and she walks around like she owns the place. Norton also plays the character as if she truly believes that she is right, much like Thatcher: she even goes so far as to say that it is a "hospital and not a hotel."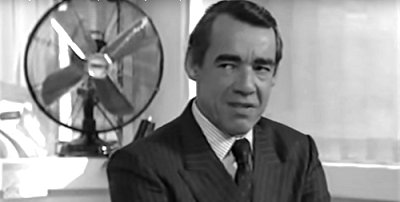 Roger Lloyd Pack plays Rex Regis, a cold hearted and menacing surgeon who is the last person in the world who should be entrusted with performing surgery on anyone; he even thinks people can perform circumcisions at home. Sitcom regular Victor McGuire reprises the role of Dr Phil Brooke from Thank Your Lucky Stars, making Health & Efficiency the spiritual spin off of 2point4 Children. And future Doctor Who actress Adjoa Andoh rounds off the cast as Sister Beth Williams.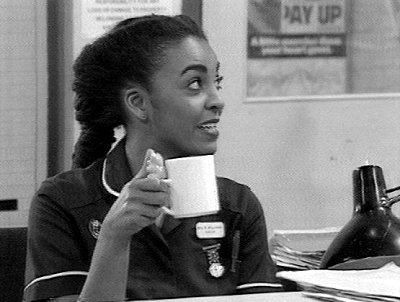 Perhaps the biggest surprise is Gary Olsen as Dr Michael Jimson. He's far removed from Ben Porter as, he's got a jack the lad quality but, like Olsen did best, also has a hidden depth that shows his genuine care for the patients and staff. Future Alan Partridgestar, Felicity Montagu, plays Dr Kate Rusell, the other half of a duo with Olsen. Andrew Marshall has stated that he came across the two actors in a play and recreated their comic relationship in Health & Efficiency. This shows just how well Olsen and Montagu perform together as Michael and Kate were due to get married, but he jilted her on their wedding day and, as they now work together, the clash between resentment and professionalism fuels much of the comedy. There's even a great scene that shows her bitterness as, on the anniversary of the wedding day, she won't allow Michael to sleep with other women and appears in the hospital staff canteen wearing her wedding dress. Their jibes and flirtation also leads to the 'will they, won't they' potential that keeps viewers interested.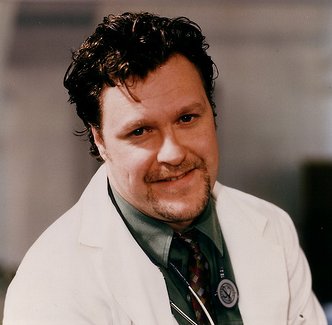 With a very clear premise, sharp writing and a stellar cast, the show had all the potential to be a big hit. However, it only lasted two series and ended on February 10th, 1995.
Watching the series a quarter of a century later, for the first time and with a modern perspective, I can see why in some respects it did not achieve a huge following. While it's not a black comedy in the same way as Getting On, it's also not easy viewing as it doesn't shy away from humour about illness, body parts and amputations and would make anyone dread the thought of getting ill. Maybe it was due to promotion or timing, but the series simply didn't create the impact that I think it should have. I found the episodes to be entertaining and have aged better than I expected, with interesting plots and performances as the actors are given wonderful dialogue to deliver. Also, the look at the struggles of maintaining the NHS, with discussions on efficient spending is sadly more relevant now than it was in 1993; and it was relevant even then!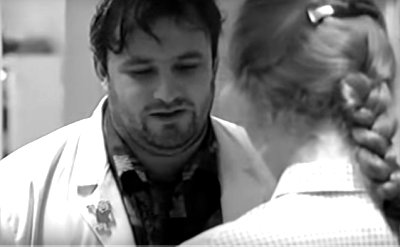 Having said that, I think that two series was probably enough. Workplace sitcoms have a short shelf life and examples, such as Fawlty Towers, The Thin Blue Line, dinnerladies and The Office, only lasted two series and provided all the storylines and jokes around their specific industry and therefore never outstayed their welcome. Even if Marshall had plans for more episodes, I think it is a consistent show as a complete package.
Due to the lack of interest in the 90s that resulted in no repeats, this sitcom has been completely forgotten about. Some shows deserve to be never heard from again, but Health & Efficiency is one that was perhaps misunderstood and, in this current climate, deserves another viewing. I don't know how that would come about, (UK GOLD are you listening?) but sometimes a product that didn't work in one era, can reemerge to capture a new audience in another. After all, Only When I Laugh, which I never have in the few episodes I've watched, is regularly repeated on ITV4. 

I think it is time for Health & Efficiencyto be reassessed.

About the reviewer J.D. Collins

J.D. (as in John David and not Jack Daniels) is an admin assistant by day and a writer, dog owner and hologram by night. 

He wants to clarify that he has not got an unhealthy obsession with The X-Files despite owning dogs called Mulder and Scully and being the author of the Amazon Ebook "Reviving the Truth: A Critical Binge of The X-Files Post 2002." 
J.D. can be found on Twitter; @jdcollins95

Published on January 5th, 2020. Written by J.D. Collins for Television Heaven.