John Silver's Return to Treasure Island
1986 | United Kingdom
When the Disney Channel contracted the UK ITV broadcaster HTV Wales to bring to the screen this major drama series, it realised a legacy left by Robert Louis Stevenson when he wrote his classic thriller more than a hundred years ago. At the end of Treasure Island, Stevenson suggested the idea of further booty - an idea developed by writer John Goldsmith into the ten-hour networked series starring Brian Blessed as Long John Silver and Christopher Guard as Jim Hawkins. "Stevenson cleverly planted the idea of more treasure on the island" said Goldsmith. "And he left all the principals alive." 
Goldsmith's sequel takes place 10 years after the time of Stevenson's famous novel. Long John Silver learns that the most valuable part of the treasure - a cache of diamonds - still lies buried on Treasure Island. To get the map, which reveals the secret burial spot, Silver has to return to England at great personal risk. His arrival in England coincides with Jim Hawkins' coming down from Oxford and his acceptance of a commission to run Squire Trelawny's sugar plantation in Jamaica. 
The series was shot in Jamaica and Spain, as well as Gloucester in England and at several locations in South Wales. Both in terms of numbers of people and time-scale of the project, the filming of John Silver's Return to Treasure Island was a mammoth task. Director Piers Haggard had to take over 100 people on the seven-week shoot in Jamaica and the whole project had to be shot in 20 weeks. The production used 90 actors and hundreds of extras. In Jamaica, a harbour had to be dredged to get two of the four ships used in the series into port. Producer Alan Clayton said: "In Jamaica, in Spain and at certain UK locations we had to take the unusual step of using two fully-equipped film units simultaneously. This meant the odds were doubly against us but we could achieve more within a tight filming schedule."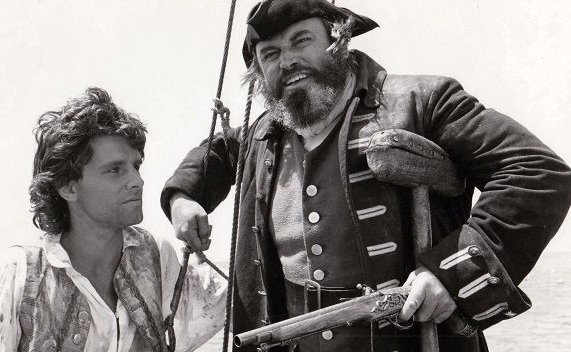 In a series full of personal challenges, Brian Blessed's task of coping with the one- legged role of Long John Silver was of the most daunting. Blessed, at that time, ran three miles and worked out on weights two hours every day. He had to add some exercises to his routine to strengthen the leg that carried his weight, the other leg being strapped up underneath his coat. Blessed eventually added two inches to the circumference of his right leg, enabling him to run 100 yards in 17 seconds on his wooden leg. "I take great pride in being fit and enjoy it enormously," Blessed said. "If you're playing a powerful character like Silver, who is a lethal, fighting man, and a tremendously dangerous, physical man, it gives an added dimension if you're fit yourself. The audience believes in the character as you play him." Blessed, who had no fewer than 65 fight scenes in the series, said of the character "I've never loved doing a character quite so much." Adding: "Silver is a complex, cunning character. He's a chameleon, constantly changing his colour to suit the situation." 

Whilst shooting in Almeria in Spain Director Piers Haggard was injured in a riding accident when the horse he was on stopped suddenly. The resulting fall injured his pelvis and he ended up in hospital where he continued to work, as 16mm editing equipment was brought into his room and so he could view the latest edits. According to Roger Mitchell, one of the series' assistant editors, the series was to be more simply titled Return To Treasure Island, but just before transmission, an author contacted HTV to claim that he had written a novel years earlier using that very title, and now wanted to be compensated for the use of his title. Rather than deal with him, HTV simply added the words "John Silver's" to the title.
Published on December 28th, 2018. Written by Marc Saul (Source: Television and Radio 1987) for Television Heaven.