Lord Arthur Saville's Crime
1960 | United Kingdom
Lord Arthur Saville postpones his wedding in order to commit a murder. Which of his many relatives is to have the honour of being the victim? 
Polished comedian, sartorially splendid Terry-Thomas, made his ITV drama debut on 3 January 1960 in the ABC Armchair Theatre presentation Lord Arthur Saville's Crime, which was based on a short story by Oscar Wilde. 
A self-confessed Edwardian at heart, Thomas was in his element as the elegant Lord Saville in top hat and tails and using his own cigarette holder-a gold one with 42 diamonds that was insured for £2,000. Terry Thomas was supported in Gerald Savory's adaptation by June Thorburn and Robert Coote. 
Arthur, the perfect gentleman, finds himself on the eve of his wedding to Lady Sybil (Thorburn) in a dilemma. A palmist has foretold that Arthur will commit murder, so he decides he must do this odious piece of work before he can consider himself morally free to marry. The fun arises from his efforts to accomplish this self-imposed task before his wedding date, which has already been postponed once-much to the annoyance of his fiancee's overbearing mother, Lady Julia (Ambrosine Phillpotts). 
Aided and abetted by his butler, Baines (Robert Coote), Arthur's first concern is to select a "client." Arthur thinks he "should keep this sort of thing in the family" but as he is "endowed with relatives to the point of saturation" there is plenty of scope. So it remains for them only to arrange the details of the deed-which they do with great ingenuity-and for Arthur to pull off his crime.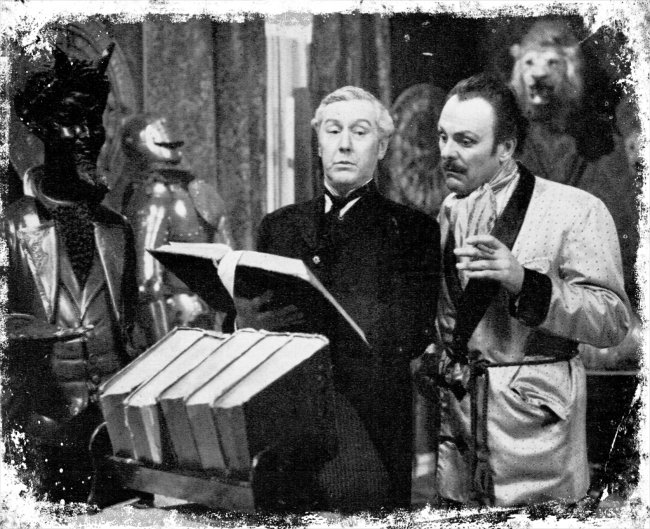 "It is a period I adore," said Terry-Thomas when interviewed by 'TV Times' magazine. "There was so much time to enjoy oneself, there was space and style and some jolly nice horses and carriages." There was also, he agreed, "a hell of a lot of advantages," but these he discounted them in favour of clean air and the lighter, more delicate sense of humour that he enjoyed. 
This was Terry-Thomas's first straight play for nearly five years. The ones before this-both at about the same time-were two other rivals, "Room For Two" at London's Prince of Wales Theatre and Bird In Hand on television. 
June Thornburn and Terry had worked together before-in the film "Tom Thumb," when she played the Fairy Queen. It was Robert Coote's first appearance in an ITV play. Lord Arthur Saville's Crime also starred Ernest Thesigner, Eric Pohlmann, Arthur Lowe, Nora Nicholson, Kynaston Reeves and Michael Hitchman. It was directed by Alan Cooke and produced by Sydney Newman. 
The recording was lost and the tapes presumed wiped for many years but in 2008 it was discovered and returned to the British Film Institute as a result of their hugely successful "Missing Believed Wiped" initiative.   
Published on April 3rd, 2020. Written by Based on original TV Times article and adapted for Television Heaven.