The Trouble With You Lilian
1971 | United Kingdom
Teaming up for the first time, two of Britain's best-known comedy actresses, Dandy Nichols and Patricia Hayes, starred in this six-part series by London Weekend Television which had transferred from BBC Radio 4, about two elderly ladies living together and sharing a private brand of logic.
Madge (Nichols) bullies Lilian (Hayes), and if this is easy it is because Lilian's position as paying lodger and best friend balances on a knife edge of diplomacy.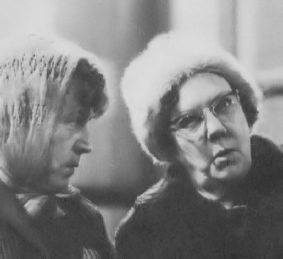 The original radio series starred Beryl Reid in the Madge role, but it clashed with another series by the same writer, Jennifer Phillips (a prolific writer for radio who has written seven plays for theatre), Wink To Me Only, which was being made at the same time. Only one series was made of The Trouble with You Lillian and it appeared haphazardly in the schedules across the various ITV regions. In the Anglia area it premiered on Friday 2 July 1971 before switching to Saturday nights a fortnight later. In some regions it didn't appear at all. It also went out at different times on different networks. Unusually for this time the series didn't feature a laughter track and that may also have added to it being quickly forgotten. All this is a great shame because the two experienced actresses worked well together and were reunited in later episodes of Till Death Us Do Part and The Tea Ladies. Guest stars included James Beck, Norman Mitchell and Freddie Jones.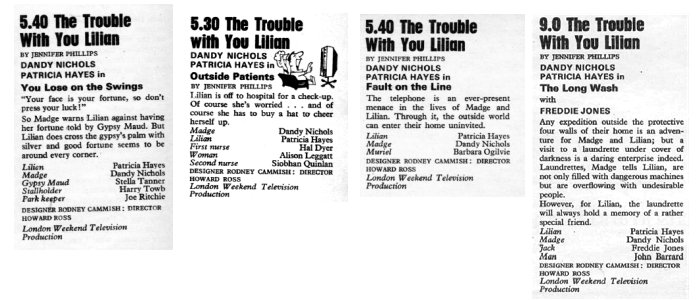 The series appears on a number of databases as The Trouble with Lilian, although TV Times listings for 1971 give the full title.
Published on July 3rd, 2020. Written by Laurence Marcus for Television Heaven.