Your Hit Parade
1950 | United States
'The show's best known singer during this period was a rising talent named Frank Sinatra'
Decades before Casey Kasem and American Top 40, there was another barometer of what songs people enjoyed. Your Hit Parade, billed as "America's Taste in Popular Music," counted down the most popular tunes in the nation–as determined by an independent survey. It enjoyed a nearly quarter-century run on both radio and television, before changing musical tastes made Your Hit Parade seem old fashioned and quaint.
The weekly hour-long programme made its debut April 20th, 1935 on NBC Radio. The programme initially featured the 15 most popular songs in the country, sung by a stable of unknown and uncredited vocalists. Each week, announcer Andre Baruch told listeners the survey used to determine a song's popularity,
"Check(ing) the best sellers in sheet music...and phonograph records...the songs most heard on the air...and most played on the automatic coin machines (jukeboxes)...an accurate, authentic tabulation of America's taste in popular music."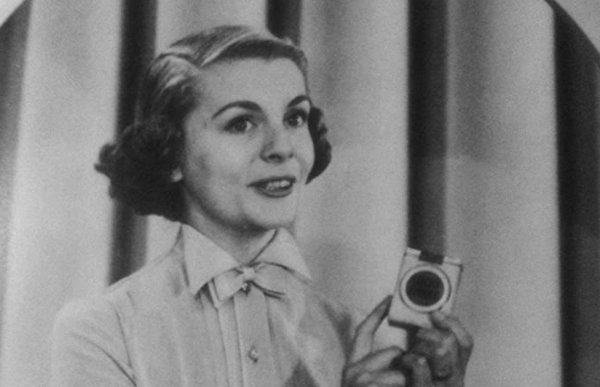 No one knew how the survey was conducted, but according to author Arnold Shaw in his book "The Rockin' 50's," Lucky Strike's ad agency Batten, Barton, Durstine, Osborn (BBDO) compiled the list.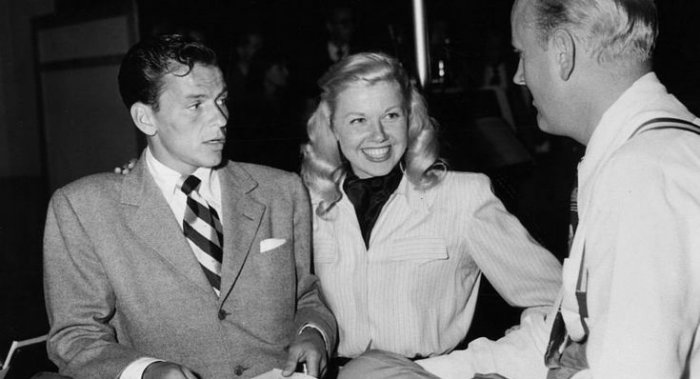 Your Hit Parade modified its format through the late 1930's and into World War II by spotlighting its stable of crooners; the show's best known singer during this period was a rising talent named Frank Sinatra, who appeared from 1943 to 1945, then returned a year later to co-star with another popular singer by the name of Doris Day. Other singers on the radio version included Georgia Gibbs, "Wee" Bonnie Baker, Joan Edwards, and Dick Haymes. The radio version of Your Hit Parade continued through 1955. Not surprisingly, with the advent of television, Your Hit Parade made the switch to video; the television version became an instant hit when it made its debut July 10th, 1950 on NBC. By this time, Baruch was still the announcer; Raymond Scott led the "Hit Parade Orchestra;" and the stable of singers included Dorothy Collins, Snooky Lanson, and Eileen Wilson. (Later additions included Jack Benny's protégé, Gisèle MacKenzie, along with Russell Arms, Sue Bennett, and June Valli.)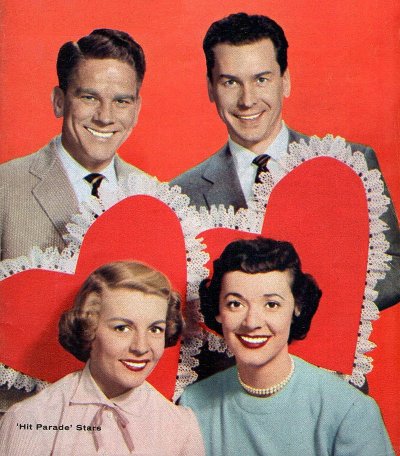 A group of dancers helped the cast perform the top seven songs of the week, while a choral singing group warbled the opening commercial jingle:
Be happy, go Lucky,
Be happy, go Lucky Strike
Be happy, go Lucky,
Go Lucky Strike today!
A talented production team rose to the challenge of presenting each of the top songs in a unique way week after week. That was especially tough when a song lingered on Your Hit Parade for several months. But clever camera angles and set designs (along with talented dancing and imaginative themes for the song performances) did the trick; in 1953, the show won a Peabody Award for its "consistent good taste, technical perfection and unerring choice of performers." For the first half of the 1950's, Your Hit Parade was a Saturday night staple, ranking among the top shows on television. Then came rock and roll.
By 1955, as more songs with the fast beat landed on the survey, the gap between the new sound and the traditional pop-oriented performers widened, as author Arnold Shaw noted:
'Vamp-eyed (Gisèle) MacKenzie tried to brazen it, but her coyness did not work. Bucktoothed Dorothy Collins–then married to (orchestra leader) Raymond Scott–seemed puzzled and uneasy, despite her youthfulness and lisp.' And Snooky Lanson? A rock critic wrote: 'The creepiest of the four, Snooky Lanson, stood up in front of the cardboard sets they used and sang out (Elvis Presley's) 'You ain't nothin' but a hound dog,' with a s–t-eating Lucky Strike grin on his face.'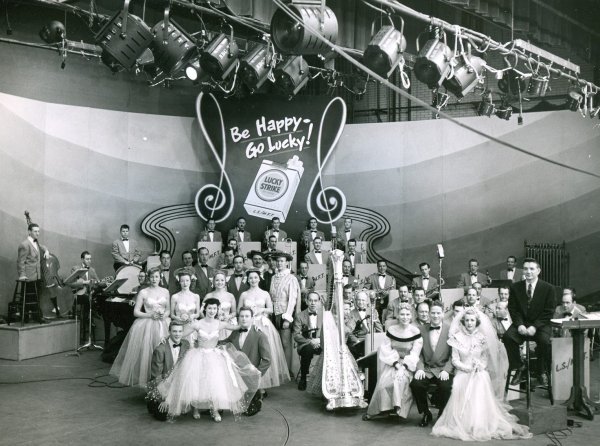 Clearly there was trouble in "Hit Parade" land. Even sponsor American Tobacco had its woes when it launched a new filter cigarette named after its long-running programme; "Hit Parade" failed against such rising filter-tipped stars as Winston, Marlboro and Kent.
On September 7th, 1957, NBC began airing Your Hit Parade in colour. It was the first series to feature the network's animated peacock opening with long-time house announcer Ben Grauer telling viewers "The following programme is brought to you in living colour on NBC." But not even the advent of tint could hide the growing cultural divide; teens refused to watch Your Hit Parade while older audiences became increasingly alienated by the growing number of rock and rhythm tunes reaching the Top Ten. Moreover, true rock fans didn't want to see Snooky Lanson perform "Hound Dog" (or Dorothy Collins doing a shockingly bad version of "Heartbreak Hotel"); they wanted Elvis singing the hits that made him an idol–and they tuned into Stage Show, The Ed Sullivan Show and The Steve Allen Show, where Elvis was allowed to perform–albeit sanitized for squeamish viewers.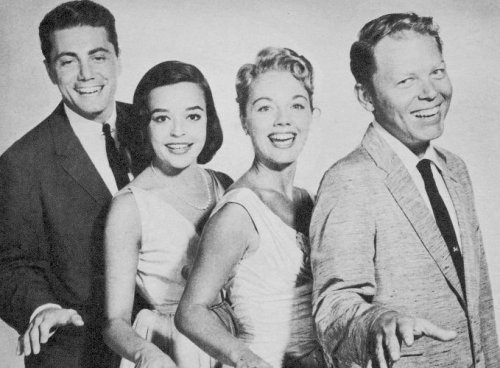 As a result, in the fall of '57, the regular "Hit Parade" singers–Collins, Lanson, MacKenzie, and Russell Arms–were let go, replaced with younger performers such as Jill Corey and Tommy Leonetti. But the show couldn't get its groove back and ratings continued to fall; desperate producers added a quiz feature in mid-season, offering thousands of dollars in prizes to viewers who guessed the title of a mystery tune. Billboard magazine editor Ren Grevatt told his readers Your Hit Parade needed to get off the fence:
"Either junk the idea of 'top hits' and program only non rock-and-roll hit material for adult, late-evening viewers, or revert to an out-and-out pop hit format and fill the studio with teen-age fans who can do the stroll...."–much as ABC's Dick Clark was doing very successfully on the weekday dance party American Bandstand.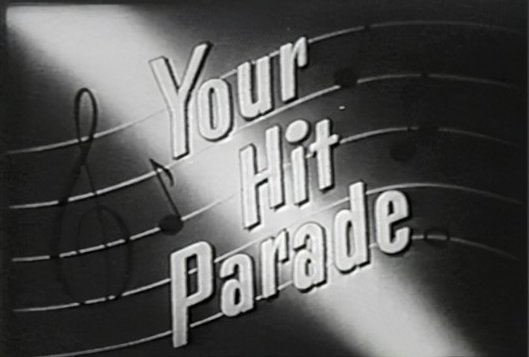 But producers didn't follow Grevatt's advice. Your Hit Parade returned in the fall of 1958 (moving to CBS in the process), and the show again attempted to straddle the generation gap. Each episode was now divided to showcase the top three tunes of the week; three additional hits among the 12 most popular songs; numbers from popular albums; and a medley of all-time favourites. Future film director Norman Jewison helped stage the dance numbers, and in a nod to long-time viewers, Dorothy Collins returned to the show. But the changes came too late to save Your Hit Parade. Collins and the remaining cast members bowed out April 24th, 1959, warbling the show's well-known closing theme:
So long for a while.
That's all the songs for a while.
So long to Your Hit Parade,
And the songs that you picked to be played.
So long!
It was indeed "so long" for quite a while–until CBS tried a revival of the series in the summer of 1974. The new version had a nostalgic twist: It featured the tunes that were hits on a particular week back in the 1940's or '50's (during "Hit Parade's" heyday), along with a few live performances by current chart-toppers. It did launch the career of one of its regular singers, future Wheel of Fortune and Love Connection host Chuck Woolery. Otherwise, it ended with a whimper after just a few months. But the title didn't; many people still refer to the music charts as "the Hit Parade." And in 1971, the opening credits of the very popular situation comedy All in the Family featured stars Carroll O'Connor and Jean Stapleton on their staged living room in front of a piano, performing the show's theme song:
Boy the way Glenn Miller played
Songs that made the Hit Parade
Guys like us we had it made
Those were the days!
Today, there are endless music countdown programmes on both radio and television. But once upon a time in the 20th century, Your Hit Parade was the final word on what tunes were hot–and in the process, became a vital part of America's popular culture.
Published on February 2nd, 2022. Written by Michael Spadoni for Television Heaven.