'in keeping with making everything bigger, the actual villains are becoming more villainous'
Ozark – Season 4 review by John Winterson Richards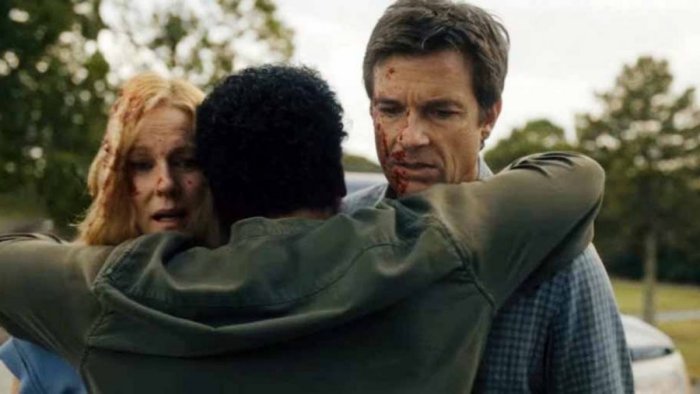 This is intended as a spoiler light overview of the fourth and final season of Ozark, but note that it is not entirely spoiler free and it assumes you are familiar with the previous three seasons or have at least read our overviews of them.
Season One was dramatic, Season Two subtle, and Season Three tragic. Season Four is all of these things and, in addition, epic. Everything gets bigger. One of the developments we have witnessed over those four seasons has been a gradual expansion of the Byrde's enterprises. Marty Byrde (Jason Bateman) started out with a low level financial management firm in Chicago, then he became the silent partner in a number of small businesses around the Lake of the Ozarks, and then a casino owner. Now his, or rather his wife Wendy's, "Byrde Family Foundation," aspires to be a major political player in the Mid West.
At the same Marty is becoming more important in his shadow career, laundering money for the Navarro cartel. At first he worked for a subordinate officer of the cartel, all too aware of how expendable he was, before rising to become answerable directly to the cartel boss himself, Omar Navarro (Felix Solis), and trusted with matters close to Navarro's heart. In Season Four, Navarro comes to rely on Marty more and more, and Marty finds himself a major player in the internal politics of the cartel. It is not at all what he wants.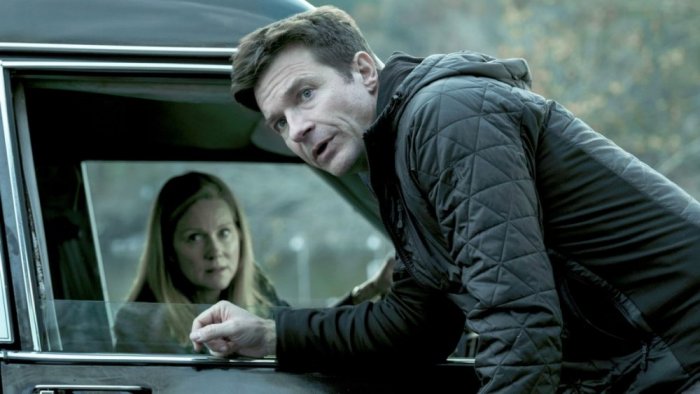 Wendy (Laura Linney), by contrast, seems to be enjoying the thrill of empire building. Having crossed a boundary in the case of her beloved brother, there is no going back for her. She becomes very controlling within her own family. She says she is doing it all for their safety, but her obsession with the Foundation looks more like a vanity project. Or, having rejected the faith of her own controlling father, does she see it as her only hope for some form of absolution? Whatever her motives, and even if there is at least an element of sincerity in them, it looks for much of the season that she is being built up as the real villain of the piece.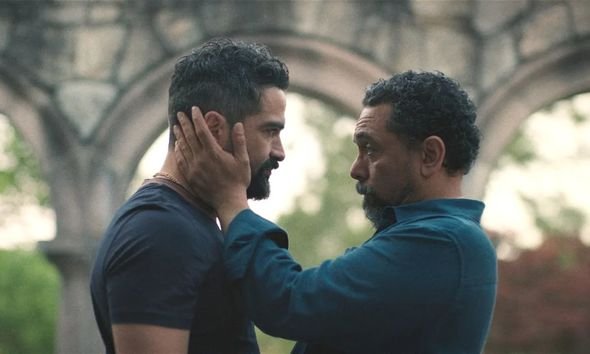 Meanwhile, in keeping with making everything bigger, the actual villains are becoming more villainous. Season Three built up Navarro as a frightening character, culminating in a truly shocking moment at the very end of the season. Navarro's casual attitude to it in the opening episode of Season Four makes him even more intimidating, but almost immediately we are introduced to someone even more frightening. This is the man who frightens Navarro - his own nephew, Javi (Alfonso Herrera), who is obviously out for his job. A Business School graduate, Javi has the same thin layer of urbane sophistication that distinguished Del, the subordinate who first seduced Marty into money laundering for the cartel. However, Javi is far more impulsive and aggressive, and he seems to enjoy doing his own dirty work a bit too much. It is his unpredictability rather than any strength or ability that makes him dangerous.
Even the stakes get bigger, or rather it becomes more apparent that they are real. The opening moments of the season make it clear that there is a definite possibility that none of the Byrdes are getting out of the season alive.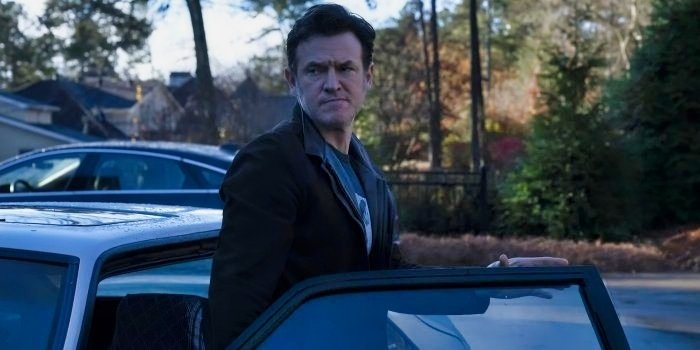 Another new adversary seems at first less of a threat. Disgraced Chicago Police officer and recovering addict Mel Sattem (Adam Rothenberg) is a singularly polite private detective. All he wants is a signature on some papers. Beware the anger of a patient man.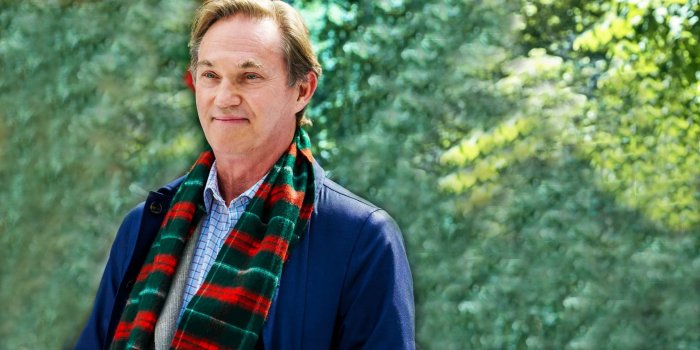 Wendy must also face a personal demon in the form of her father who turns up with a group from his Church to look for his missing son. The casting of Richard Thomas, the amiable John-Boy from The Waltons, in the role is particularly clever because it inclines us to assume he must be a decent chap at bottom, despite some obvious hints of past flaws, and there looks to be a real possibility that he might alienate the affections of his grandchildren, which Wendy seems to view as a bigger threat than the cartel. Only gradually do we become aware that there is another side to him, the side Wendy sees. Yet it is greatly to the credit of the writers that they still hold back from making him an unreservedly bad man. A nice ambiguity ensures that it is never entirely clear if their fractured relationship is his fault or Wendy's. It is implied that it may be a bit of both and the two of them are more alike than either might prefer to admit.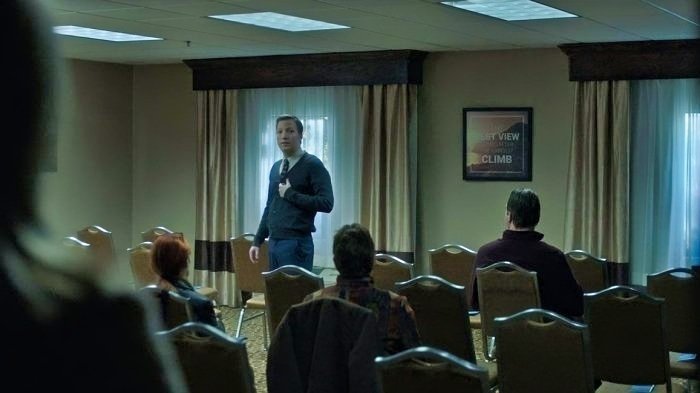 The arrival of the Church group introduces the theme of redemption explicitly into the script. It may have been implicit before, but now it is as if the characters are being given a final choice as the story races towards its end. Gormless Sam (Kevin L Johnson) who has been exploited mercilessly by the Byrdes, takes the opportunity: he is baptised in the swimming pool of Ruth Langmore's motel and leaves with the Church group when they return home. It is good to see him start a new life and we find ourselves hoping it will turn out well for him, even if it is suggested that he will face at least one more temptation.
There are subtle hints that the baptism has an impact on the Byrdes' son Jonah (Skylar Gaertner) and even on Ruth (Julia Garner). Neither says anything of course, but both seem thoughtful. Jonah's lack of response when his mother later makes a disparaging remark about the Bible may be very significant. He has had one of the most interesting character arcs and it is left uncertain until literally the last second which way he will choose.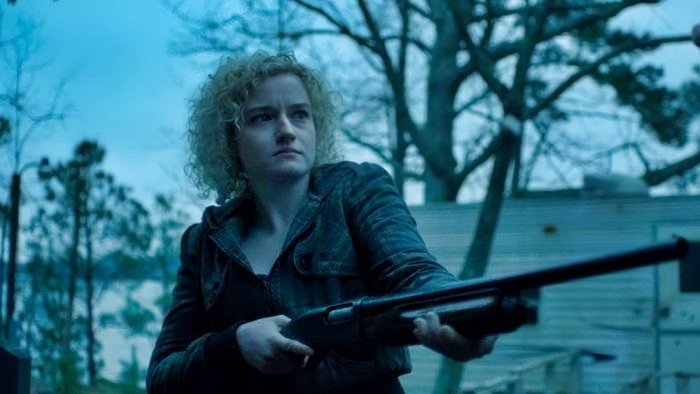 Ruth is also offered what appears to be a way out. An earlier opportunity to become a major player in her own right does not end happily, but unexpected good comes from evil. Will she make the most of it? Rachel Garrison (Jordana Spiro) from the Blue Cat also makes a welcome, if somewhat contrived, return and forms a likeable double act with Ruth.
Marty has been looking for a way out for some time and looks increasingly desperate as he realises it is probably too late. Even Navarro, a devout family man when he is not having people tortured and murdered, seeks redemption - as well as a more secular escape route. He maintains his own Chaplain (Bruno Bichir), who seems well aware of the irony of his position but still tries with apparent sincerity to counsel both Marty and Wendy to get out. Marty seems genuinely remorseful but no longer feels in control of his own actions, even as he goes further and further towards the Dark Side. Wendy, scornful of religion, is more like one of the reckless gamblers in her own casino, maniacally doubling down in the face of imminent disaster.
The process that began in Season One is now complete. It was a masterful Marty that dragged a reluctant Wendy to the Ozarks in the first place. Now the roles are reversed and a broken Marty seems to have no will to resist his literally remorseless wife.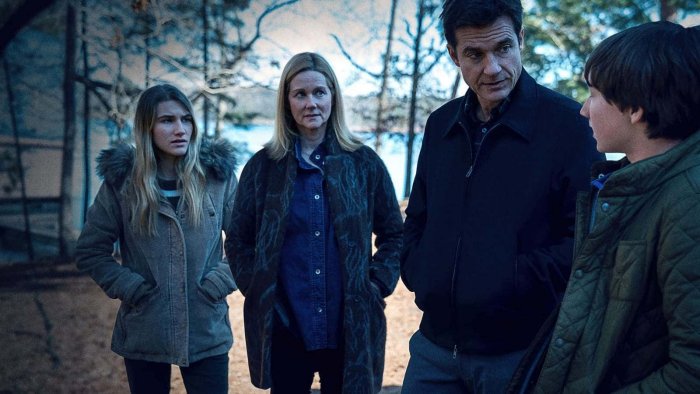 Family has been the great theme through all four seasons, especially the contrast between the Byrdes, who for all their errors survive only because they are a strong family, and the dysfunctional Langmores. The closing episodes slyly suggest an alternative narrative: perhaps the Langmores were all along the happier family before being ruined by the truly toxic Byrdes. To be honest, this is Ruth putting on rose tinted spectacles and ignoring a lot about her family history, especially her ghastly father. That said, in spite of Marty's genuine affection for Ruth, and his giving her hope that she could be something better, it cannot be denied that the Byrdes are ultimately a selfish bunch who taint everyone they touch. Are they really worthy of the viewer sympathy they have just about managed to retain over four seasons?
We need to raise the spoiler alert to a higher level at this point because we cannot ignore the controversial ending.
The season was released in two parts, each of seven episodes. Without going into detail, Part One builds to a magnificent crescendo, two great episodes directed by Robin Wright (the actress, but she does not appear as such in Ozark). These leave us desperate to know where the story and surviving characters go next. What they set up pays off brilliantly but very quickly, perhaps too abruptly, at the beginning of Part Two. After that the story loses a lot of energy. We assume Navarro has one last trick up his sleeve but he is rather sidelined. Lawyer Jim (Damian Young) very kindly and conveniently solves Wendy's problems for her off screen - 'advocatus ex machina' - without it really being explained how or why. He makes a heavy handed joke about her divorcing Marty to marry him, which might be significant but is never followed up - even if there is no doubt that they would make the ideal "power couple." Laura Linney has some of the greatest acting moments in her career - which in her case is saying something - as well as directing an episode herself, but Wendy as a character seems to be in need of a resolution we never get. An earlier plot point that seemed very important turns out to be a giant red herring.
Despite being directed by Jason Bateman, who is responsible for some of the best episodes, the finale is the lowest rated episode on IMDb. Fans had strong opinions on what they wanted to happen and were disappointed when they did not get it. The writers should perhaps be commended for rejecting "fan service" in favour of saying something valid about the world as it is. Yet the way they went about it ignores dramatic convention in that emotionally significant events come across almost as afterthoughts. If they were going to subvert expectations, they should have been more operatic about it.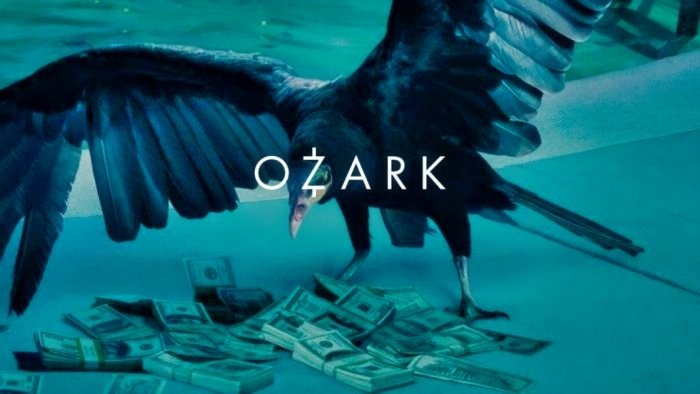 It has become almost a cliché to compare Ozark with Breaking Bad as a manifestation of the anxiety and uncertainty of the American middle class today - and also of the middle class fantasy that law abiding folks would make very effective criminals if they suddenly chose to stop living by the rules. As such, there is a case for saying Ozark is the superior of the two in this respect. It is probably all too honest and realistic in its message that crime does not pay - except perhaps when it is on a scale big enough to buy your way out of it.
Published on May 26th, 2022. Written by John Winterson Richards for Television Heaven.