Dusty (aka The Dusty Springfield Show)
1966 | United Kingdom
Born Mary O'Brien on 16 April 1939 in West Hampstead, England, Dusty Springfield remains, to this day, one of the most respected and best selling female vocalists of all time. She is a member of both the Rock and Roll Hall of Fame and the U.K. Music Hall of Fame. In the latter part of the 1960s she had a series of programmes on British television that established her beyond the boundaries of mere pop songstress, to reveal a versatility and the eclecticism of her musical styles and choices, from pop to gospel and from rock n' roll to soul. 
By 1965, after just two years as a solo artist, Dusty Springfield was riding high on a roller-coaster of success. By the end of that year she had already enjoyed eight chart singles, two chart albums and been voted not only the top British Female Singer, but also the top woman vocalist in the world. She had already proved popular on British television with regular appearances on the prestigious pop show Ready, Steady, Go! - and was the first artist to appear on the BBC's Top of the Pops. She had also been recording, since 1963, a number of 'exclusive' performances for BBC radio shows such as Saturday Club, Easybeat and Top Gear. 
Because of her enthusiasm for Motown music, Springfield campaigned to get some little-known American soul music singers a better audience in the U.K. She devised and hosted The Sound Of Motown, a special edition of Ready, Steady, Go! on 28th April 1965, introducing songs such as Dancin' in the Streets by Martha and the Vandellas (pictured), Stop in the Name of Love by the Supremes, and Just My Imagination by Smokey Robinson and the Miracles, to British audiences for the first time. It is little wonder, therefore, that she was approached to star in a TV series of her very own.
Simply titled Dusty (in the opening credits - although the closing credits read The Dusty Springfield Show), the series was produced by South African born Stanley Dorfman, who had previously worked with her on TOTP. Rehearsals and taping of the series began in May 1966 at the BBC TV Theatre in London's Shepherds Bush. In total six BBC shows were made and broadcast later in the year, during August and September, in the 9pm slot vacated by Petula Clark's show. Dusty Springfield was something of a perfectionist in the recording studio and already had a reputation of being 'difficult' to work with. This opinion varied depending who you spoke to. 
Dougie Reece, who worked closely with Dusty at that time remembers the shows as "a lot of work." He explained in interview: "I had to co-ordinate all the music, find arrangements or get them done. But it felt good when the shows came together. I think that she liked them. I am sure that there were things she didn't like, but she never really said." Interviewed some time later, Dusty herself had the following memories: "I had all the musical say. They're all a blur because there was so much going on. I just remember the noise. I remember testing myself . . . just enjoying the fact that the BBC sound engineers were going totally spare. They didn't know what to do and I said, "What the hell". They'd go, "Oh, the needle's going in the red. You can't do that" and I just said, "Turn it up, turn it up", I was just testing myself to see where my threshold of pain was for sound. It was wonderful." 
The format of the series was very straight forward. Dusty would sing around half a dozen songs. There were no gimmicks and no sketches. The Radio Times introduced the first of the series by telling its readers 'Among her fellow professionals twenty-six year old Dusty has long been regarded as one of the most formidable talents in popular music. She has that special show-stopping magic that springs from a sound ear, a sense of rhythm, a lusty voice, a certainty about the effects she wants to create and tense emotions.' The thirty-two piece orchestra that accompanied Dusty was directed by Johnny Pearson and backing vocals were by Madeline Bell (later of Blue Mink), Lesley Duncan (who contributed backing vocals to Pink Floyd's The Dark Side of the Moon album) and Maggie Stredder (founder member of The Ladybirds backing group).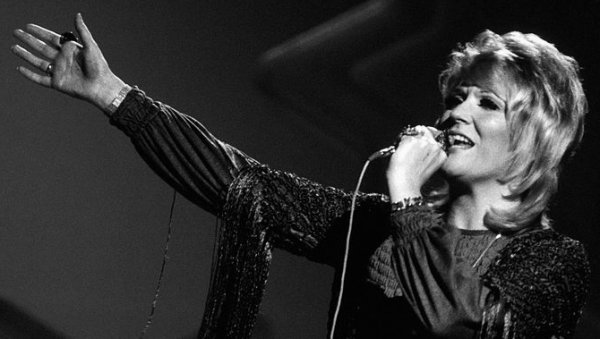 The BBC were impressed enough to commission a second series in 1967. This series carried a little more prestige than the first and featured special guests often in non-musical appearances. Light entertainment was supplied by whoever was popular with the public at that time and included people like Warren Mitchell (in his Alf Garnett role) and upcoming American comedian Woody Allen. "It was what agent could get his client on whatever show was important to be on at that time." Said Dusty. "You know how they get lists of shows that you ought to be on."
As successful as the series was, Dusty accepted the lure of a bigger pay packet in 1968 and took her much-in-demand talent to ITV. It Must Be Dusty went out at various times across the ITV regions and featured guest stars of the quality of Donovan, Georgie Fame and The Jimi Hendrix Experience. Despite this, Dusty was dissatisfied with the finished product and returned to the BBC the following year in a series called Decidedly Dusty. 
Unfortunately, during the 1970s, the tapes of all of Dusty's BBC shows were wiped. Some years later the BBC managed to recover a number of the TV recordings from TV stations in countries where the series was sold, and three of the first series and all six of the second series tapes were returned to the Corporation and released on a DVD entitled Dusty Springfield Live at the BBC. The compilation also included an appearance on a 1970 Morecambe and Wise Show and two performances from a 1972 Tom Jones Show. 
Published on December 8th, 2018. (Review: Marc Saul. sources: http://www.dustyspringfield.co.uk/Douggie-6.html wikipedia - Dusty Live at the BBC - TV Times 1968 Dusty Springfield at the BBC booklet by Paul Howes - Simply...Dusty 2006 ).