Search for a Star
1964 | United Kingdom
Debuting on 14 September 1964, Search for a Star was a talent show with the aim to discover a female all-round entertainer. According to programme editor Francis Hitchin, speaking to TV Times in the week the show began, this was the show which "will do exactly what it says. We're going to find a girl who really has it. And by that I mean a girl with the lot - for once she's been discovered she's going to get star billing in a television musical spectacular, written for her, next year."

Girls aged between 15 and 23 years old were invited to write in to the producers and send a picture of themselves, even after the series had begun broadcasting. Twelve girls were chosen for each 50-minute 'audition show.' The starry-eyed hopefuls had to meet the following requirements: to be able to dance well ('in the pop idiom'), capable of picking up stage dance routines quickly, able to project her personality on the screen when being interviewed and when putting over a song, and must have a natural acting talent.
The twelve girls were then whittled down to eight and those eight would be reduced by various 'stages'.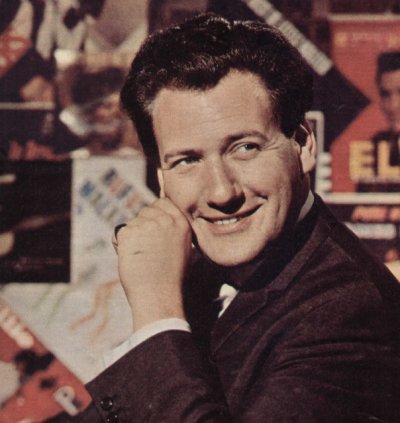 Stage One required each girl to do a solo specialty turn for one minute-sing, dance, mime, juggle..."play the spoons for all we care, so long as she has talent and personality." For Stage Two, with the help of a choreographer, the girls had to learn a basic dance routine. The choreographer would then choose four girls who would be interviewed by the show's host, Keith Fordyce. After that they were reduced to three contestants and in Stage Three they would be given a situation which they had to act out in mime. Finally, the best two would act out a scripted piece with a professional actor from which the winner of that show would be chosen.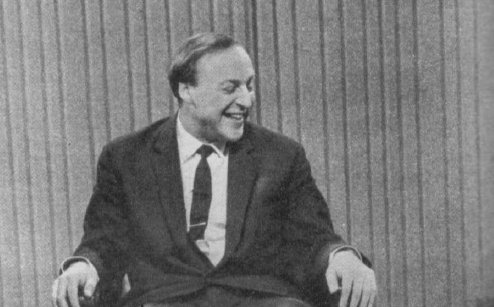 According to Contrast - The Television Quarterly (Winter 1964-65), 'most of (the girls) possessed average good looks, tiny talents and enormous optimism and blind daring.' During the run of the series various judges were brought in the assess the wannabe starlets. Among them were Benny Green (the British broadcaster and jazz saxophonist and former student of the Royal College of Music), Jack Hylton, (the impresario who had previously had his own talent-spotting shows), ballet dancer Marie Rambert, Paddy Stone (a Canadian-born dancer and choreographer who later choreographed three Julie Andrews specials with the Muppets), and Phillip Oakes (scriptwriter and broadcaster - best known for his screenplay of Tony Hancock's hit-and-miss 1962 movie The Punch and Judy Man).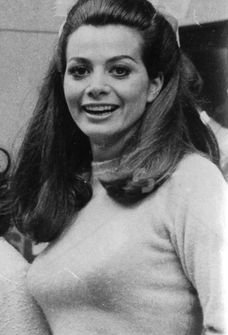 'The Judges', according to Contrast, 'invariably said - sometimes with irony, maybe - that it was hard to choose between them. Usually, however, it seemed to viewers that glimmerings of professional ability were decisively eliminated in the first round.'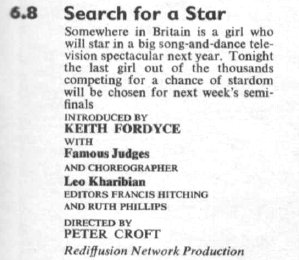 The series, which was made by the London-based TV company Associated Rediffusion and which ran until 14 December 1964, did not get a full network broadcast across all the ITV regions and was tucked away in an early Monday evening slot. However, it seems unlikely that viewers missed very much. The eventual winner, Judi Johnson (of Hendon) seldom appeared on television following Search for a Star. Whether or not she got her own 'spectacular' is unclear. According to IMDb (not always entirely comprehensive) she appeared in one broadcast of a write-in-and-request show called That's for Me (1964) and a 1965 edition of a pop show titled Gadzooks! It's All Happening. She did appear in two Carry On movies (Spying and Cleo) but was uncredited in both.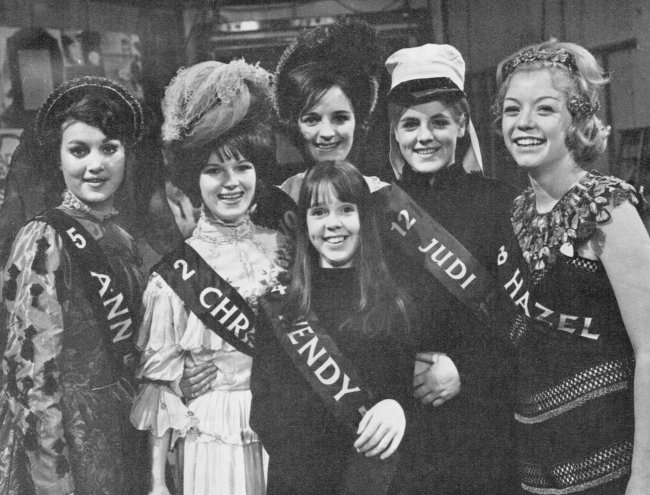 More interesting perhaps is two aspiring stars that did not win. Tanya Trude appeared in several series over the next few years, including Z Cars, Dixon of Dock Green, Public Eye and The Newcomers. Curiously, 17-year old Wendy Padbury who trained at the Aida Foster Stage School had already been seen in Crossroads, two weeks before Search for a Star began. Less than four years later she found a new home - in the TARDIS as Doctor Who companion Zoe Heriot.
Published on March 6th, 2021. Written by Laurence Marcus for Television Heaven.