Opportunity Knocks!
1964 | United Kingdom
Generally regarded as the 'great-grandfather of television talent shows,' Opportunity Knocks began life as a radio series in 1949, debuted on television in 1956, was dropped, resurrected, became the subject of litigation, survived television franchise changes and then dropped again when its host, the avuncular but somewhat arrogant Hughie Green, decided to appoint himself moral guardian to the nation and use the show as a platform for his political views.
'Opportunity Knocks' was the brainchild of 29-year-old Hughie Green, a child star of radio by the age of 14 who also created and toured with his own all-children cast concert party called "Hughie Green and his Gang." Green was born in Marylebone, London, to a Scottish father, Hugh Aitchison Green, a former British Army officer from Glasgow, and an English mother, Violet Elenore. Having been caught in North America on the declaration of the Second World War, Green served as a pilot in the Royal Canadian Air Force and in 1942 married a Montreal society beauty. He remained in Canada until 1947 and then returned to Britain. Towards the end of 1948 he devised the format for a radio talent show and approached the BBC to produce it. It was not, however, an entirely original idea although the format itself was innovative.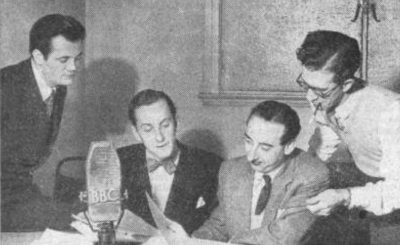 The 'Radio Times' introduced the radio series in 1949 with an article that mentioned previous radio talent shows that mainly concentrated on the amateur performer and spoke of how 'Opportunity Knocks' would instead focus on the would-be stars of tomorrow who would otherwise be denied the chance to break into mainstream radio, the fledgling television service and every other form of entertainment. Producer Dennis Main Wilson, speaking to Gale Pedrick, said "We shall use artists who genuinely want to become full-time professionals and who are ready to take their place in show business. We are certain there is plenty of good talent in Britain which deserves an opportunity, but which as yet (has) had no chance."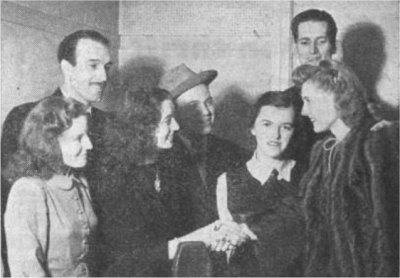 Applications for the programme were sorted out into regional areas so the artists could avoid having to make costly journeys to the BBC at Broadcasting House, and Hughie Green held auditions in local centres on two or three days each week. "Thus," said Wilson, "we hope programmes will give a fair showing from John o'Groats to Land's End - via Londonderry!." One of the show's early discoveries was Frankie Vaughan who came on during the second week singing a duet working with a girl singer named Irene Griffen. They did not win. According to Green's 1965 autobiography, acts who were auditioned but turned down for the radio version included Alma Cogan and Tony Hancock.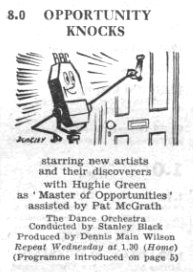 After that first series the BBC decided not to take up an option for a second citing that it was "too American" for British audiences, although it is not clear whether this was actually aimed at the format of the show or the host himself who, after spending several years in Canada, had developed something of a transatlantic accent. Nonetheless, the cancellation so infuriated Green that he sued the BBC.
The Corporation had replaced Green's show with Carroll Levis' 'Discoveries', another talent contest show with a similar, but not the same, format. Green not only sued the BBC but also Carroll Levis, six of his friends and family members, alleging a conspiracy to keep his 'Opportunity Knocks' show off the air to preserve the rival show. The BBC and all other parties concerned vigorously defended the case which then took five years to come to court. In the end Green lost and was left bankrupt. But by 1955 Green had set his sights on a much bigger prize – television.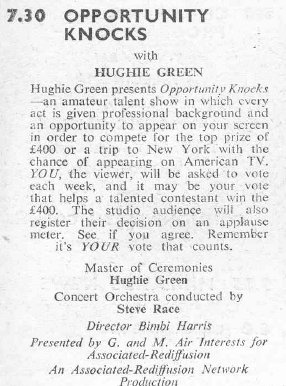 Just four days after the start of Independent Television in Britain, Hughie Green was hosting a quiz show with the biggest cash prize available in the UK – Double Your Money. Less than a year later, on 15 June 1956, Opportunity Knocks debuted on television. Made by Associated-Rediffusion, it ran until 29 August. But once again, there was to be no second series. That is until 1964 when ABC Television picked up the show. It very quickly became clear that they had picked up a winner. When the new series was advertised 20,000 applications were received. According to Green's assistant, Betty Raymond, "within 24 hours of the original announcement we had received 2,000 letters." Opportunity Knocks! (same title but with an exclamation mark added) aired on Saturday 4 July 1964.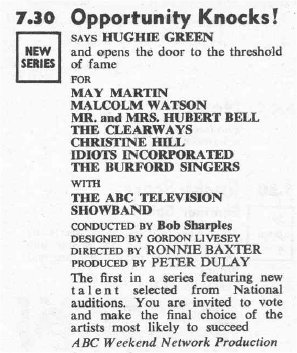 The format was the same as the previous television version. The act to follow was introduced by the person who 'discovered' them. Although they had actually been discovered through the auditions, a family member or friend of the contestant would sit down and be interviewed by Green and given the chance to explain a little about them; their life, their background and why they deserved their two minutes of fame. At the end of the show the six acts – comedians, singers, impressionists, dancers or in the case of Tony Holland – musical muscle acts – were graded on their performance by way of a studio based 'clapometer'. Allegedly a device that measured the decibels of the audience applause. A studio winner was announced but – and this was the important bit "It's just for fun folks and remember, it's YOUR (postal) votes that count!"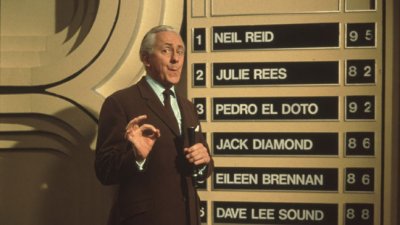 The television audience were encouraged to send in (within 48 hours preferably but five days maximum) a postcard with the name of their favourite act who would return the following week and perform once again. Acts could end up returning multiple times as in the case of Tony Holland who flexed his muscles rhythmically to the instrumental 'Wheels' for 6 weeks! Entertainers who appeared included Freddie Starr and the Delmonts, Su Pollard, Paul Daniels, Mary Hopkin, Bonnie Langford, Les Dawson, Little and Large, Freddie Davies, Peters and Lee, Lena Zavaroni, Frank Carson, Max Boyce, Pam Ayres and Tom O'Connor. This time the series was a huge ratings hit and with an audience that steadily increased until it reached a peak with an average of 18 million there was no question of it not coming back. In fact, it kept coming back even after ABC lost their franchise to Thames Television and would have continued a lot longer had it not been for one major problem. And that problem was the host himself.
Throughout the 1970s the British economy was troubled by high rates of inflation. To tackle this, the government capped public sector pay rises. This caused unrest among trade unions as wages did not keep pace with price increases. This extended to most industries, including coal mining, which provided the majority of the country's fuel and had a powerful trade union. By 1973, inflation in the UK was accelerating to over 20%. Unions were relatively powerful and were bargaining for higher wages to keep up with the rising cost of living – causing a wage-inflationary spiral. In 1976, at the end of an Opportunity Knocks!, Hughie Green took it upon himself to address the nation. Always coming across as a genial friendly uncle Green now decided that he needed to be a political father figure and self-styled moral guardian in a piece of breath-taking right-wing propaganda.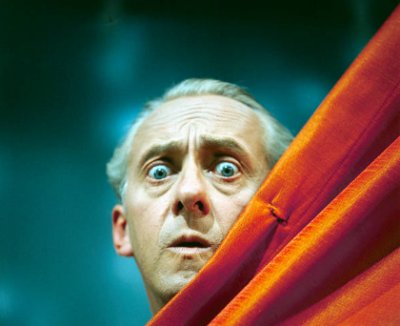 On the 27th December 1976 he recited a monologue at the end of the show about the state of the United Kingdom, telling the country to "wake up, stand up and be counted, where managers manage and unions don't go on strike." His rant included marching bands, Forces' servicemen and women, Girl Guides and Boy Scouts, and swathes of Union Jacks. A choir behind him sang 'Stand Up and Be Counted' to a reworking of 'Land of Hope and Glory.' A dumbfounded viewing public was subjected to Green's diatribe on why the once proud UK had gone down the tubes due to strikes, financial borrowing and Socialism. Thames Television disciplined Green for essentially hijacking the show for what was seen as Tory propaganda and warned him about his future behaviour. In response, believing that he was bigger than the show itself, Green released 'Stand Up and Be Counted' as a single. The record was predictably banned by most radio stations. Following numerous viewer complaints Thames axed the show in March 1978. Green went out with one final end-of-show monologue - a bitter rant against Thames.
ITV replaced the series with the youth-orientated comedy The Kenny Everett Video Show which attracted 14 million viewers. Also, by that time ITV had a well-established rival to Opportunity Knocks!
New Faces, made by ATV in the Midlands had taken the format and added to it by having a celebrity judging panel of four who would rate the acts on "presentation", "content" and "star quality" (later replaced by "entertainment value"). The judging panel, which would include two 'star judges' on an varying basis included (amongst others) Arthur Askey, Ted Ray, Ed Stewart, Lionel Blair, Terry Wogan and Noel Edmonds, and the regulars were Mickie Most and original 'nasty judge' Tony Hatch. The format was later copied for modern day talent contests such as Pop Idol, The X-Factor and Britain's Got Talent. With New Faces making discoveries such as Lenny Henry, Marti Caine, Les Dennis, Jim Davidson and Victoria Wood, viewers could still get their weekly dose of new talent without the fear of political preaching from a truculent host.
In 1978, Hughie Green started another big legal battle against certain overseas television companies swiping his Opportunity Knocksformat without acknowledgement or payment of copyrights. It took eleven years, and he lost; not even his Clapometer was considered his own property.
But it wasn't the end of the road for Opportunity Knocks. In 1987 it returned home, so to speak, when the BBC offered Bob Monkhouse the opportunity to host another revival - Bob Says Opportunity Knocks.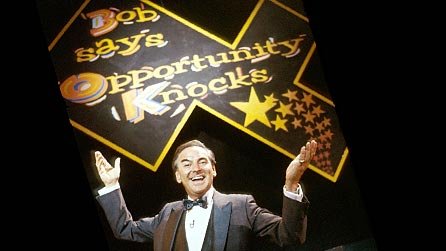 For the Monkhouse-fronted revival, the voting system was radically changed, making it the first British TV show to use telephone voting in order to get a more immediate result (although to stay with tradition an updated electronic "clapometer" using computer generated stars was used at the end of the show). Unsurprisingly there was another legal challenge by Hughie Green who claimed he held the copyright. The matter was resolved by putting his name on the credits as "programme advisor". Three series were made, the first two with Monkhouse and the third with returning former contestant and by now one of the nation's favourite performers Les Dawson hosting.
Today many talent shows in their various forms take their format from both Opportunity Knocks and New Faces. Unfortunately, with the paucity of light entertainment shows on television there does not seem to be the platform to launch these new discoveries beyond their two-minutes of fame and many of the those that appear are seldom seen on our screens again. But for a generation of performers opportunity knocked and long and successful careers were established thanks to Hughie Green and his original format. And I mean that most sincerely…
Published on July 8th, 2020. Written by Laurence Marcus for Television Heaven.