Monty Python's Flying Circus
1969 | United Kingdom
For thirty minutes every Sunday night the Monty Python team were unleashed on an (at first), unsuspecting British audience, in the slot that had previously been reserved for religious programmes. Irreverent, offbeat, manic, unstructured, at times incomprehensible, and most certainly in the worst possible taste, Monty Python's Flying Circus became the biggest cult hit ever seen on television. 
Although described now as a truly innovative show, Python's roots can be traced back to shows like It's A Square World and That Was The Week That Was, both of which broke new ground on television in the early 1960's, where, for the first time, established institutions such as the Royal Family, the Church and leading politicians were held up to close scrutiny in a satirical manner. 
This trend continued in shows such as The Frost Report, which employed a writing team that included Eric Idle, John Cleese, Graham Chapman and Terry Jones, as well as future star names like Tim Brooke-Taylor and Marty Feldman. At about the same time that 'Frost' was coming to the end of its run, ITV producer Humphrey Barclay offered most of the team the chance to stick together in a children's series Do Not Adjust Your Set. Joined by comic actress Denise Coffey and newcomer David Jason, this series gave a number of the writing team the opportunity to appear in front of the cameras for the first time, and it was in this series that the team tested the water for the type of manic humour that was to come next. It was also on this series that they met American animator Terry Gilliam.
Again as one door closed another opened and when 'DNAYS' was cancelled in 1968, the team were offered a contract (at the instigation of Barry Took), with the BBC to do an adult version for late night viewing.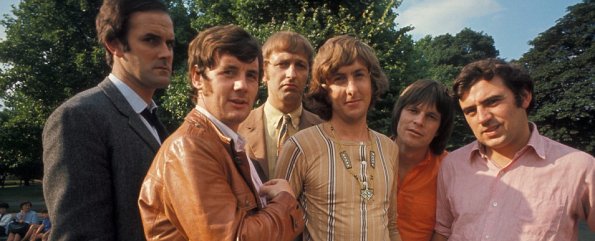 Originally to be called (amongst many other titles bandied about at the time) 'Owl Stretching Time', the series was to feature a compilation of sketches most of which poked fun at bureaucracy and the upper classes, although from the 'Upper Class Twit of the Year' to 'The Gumbies,' no section of the public was left un-insulted. Although many of their sketches have now gone down in television comedy legend, there were plenty that were instantly forgettable. However, the rate at which these short skits were delivered to Python's audience meant that the series as a whole was a major success, and as such 'The Dead Parrot Sketch,' 'The Ministry Of Silly Walks' and 'Is This The Right Room For An Argument?,' have gone down in Python, and thereby television legend. Between these sketches were Gilliam's Dali-esque surreal cartoons which sometimes linked sketches together, the famous military style theme tune (Sousa's Liberty Bell), and Cleese's memorable line, "And now for something completely different." itself a fitting description of the show. 
The Python Team continued for 45 shows and five years (sans Cleese in the last series which was now simply titled Monty Python), until they broke up the partnership to pursue individual careers. Eric Idle created and starred in Rutland Weekend Television, Michael Palin, in collaboration with Terry Jones made Ripping Yarns, as well as writing sketches for The Two Ronnies and appearing in Alan Bleasdale's GBH, and Cleese went on to co-write and star in another memorable sitcom, Fawlty Towers. However, this wasn't the end for Python, and the team got together again to write and star in several movie projects, the most controversial of which was 'The Life Of Brian' in 1979, before the sad and premature death of Graham Chapman in 1989.
By turns irreverent, surreal, chaotic and at times simply silly in a way which is uniquely and quintessentially British, the series became a major hit on both sides of the Atlantic. Its comedic influence echoing down the decades and in the process helping to redefine the boundaries of televisual comedy, Monty Python's Flying Circus has more than earned its place in television history. At its most sublime, it was daring zany humour on a school-boy level, performed expertly by a group of grown up children for a grown up audience ready and eager to once again recapture the (unfettered by logic) humour of their lost childhood.
Published on January 8th, 2019. Written by SRH (2000) for Television Heaven.