Mozart in the Jungle
2014 | United States
Review: John Winterson Richards
Amazon's Mozart in the Jungle was a prestige project designed to attract high cultured, high spending socioeconomic group AB types to their subscription services. To that end, it offered a quality cast, some great location work, beautiful photography, and, above all, Classical music - lots and lots of Classical music.
Should you like any particular bit of that music, there is, as usual with Amazon, a convenient link that will enable you to buy it with a single click ...from Amazon, of course. Welcome to the 21st Century.
As one of Amazon's first tentative forays into production of its own content, the show sometimes seems uncertain what it wants to achieve in artistic terms, even if it is perfectly clear that it is the most blatant marketing exercise since the days of "now for a word from our sponsor."
Since its whole mission was to be attractive in every way, it is a show that sets out deliberately and self-consciously to be likeable. In this it succeeds. The result is a rather sweet show in the old fashioned sense.
Its problem is that too much of anything sweet can become a bit sickly.
Hold that thought for a moment while we go through the likeable bits. We start with our likeable protagonist, Hailey Rutledge, played by Lola Kirke. She is something of an identikit 2010s television heroine: naturally, she happens to be very pretty, while stopping short of actual beauty, which would be unrelatable; she is, we are told, talented; she is ambitious while at the same time touchingly unsure of herself, without that really being explained; everyone likes her; and if she does not have "Please Like Me" literally tattooed on her forehead we still get the message.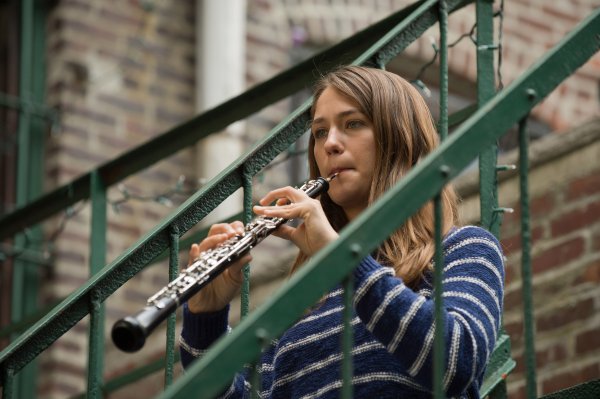 Hailey aspires to be an oboist with the fictional New York Symphony - apparently no relation to the New York Philharmonic or the now defunct New York Symphony Orchestra - and later a conductor.
The Symphony is in a precarious financial position, and its President, Gloria Windsor (the wonderful Bernadette Peters), makes the radical decision to replace its highly respected principal conductor Thomas Pembridge (Malcolm McDowell on fine curmudgeon form) with popular but unpredictable young star Rodrigo de Souza (Gael Garcia Bernal).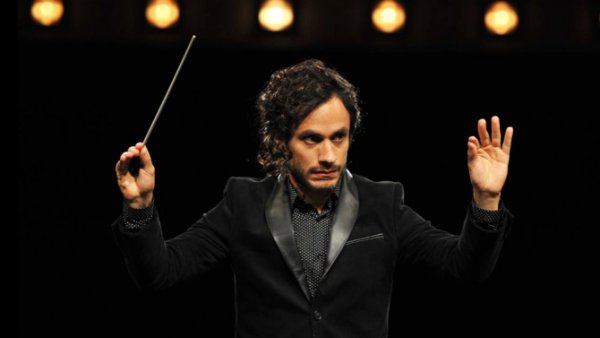 As de Souza, Bernal takes likeability off the scale. Objectively, he should be a nightmare of a man, impulsive, unreliable, and unthinkingly egotistical. Yet his childlike innocence, instinctive kindness, unquestioning acceptance of everyone, and infectious energy are irresistible, and being angry with him, however justifiably, would be like scolding a puppy.
His only confidant is Mozart. Yes, the Mozart, who turns up to talk to him from time to time. Sometimes other famous musical figures also turn up. When Rodrigo goes through a phase of worrying that he is selling out, Mozart is replaced for a while by Liberace.
It is fairly obvious what is going to happen between Rodrigo and Hailey. There is a definite affinity between them from the start, and, apparently with his usual spontaneity, he hires her as his assistant. No, there is nothing Harvey Weinstein about that, nothing at all.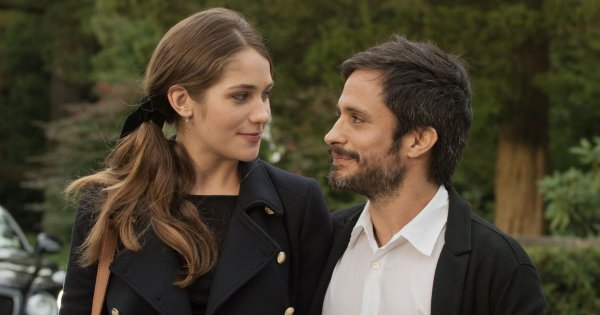 Of course, Hailey, being a modern woman, still wants to make it on her own without any help - except from all the useful contacts she makes, of course. While her progress in love and career is far from smooth, proceeding at the rate of two steps forward and one step back still means it is fairly inevitable in a show like this. It is no spoiler to suggest that Hailey is going to get whatever she wants. The question is what do Hailey and Rodrigo really want? Do they know?
There is therefore no real "Will they? Won't they?" about Hailey and Rodrigo, and in any case the audience is kept more than entertained by the relationships of the supporting characters and the Byzantine politics of running a major cultural organisation. The likeability factor keeps us invested in the former, even if it rather undermines the latter.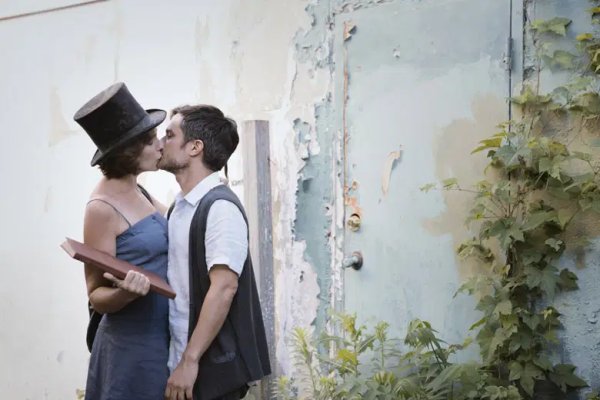 There is conflict, but it is to the show's credit that there are no one dimensional villains, and in any case everyone is being so likeable that serious division does not last long and never gets really nasty. There is a strike, but, although we are supposed to be on the side of the strikers, there really is no great point of principle at stake, and the other side - the difficulty of running a marginal "not for profit" cultural organisation when reliant on donors - is never explored properly, so no one's heart is really in it.
Lower level conflict is also short lived. Pembridge, another egotist, and probably irritable even at the best of times, is understandably annoyed at being supplanted by the brash young pretender, while there is a similar generational clash between Hailey and the Symphony's veteran principal oboist, but both these initially antagonistic characters end up helping our heroine on her journey, and everyone is united by a genuine love of Classical music in general and the orchestra in particular.
That love permeates the whole project. It has, unsurprisingly given the subject matter and quite intentionally, a soundtrack that will have even those who do not think of themselves as Classical fans clicking that Amazon button, even if some of the more modern pieces are something of an acquired taste. There are also a lot of cameos by popular Classical musicians - if that is not a contradiction in terms. Much of the name dropping in this regard will mean little to anyone who is neither a musical professional nor rich enough to travel the world attending concerts, but Placido himself turns up with an important plot point.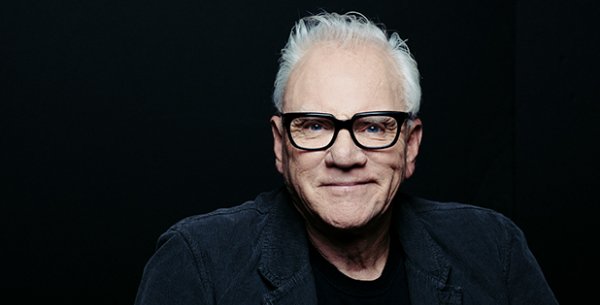 Amazon were really splashing the cash in those days. In addition to an obviously expensive principal cast - also including Saffron Burrows, who really is unrelatably beautiful, in a largely superfluous role, and Monica Bellucci, Danny Glover, and Wallace Shawn in guest slots - they appear to have spent a fortune on some incredible location work.
New York has never looked better. The urban jungle and post-Apocalyptic warzone of 1970s cinema is now apparently an Idyllic place, full of musicians playing in parks under endless blue skies - it looks like nearly all the filming was done on bright, sunny days. If that is not enough, the third season takes us to Venice, always a photogenic joy.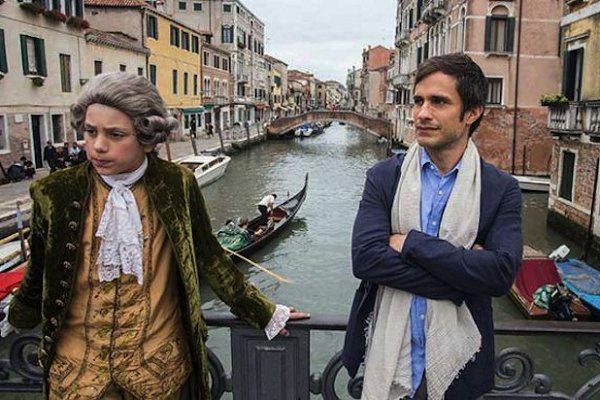 Throughout, there is a visual aesthetic worthy of the musical aesthetic, the two blending in a cool, modern vibe, which is surprising given the subject matter. There is great awareness of the power of light and colour. To be honest, although the show is tagged as a "comedy drama," it is not particularly dramatic or very funny - a few smiles, no big laughs - but who cares? We just enjoy hanging out with these likeable people in their likeable world...
This is the moment that Beethoven would insert a dramatic chord to indicate a complete change of mood - because this is the moment we remember how fake it all is.
Even today, there are hundreds of youngsters studying Classical composition and conducting, dreaming of being the next Mozart, when few will ever have the opportunity of even standing in front of a proper orchestra. It is a competitive market because there is relatively little demand, but still, amazingly, no shortage of would-be suppliers. Hailey's Cinderella story is exactly that, a fairy tale.
The reality is that for vast majority of the huge numbers who aspire to be professional musicians of any sort, their careers are likely to be solitary, poor, nasty, brutish, and short. Those who endure will be driven by a passion for the music or the knowledge that they are incapable of doing anything else - or both. Most are unlikely to enjoy the casual affluence on display here.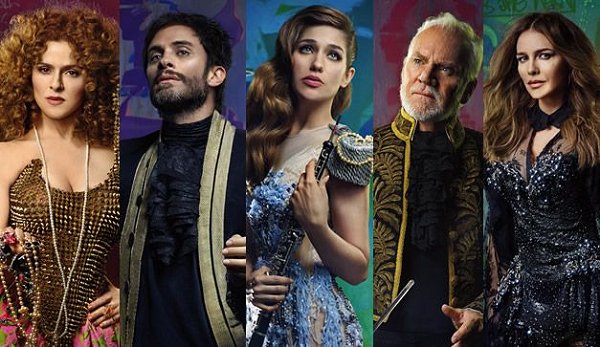 New York is not a place where the skies are always clear. America is a bitterly divided country. The Big Egos of the musical world - of whom there are many - are rarely as likeable as they are portrayed in the show, and they do not always come together in the end for the common good and the love of their art. Life in a big cultural organisation can resemble the Weimar Republic.
As a piece of escapist fluff, and an extended glossy advertisement for Amazon's various products, Mozart in the Jungleserves its purpose well, but there comes a point when the rather sheltered and pampered existence of these likeable characters becomes slightly irritating compared with the realities the rest of us must face in daily life in our own aesthetically less perfect world.
About writer John Winterson Richards
John Winterson Richards is the author of the 'Xenophobe's Guide to the Welsh' and the 'Bluffer's Guide to Small Business,' both of which have been reprinted more than twenty times in English and translated into several other languages. He was editor of the latest Bluffer's Guide to Management and, as a freelance writer, has had over 500 commissioned articles published.
He is also the author of How to Build Your Own Pyramid: A Practical Guide to Organisational Structures' and co-author of 'The Context of Christ: the History and Politics of Rome and Judea, 100 BC - 33 AD,' as well as the author of several novels under the name Charles Cromwell, all of which can be downloaded from Amazon. John has also written over 50 reviews for Television Heaven.
  John's Website can be found at John Winterson Richards
Published on March 18th, 2020. Written by John Winterson Richards for Television Heaven.