Never Mind The Quality, Feel The Width
1968 | United Kingdom
Originating from a 1967 Armchair Theatre production which starred John Bluthal and Frank Finlay as a pair of tailors, one Jewish - the other Irish, Never Mind The Quality, Feel The Width was once held up by the World Council of Churches as an example of inter-religious unity. Set in a back street workroom in London's famous Whitechapel area, the series (with Joe Lynch replacing Frank Finlay for the series) told of trouser-maker Patrick Michael Kelly and jacket-maker Emmanuel (Manny) Cohen, who joined forces and became the suit-making company of Cohen and Kelly.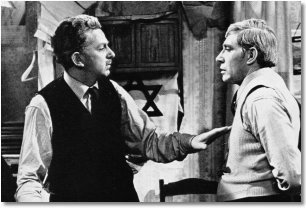 However, their relationship was a rocky one and often required the interventions of Father Ryan (Eamon Kelly) and Rabbi Levy (Cyril Shaps) as the central characters tried to come to terms with each-others philosophies and beliefs. Writers Vince Powell and Harry Driver wrote well-observed and humorous scripts drawing on their own backgrounds. Powell was a churchgoing Catholic who had heard the term used for the series title said by an Irishman, when he worked briefly as a tailor himself, and Driver was brought up in the Jewish area of Manchester, and had previously worked in Marks and Spencer. 
The writers also had a long and distinguished career and during the term of their partnership (Driver died in 1973) created some of Britain's best known sitcoms, including; Bless This House, Nearest and Dearest, Love Thy Neighbour and For The Love Of Ada, as well as supplying scripts for Coronation Street and Adam Adamant Lives! 
Interestingly enough ABC, who produced the show, had six unscreened episodes at the time they lost their broadcasting franchise to Thames Television, who then took over the series. The first three episodes were shown soon after the new company took over but the next two did not see the light of day for almost two years and were only broadcast after the final series had been shown (they were billed as repeats - which they were not). The final episode ('And A Yarmulka To Match') has never been seen. The tailors were reunited for a 1972 full-length feature film.
Published on January 11th, 2019. Written by Laurence Marcus for Television Heaven.