The Man Out There
1966 | United Kingdom
In the loneliness of space the world's first astronaut, cut off from base, is linked up by freak radio reception with a Canadian trapper's wife isolated with a life or death problem. 
For Patrick McGoohan, known to viewers as the star of Danger Man, there were even greater dangers in Donal Giltinan's dramatic play The Man Out There. Pressure suited and fastened firmly into a capsule, he is hurtled into outer space as a Russian astronaut. McGoohan had been a television space traveller before-in 1958, when he played in The Greatest Man in the World, a satire based on a James Thurber story. Sending a man into space was still a remote possibility then, so the play was set forward in time to 1961. It was now 1961 and astronauts had become news headlines.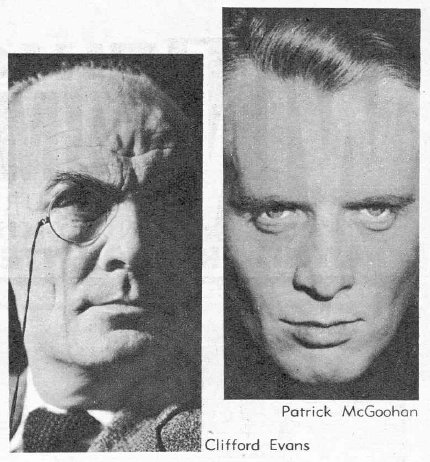 In Giltinan's play, Nicholai Soloviov (McGoohan) is the first man to venture the earth's atmosphere. But although he goes into orbit, the success of the project is jeopardised by a mechanical failure. This raises doubts about the astronaut's safe re-entry. Because of sunspots, he loses radio contact with Russia. So while the lonely capsule circles the world, tension mounts at control. The scheduled flight time of five hours runs out and scientists and technicians work to right the fault. The general in charge of the project (Clifford Evans) voices his doubts. By a freak of radio reception Nicholai makes contact with Marie (Katharine Blake), the wife of a trapper living in the rugged, blizzard - swept North-West of Canada. 
Giltinan centres his play in this situation of two people cut off from the rest of the world, both urgently needing help and talking to each other. 
The Man Out There was directed by Charles Jarrott and produced by Sydney Newman. Shown as part of ITV's ABC Armchair Theatre strand and aired on Sunday 12th March 1961 at 9.05pm.  
Published on April 3rd, 2020. Written by Based on original TV Times article and adapted for Television Heaven.