Three of a Kind
1981 | United Kingdom
Review: John Winterson Richards
Having in effect revived television satire in Britain with Not the Nine O'Clock News, the BBC were keen to follow it up, perhaps already aware by 1981 that its talented cast would soon be moving on. Since it was still being made at that point, they did not want something exactly the same. So they invested in two shows that had the same magazine or review format of multiple sketches, as opposed to "situation comedy," but their satire was gentler and more general than the sharp political comment of Not the Nine O'Clock News.
These two shows, Three of A Kind and A Kick Up the Eighties, had something else in common: a brilliant young comedienne called Tracey Ullman.
Social or cultural satire rather than current affairs comedy, Three of A Kind was primarily a showcase for its three rising stars, Ullman, Lenny Henry, and David Copperfield, aka "David Copperfield - Not the Magician," aka "The Other One From 'Three of A Kind.'"
Of the three, Henry was by far the best known in 1981. Having enjoyed a high profile career since breaking though as an impressionist on New Faces when he was still in his teens, he was one of the most recognisable people on British television at that point, not least because there were very few people on British television at that point with his skin colour.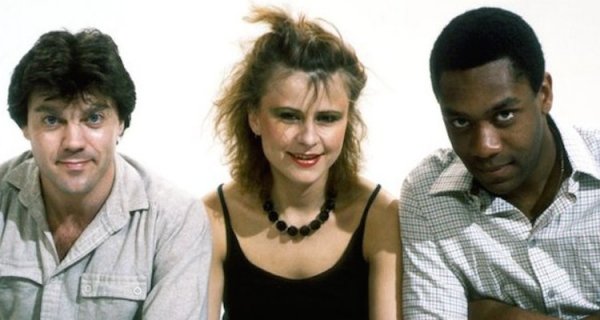 However, Three of a Kind found him at a crossroads. His days as a teenage prodigy were behind him. The obvious route ahead was to build on his recent success on Tiswas, but that would put him in danger of being labelled as a children's entertainer. The obvious right turn to a traditional adult comedy career looked depressing: most comics have a short shelf life and even for those who endure, it usually means drudgery on the club circuit. So Henry was already looking at a left turn to the exciting new "alternative comedy" scene that had sprung up around the Comic Store and the Comic Strip.
The BBC show therefore came at the perfect moment to remind mainstream audiences of the breadth of his comic skills. In tone it was in the same grey area between the family friendly and the slightly risqué that was inhabited by the likes of The Two Ronnies, even if its style was more modern. It marks an important transitional phase for Henry: he brought in elements of his act from Tiswas, such as his David Bellamy impression, and at the same time hints of experiment with the "alternative comedy" that was to be more influential in his career later on.
Ullman was then in some ways where Henry had been a few years before. She was a versatile, hardworking, precocious natural mimic with a strong drive to perform. Like Henry, she came almost out of nowhere thanks to a competition. After winning a London Critics Circle Award for her work at the Royal Court Theatre, she was quickly headhunted by the BBC, who were eager to develop female comic talent, especially in the wake of Pamela Stephenson. Indeed, they were so eager that Ullman got those two big shows at once.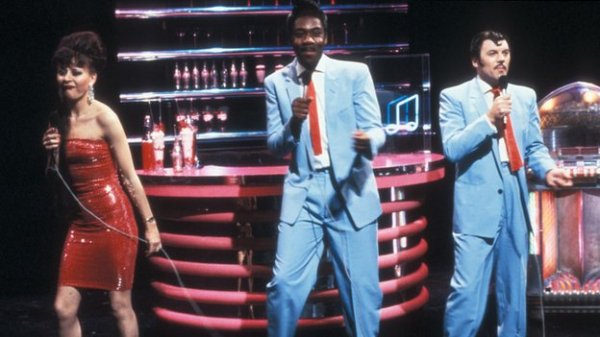 In fairness, the BBC have always been good at developing the careers of funny women, if not always so good at nurturing them once developed. Ullman might be a case in point.
Copperfield was a more traditional comic with several years of experience on the circuit Henry hoped to avoid. He had worked the clubs and made a number of television appearances as a "stand up" and impressionist. He was a calm, assured performer, who turned out to be the heart and soul of Three of A Kind when the other two were sometimes perhaps a little too keen to impress.
The show adopted the same quick fire format as Not the Nine O'Clock News. The sketches came thick and fast, so, if that meant that not all of them landed, there was always another one coming along in a moment. They were linked by witty graphics, most memorably a parody of the much loved Ceefax teletext service that was familiar to viewers of the time. The effects and multiple set ups suggest someone invested a lot of money in Three of A Kind.
Yet its writing staff lacked the strength in depth of Not the Nine O'Clock News - which seems to have employed almost everyone who ever told a joke in the early Eighties - so it has fewer memorable moments... Actually, that is not quite true: it had quite a lot of memorable moments, but people tend to forget whether they came from Three of A Kind or A Kick Up the Eighties or Alas Smith and Jones or Channel 4's Who Dares Wins or Hale and Paceor any of the other comedy sketch shows that flourished in the aftermath of Not the Nine O'Clock News.
The best example from Three of A Kindis a faultless pastiche of John Hurt's most celebrated scene in the film 'Alien' - enlivened by a perfectly executed cameo by a famous guest star. Watch it online and try not to smile even if you know what is coming.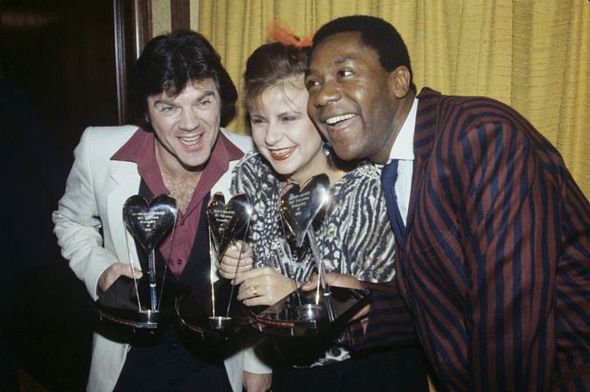 In general the parodies were well observed and all three stars were skilled impersonators - even if your reviewer would happily have the images of Lenny Henry as Ruth Madoc in Hi-de-Hi and Nichelle Nichols in Star Trek burned from his memory. Musical parodies, such as Ullman's "Annoyah," were well produced and on a par with their more celebrated equivalents in Not the Nine O'Clock News.
Far more interesting were the original characters, like Henry's "Fred Dread," Ullman's "Roz," and Copperfield's "Medallion Man," who rivalled Harry Enfield's "Loadsamoney" as a defining caricature of the Eighties. As if in an effort to include almost every possible form of comedy, Three of A Kind also incorporated an element of "stand up." This took the simple but very effective form of each of the eponymous Three delivering a single line to camera, the first two setting up the third for the punchline in classic style.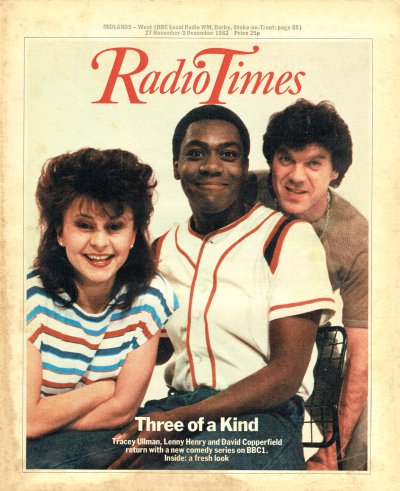 Although the show was a success, it was never going to last, because it was obvious that the Three were all destined for higher things. Indeed, the BBC soon gave Henry his own show, while Ullman got hers by crossing the Atlantic and getting serious American money for it. This leads to the question everyone asks: "Whatever happened to David Copperfield?"
After all, in terms of contribution to the show, he was arguably the best of the Three. His characters are probably the most remembered, and he provided a much needed air of maturity when the younger two sometimes seemed a little nervous. He also had a greater versatility, not least some genuine ability with a guitar as he demonstrated in one of the more memorable sketches. Surely if anyone deserved his own show, it was Copperfield.
Most people do not know that he got it - twice in fact. The BBC eventually gave him with the lead in the unhappily named Lift Off! It did not. It did, however, spin off - a show actually named after its star, Coppers and Co. Somewhat confusingly, this was also known as Lift Off! With Coppers and Co! With a name like that, it is no surprise that this did not lift off either.
It is difficult to explain exactly why Copperfield failed to carry a show on his own when his two former colleagues did. Perhaps his name was a disadvantage, easily confused with a Dickens character and a contemporary illusionist. Perhaps it is that both Henry and Ullman were young when they worked on Three of A Kind and developed as performers as they went on while the more experienced Copperfield did not because he was then at his peak. Perhaps it is simply the way these things go.
Just as the race is not always to the swift, nor the battle to the strong, so success is not always to the talented, but time - or timing - and chance happen to us all.
As well paced entertainment, Three of A Kindactually stands the test of time very well - better than much of Not the Nine O'Clock News out of its topical context - even if one wonders if 1987 "Red Wedge" Lenny Henry or 2020 Sir Lenworth Henry, CBE, would approve of all of 1981 Lenny Henry's material. Never mind. It is still funny.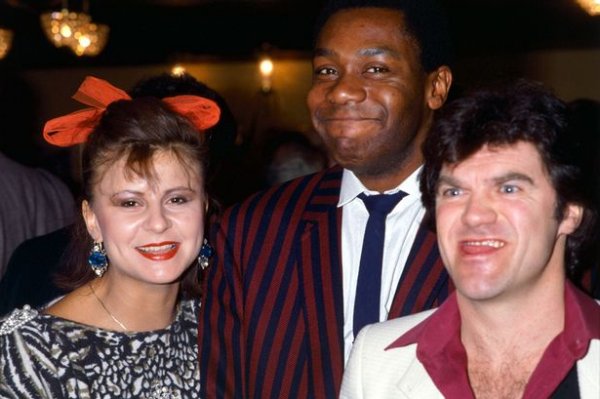 In the end, it was Ullman who was the biggest winner from Three of A Kind. It was where she learned her craft and polished her natural skills. By the time she made her big move, she was an experienced and accomplished performer, ready for anything.
For the BBC did indeed get their new Pamela Stephenson - arguably a more talented version - but not for long. Ullman also seems to have learned from Stephenson's career that there are better markets for talented comediennes than the UK.
The show itself is therefore an important moment in the history of British comedy, but not as well remembered as it deserves to be, even if some of its individual sketches and characters are. Indeed, it was only when researching this review - yes, honestly, we do that - that your reviewer was reminded how much he enjoyed it at the time. Check it out if you get the opportunity - or just look at the 'Alien' sketch to see if it is your sort of thing. Either way, you will definitely smile.
About the reviewer – John Winterson Richards
John Winterson Richards is the author of the 'Xenophobe's Guide to the Welsh' and the 'Bluffer's Guide to Small Business,' both of which have been reprinted more than twenty times in English and translated into several other languages. He was editor of the latest Bluffer's Guide to Management and, as a freelance writer, has had over 500 commissioned articles published.
He is also the author of 'How to Build Your Own Pyramid: A Practical Guide to Organisational Structures' and co-author of 'The Context of Christ: the History and Politics of Rome and Judea, 100 BC - 33 AD,' as well as the author of several novels under the name Charles Cromwell, all of which can be downloaded from Amazon. John has also written over 100 reviews for Television Heaven.
John's Website can be found at John Winterson Richards
Books by John Winterson Richards:
Published on August 10th, 2020. Written by John Winterson Richards for Television Heaven.