Happy Days, of course, became an iconic American TV series which has left its mark on popular culture even today. The Simpsons has made numerous offhand references to the series (both Ron Howard and Henry Winkler have "guest voiced"), as did the popular sitcom Friends and in the UK, Citroën used the theme tune and characters (with some special effects) to advertise their C3 model in 2006. (Although the character of Richie was not present because Ron Howard would not give his approval).
Happy Days actually got its start as a failed pilot for ABC called New Family in Town, which aired in February 1972 as a segment of ABC's anthology Love, American Style called Love and the Happy Days. It wasn't until the success of the film American Graffiti a year later that ABC asked producer Gary Marshall to rework the New Family in Town pilot, which eventually aired as Happy Days in early 1974 as a mid-season replacement.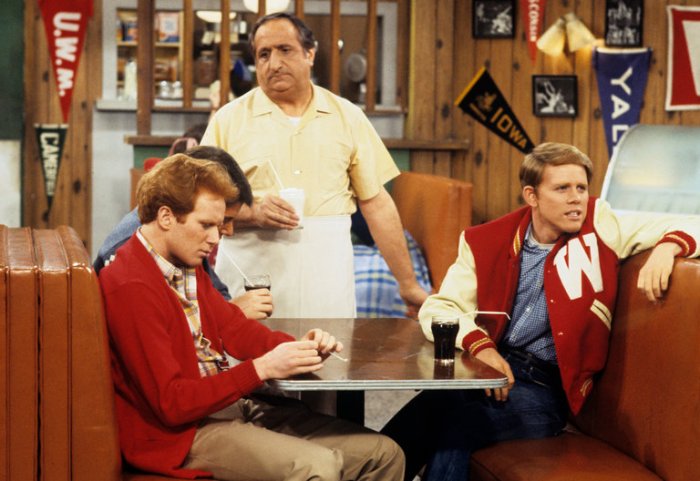 When Happy Days premiered, ABC was still a poor third in prime time to CBS and NBC. Despite marginal ratings after a strong debut, Happy Days survived because Henry Winkler's character of Fonzie soon became an increasingly popular fan favourite. That fact allowed Happy Days to stay on the air (coupled with the fact ABC simply didn't have anything on its shelves to replace it). When former CBS entertainment chief Fred Silverman moved to ABC in 1975, he pushed Marshall to make the Fonzie character more prominent. Marshall sped up the process by having Fonzie live in the converted apartment above the Cunningham family garage, giving the Fonz a plausible base to interact with the Cunningham's and the other cast members every week. By the 1975-76 season, Happy Days was the 11th most popular series on television and ABC leaped over NBC to become the number two network. A year later, Happy Days knocked All in the Family off its perch as America's top series, and ABC was the new #1 network. Plus, spin-off Laverne & Shirley was second in the ratings to Happy Days.

Sadly, the series also gave us a quite derogatory term for the moment a television show has proved to have outstayed its welcome. The term "Jump the Shark" came about as the result of a 1977 episode in which Fonzie performs a water ski jump over a shark. Although this has often been cited as the point where the series passed its peak of quality and popularity, it is fair to say that Happy Days had a number of moments similar to this well before the infamous stunt. However, in spite of having the dubious honour of coining the phrase, the series continued for another seven seasons and even overcame the departure of its (original) leading character, Ritchie Cunningham and also produced several spin-off series as well as Laverne & Shirley: Blanksky's Beauties, Mork and Mindy, Out of the Blue (arguably) and Joanie Loves Chachi.
The show may have spawned the "Jump the Shark" phrase, but it made a star out of Henry Winkler, made a fortune for Gary Marshall and helped turn around a television network. All in all, a job well done.
So let's look back on some of our favourite Happy Days characters and see what happened to them after leaving our favourite Wisconsin city: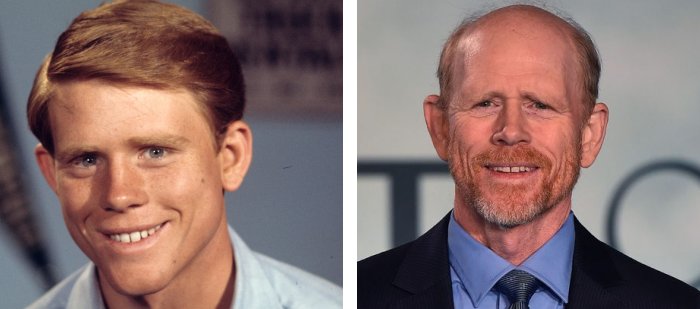 Ron Howard appeared in the series as Ritchie Cunningham from 1974 to 1980 (although he returned for the occasional guest appearance). Ronald William Howard was born 1 March 1954 and is an award-winning American actor and Academy Award-winning director and producer. Howard came to prominence in the 1960s as Andy Griffith's TV son, Opie Taylor, on The Andy Griffith Show (credited as Ronny Howard). Since retiring from acting, he has directed a number of successful films including Apollo 13, A Beautiful Mind – for which he received the Academy Award for Best Director and Academy Award for Best Picture – and the children's fantasy film How the Grinch Stole Christmas (2000) as well as the Robert Langdon film series, The Da Vinci Code and the semi-biographical drama Frost/Nixon. Howard also directed Solo: A Star Wars Story and the documentary films The Beatles: Eight Days a Week and Pavarotti. In 2013, Ron Howard was inducted into the Television Hall of Fame and has two stars on the Hollywood Walk of Fame for his contributions in the television and motion pictures industries.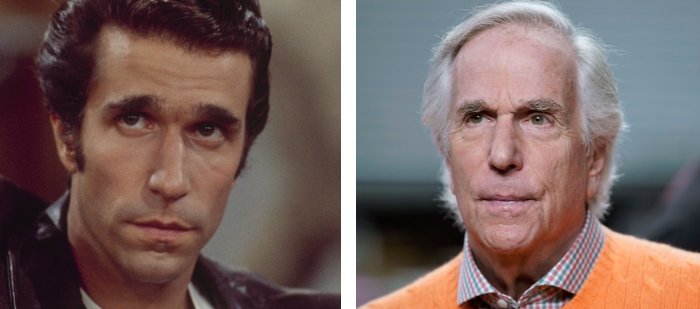 Henry Winkler is most famous for his role as Arthur "Fonzie" Fonzarelli. At the beginning of the series he only had a minor role - by the end of it he was the character most associated with the show. His trademark "Aaayyyy!" accompanied by a thumbs-up was imitated just about everywhere Happy Days was shown. Henry Franklin Winkler was born 30 October 1945 and is a Golden Globe Award-winning American actor, director, producer, and author. Winkler started acting by appearing in a number of television commercials before being cast in the series in October 1973. Since 2003, Winkler has collaborated with Lin Oliver on a series of children's books about a 4th grade boy, Hank Zipzer, who has dyslexia. Winkler also has the learning disability and said this was a painful part of his childhood. Winkler has published 17 books about his hero Zipzer, the "world's greatest underachiever." He appeared in his first pantomime at the New Wimbledon Theatre, London in 2006, playing Captain Hook in Peter Pan. He reprised the role in Woking, England for Christmas 2007. In 2011, he was appointed an Honorary Officer of the Order of the British Empire (OBE) by Queen Elizabeth, was named one of the United Kingdom's Top 10 Literacy Heroes in 2013, and was awarded the Bill Rosendahl Public Service Award for Contributions to the Public Good for his children's books in 2019. Winkler also appeared as Mr. Rock in the BBC adaptation of the series. In 1980, he donated one of Fonzie's leather jackets to the National Museum of American History, Smithsonian Institution and in 2008, The Bronze Fonz was unveiled along the Milwaukee Riverwalk.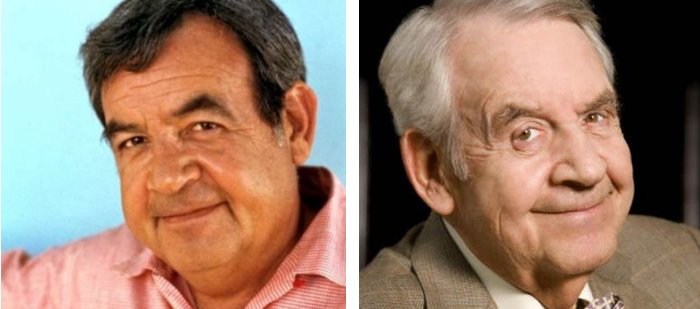 Tom Bosley is best known as Howard Cunningham, Richie and Joanie Cunningham's father and is also known for portraying Sheriff Amos Tupper on Murder, She Wrote. He also portrayed the titular Father Frank Dowling on the TV mystery series, Father Dowling Mysteries. Thomas Edward Bosley was born 1 October 1927 in Chicago, Illinois, and was an Emmy-nominated and Tony Award winning American actor. Also notable as a voice actor due to his resonant, fatherly yet expressive tone, Bosley hosted The General Mills Radio Adventure Theater, a 1977 radio drama series for children. He went on to voice many memorable animated cartoon characters, including Harry Boyle in the animated series, Wait Till Your Father Gets Home. He originated the title role of the Broadway musical Fiorello!, earning the 1960 Tony Award for Best Performance by a Featured Actor in a Musical. His first motion picture role was in 1963, as the would-be suitor of Natalie Wood in Love with the Proper Stranger. Other films include Divorce American Style and The Triangle Factory Fire Scandal. Bosley shared a heartfelt story about his experience with the Holocaust in the documentary film Paper Clips. Tom Bosley died from complications of a staph infection in October 2010. His agent, Sheryl Abrams, said Bosley had been battling lung cancer.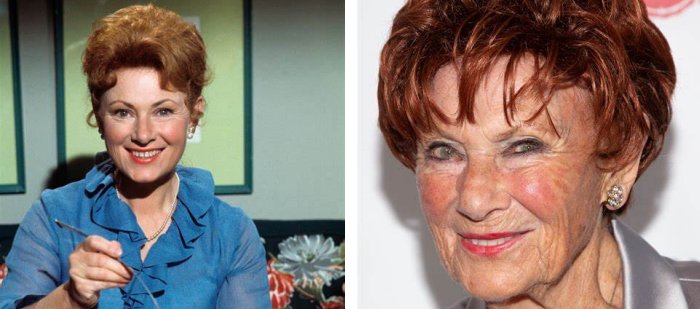 Marion Ross is best known as Marion Cunningham (Mrs. C). Born Marian Ross on 25 October 1928, in Albert Lea, Minnesota she changed the spelling of her name from "Marian" to "Marion" at the age of 13 because she thought it would look better on a marquee. Her career on television began in 1953, when she played the Irish maid on the series Life With Father for two years. Her list of credits spans the history of classic TV, from The George Burns and Gracie Allen Show, The Brady Bunch, Love Boat and Night Court. Ross also starred in The Evening Star (1996), for which she was nominated for the Golden Globe Award for Best Supporting Actress. She also did voiceovers for Grandma SquarePants on the animated series SpongeBob SquarePants. Ross (who at the time of writing is 93 years-old) lived in Los Angeles, California with actor Paul Michael until his death in 2011. Her two adult children also work in entertainment: Jim Meskimen's credits include How the Grinch Stole Christmas, and Ellen Plummer was a writer/producer on Friends. In 2018, Ross announced that she had officially retired from acting.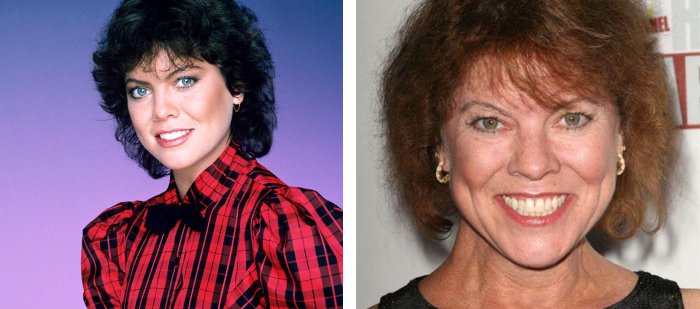 Erin Moran played Joanie Cunninghan. Born Erin Marie Moran on 18 October 1960, Moran was born and raised in North Hollywood, California, the fifth of six children in a strict Catholic family. Her parents were so strict that on the Howard Stern Show she said that she had been beaten with a belt for going "trick or treating." At the age of six, Moran appeared in her first commercial. Moran was cast as Jenny Jones in the television series Daktari which ran from 1966 to 1969. In 1968, she made her feature-film debut in How Sweet It Is? with Debbie Reynolds. In 1974, Moran was cast to play her most famous role, Joanie Cunningham, the feisty younger sister of Richie Cunningham. She continued the role in 1982 in the short-lived series Joanie Loves Chachi starring Moran and Scott Baio. After the show's cancellation in 1983, she returned to Happy Day' for its final season. Moran has made several other television guest appearances including Love Boat, Murder She Wrote, and Diagnosis Murde'. In 2008, she became a contestant on VH1's reality show Celebrity Fit Club. In 2013, despite reports that she would be reunited with Happy Days co-stars Henry Winkler, Ron Howard, and Scott Baio in the fourth season of Arrested Development, she did not appear in the revamped Netflix series. By this Moran had been battling depression for some time and had fallen on hard times. She lost her California home and moved into a trailer home in Indiana. On 22 April 2017, authorities in Corydon, Indiana, were alerted about an unresponsive female, later identified as Moran. She was later pronounced dead at the age of 56. She had previously been diagnosed with throat cancer.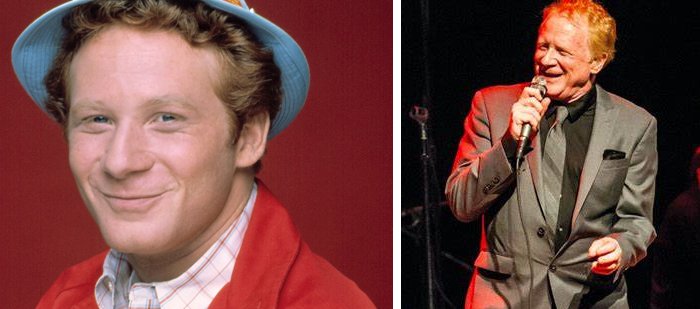 Donny Most was born 8 August 1953, in Brooklyn, New York City and was best known for his role as Ralph Malph. His film credits include EDtv (1999) and Planting Melvin (2005). He also made guest appearances on many TV shows, including CHiPs, The Love Boat, Sliders, Star Trek: Voyager and Sabrina, The Teenage Witch. He is now known professionally as Don Most. He also made an appearance on Charles in Charge, alongside his former Happy Days co-star, Scott Baio. In the episode he plays a man who has just won the lottery and, as part of the cameo joke, he runs up to Baio and waving the winning ticket shouts, "It looks like happy days are here again!" Don is married to actress Morgan Hart. He has two daughters and lives near Los Angeles. It was discussed that he and Anson Williams would have their own spin-off show centring on their Happy Days characters Ralph and Potsie, but it never materialized. Don Most is still acting and, at the time of writing, has several roles in production.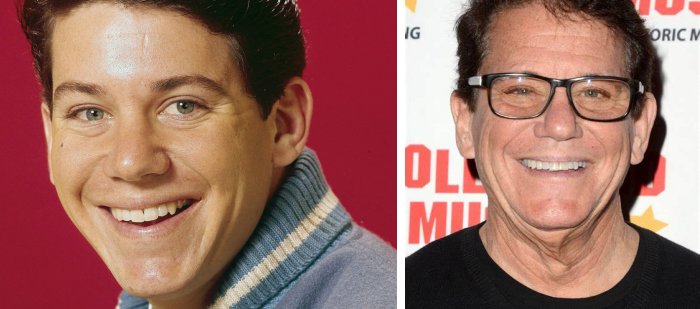 Anson Williams was born 25 September 1949 and is an actor and director. Born as Anson William Heimlick - he is best known for his role as gullible but well-intentioned singer Warren "Potsie" Weber. His character was one of the few to remain through the entire run of the series, although his appearances became less frequent in later seasons. In 1986, Williams directed the ABC after-school special The Drug Knot. This dealt with the problem of teenage drug abuse and was highly acclaimed. Many critics praised it as the best anti-drug show ever made. He has gone on to direct many episodes of popular television shows, including episodes of Beverly Hills 90210, Melrose Place, SeaQuest DSV, Star Trek Deep Space Nine, Star Trek: Voyager, Xena: Warrior Princess, Hercules: The Legendary Journeys, Sabrina the Teenage Witch and Charmed. He guest starred as himself in an episode of Boy Meets World in its third season as a nod to Happy Days and also guest starred on Sabrina, which he was also directing at the time, reprising the role of Potsie in a fantasy sequence. Anson Williams is the second cousin of Dr. Henry Heimlich, known for the Heimlich Manoeuvre for treating choking victims.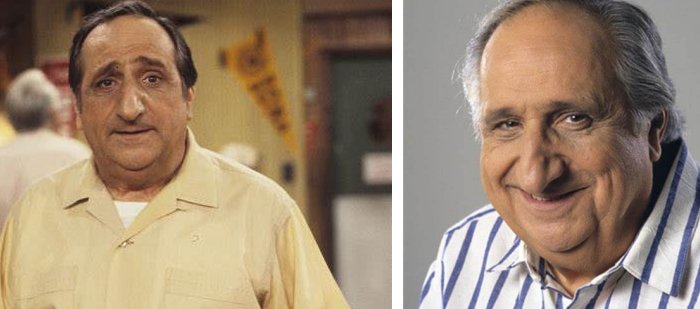 Al Molinaro was born 24 June 1919, and was an actor in television and films, most notably as Al Delvecchio, the owner of Arnold's on Happy Days and its spin-off show Joanie Loves Chachi, Murray the Cop on The Odd Couple television series, as well as starring in many commercials for On-Cor frozen dinners. He also starred in a short-lived 1982 situation comedy called The Ugily Family, about an unsightly Italian family whose last name is constantly mispronounced as "ugly". Molinaro was born in Kenosha, Wisconsin and was one of ten children in his family. His love of his hometown has long been evident, and he was quoted as saying about it, "I love that town; I love it. If it wasn't that I left it for show business, I'd still be there today." Al also appeared in Weezer's music video for Buddy Holly, which was set in Arnold's diner. He introduces the band as "Kenosha, Wisconsin's own Weezer". In 1987, Molinaro and fellow Happy Day' cast member Anson Williams opened a chain of diner restaurants called Big Al's. He did not appear in the 2005 Happy Days Reunion which aired on ABC. Al Molinaro is married and has one son. He retired from acting in television and films in the early 1990s and passed away at the grand old age of 96 in October 2015.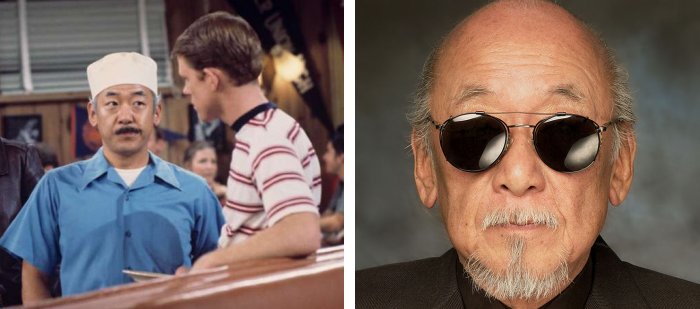 Pat Morita was born Noriyuki Morita on 28 June 1932 and was an American actor who was well-known for playing the roles of Arnold on the TV show Happy Days and Mr. Miyagi in the Karate Kid movie series, for which he was nominated for the Academy Award for Best Supporting Actor in 1984. Morita was born in Isleton, California, to Japanese immigrants; his father was a farmer and owned a restaurant. Morita developed spinal tuberculosis at age two and spent the bulk of the next nine years in Northern California hospitals. He was for long periods wrapped in a full body cast and was told he would never walk. Often alone and isolated, young Morita made sock puppets to entertain himself. His first movie role was as a stereotypical henchman in Thoroughly Modern Millie (1967). Later, he landed a recurring role as South Korean Army Captain Sam Pak on the sitcom M*A*S*H. After the first season of Happy Days he left to star as inventor Taro Takahashi in his own show, Mr. T and Tina, the first Asian American sitcom on network TV. The sitcom was cancelled after a month. One of Morita's last TV roles was as Master Udon on the SpongeBob SquarePants episode, Karate Island. The episode was dedicated to him after he died (November 2005) about six months after the episode's first run.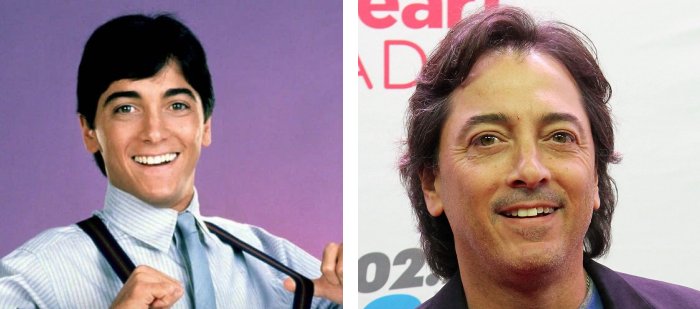 Scott Baio was born Scott Vincent James Baio on 22 September 1961. In 1976, Baio played the title character Bugsy Malone in the cult kiddie gangster musical directed by Alan Parker, which also co-starred Jodie Foster. When he was 16, Scott was then cast as The Fonz's cousin, Chachi Arcola, on Happy Days. During his Happy Days run, Baio earned two Emmy Award nominations for his lead performances in the TV movies Stoned (1981) and All The Kids Do It (1985). He also won two Young Artists Awards during the Third Annual Youth in Film Awards (1980-1981) as Best Young Actor in a Television Special for Stoned and Best Young Comedian in Television or Motion Pictures for Happy Days. He also starred in the made-for-television youth drama specials The Boy Who Drank Too Much with Lance Kerwin and Senior Trip with Mickey Rooney. In 1982, Baio starred in a spin-off of Happy Days entitled Joanie Loves Chachi with Erin Moran, which lasted one season. He later appeared in his own VH1 reality series titled Scott Baio Is 45...and Single followed by Scott Baio Is 46...and Pregnant.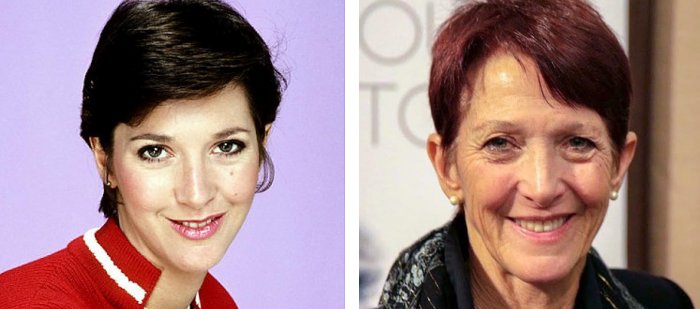 Lynda Goodfriend is best known for playing Lori Beth Cunningham, Richie's wife. Before Happy Days, Goodfriend played Ethel "Sunshine" Akalino on the short-lived series Blansky's Beauties alongside her co-star Scott Baio. Born 31 October 1953 in Miami, Florida, Goodfriend holds a BFA from Southern Methodist University a private research university in University Park, Texas. In 2019 she was appointed the acting chair at the New York Film Academy. At the time of writing she currently teaches classes to aspiring child actors.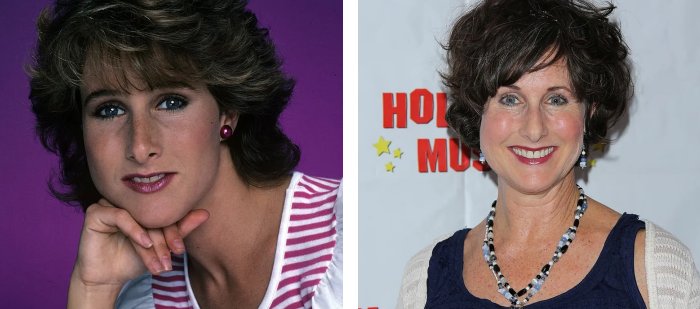 Cathy Silvers best known for her role of boy-crazy teenager Jenny Piccolo, was born 27 May 1961 in New York City to Evelyn Patrick and actor/comedian Phil Silvers, forever remembered as Sgt Ernest Bilko in The Phil Silvers Show. Of her early life she said, "sons and daughters of doctors, dentists and lawyers go to their fathers' offices. I went to movie and stage sets. I went to Beverly Hills High School and most of my friends' parents were in the business, too. Milton Berle lived next door to us and Lucille Ball lived at the end of the block. I grew up thinking acting was what everyone did." Cathy and Phil got to work together only once and that was on an episode of Happy Days in which he played Jenny's dad. "It was magic." She said. "I'd always heard people talk about how exciting it was to work with my dad and I got to see why. He was really special." Cathy loved her time on Happy Days and said it couldn't have been a better initiation into the business. "They were like one big happy family when I arrived, and they took me into their family. Everyone on the show was supportive and kind. I've done a lot of TV series work since and I've never had the situation duplicated." In 1996, Cathy withdrew from acting and earned a degree in marketing from American University and formed her own business. A vegan, she operates a delivery service that delivers organic produce from farmers' markets to customers throughout Los Angeles County. In 2019, Silvers spoke of her interest in reviving Happy Days but nothing ever transpired. Silvers is also the author of a book called Happy Days Healthy Living. She also hosts an online show, The Healthy Living Show, which focuses on similar topics.
Yep, yep, yep, yep, yep...
Published on December 3rd, 2021. Written by Michael Spadoni and Laurence Marcus (2009 - updated 2021) for Television Heaven.