The last surviving member of the cast of the BBC's all-time classic radio series, Hancock's Half Hour, Bill Kerr, passed away on 28 August 2014.
Bill Kerr was born on 10 June 1922 into an Australian showbiz family while they were on tour in South Africa. His first gig was as a babe in arms-as he later recalled: "My mother took about 10 weeks off to have me, and when she returned to the stage the producers said rather than bother with a doll for the baby, why didn't she use me? So you could say my stage career began when I was only a few weeks old. I was such a hit, I retired in 1922 and made a comeback at seven," he said.
At the end of the tour Kerr's family returned to Australia and settled in Wagga Wagga, New South Wales where Bill claimed he was "elocuted to death" in anticipation of a showbiz career. At the age of seven he was billed as "the Jackie Coogan of Australian vaudeville" and made his first film appearance in 1933's Harmony Row, in which he was billed as "Wee Willie Kerr."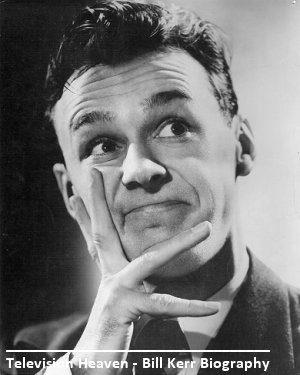 His first major movie role was at the age of twelve playing a blind youngster in The Silence of Dean Maitland, one of Australia's first talking pictures. During the war years Kerr became a close friend of Peter Finch and the pair served in the Army putting on numerous stage shows in Australia and overseas. Kerr moved to Britain in 1947 to pursue his show business career, and at that time decided he would have more chance of landing roles if he retained his Australian accent. He took to working on variety bills such as the Camberwell Palace, where he delivered a four-minute deadpan monologue filled with doom and gloom, delivered with a broad Australian drawl. His opening line which became something of a catchphrase for Kerr was "I've only got four minutes." Gig's at London's famous Windmill Theatre followed in which he appeared on the same bill as Harry Secombe and Peter Sellers. "Peter Sellers used to do an impression of me," he recalled "and he actually sounded better than me!"
Kerr's first break in the UK came on BBC radio's Variety Bandbox in 1948. When presenter Derek Roy was taken ill Kerr became his replacement for six weeks. Working with Frankie Howerd and with occasional scripts written especially for him by Bob Monkhouse and Spike Milligan, Kerr soon became a well-known performer. Around this time Kerr worked on the radio series Happy Go Lucky .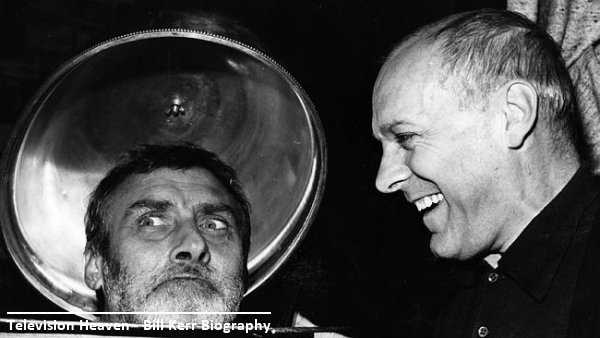 Despite the title the show was fraught with problems. It featured a number of up-and-coming comedy stars such as Graham Stark, Peter Butterworth and a comedian making a real name for himself, Tony Hancock. But the show was a complete flop and in desperation the BBC employed the relatively new writing team of Galton and Simpson in an attempt to revive its fortunes.
The final Happy Go Lucky was recorded at the Playhouse Theatre in Lower Regent Street, London. It was here that the writers had their first conversation with Tony Hancock. As they were leaving the theatre the star came up to them and making reference to a sketch they had written about a children's party said; "Did you write that sketch?" They nodded. "Very funny," said Hancock walking away, "very funny." And the seeds were sown for the future of British comedy.
With Hancock steadily building a reputation for himself the BBC gave the go-ahead for a thirty minute radio sitcom. "I think we were walking through Berkley Square one night with Graham Stark and the two lads (Galton and Simpson) and I was regaling them with some stories about Australia and they said "Why don't we use Bill?" (in the radio series).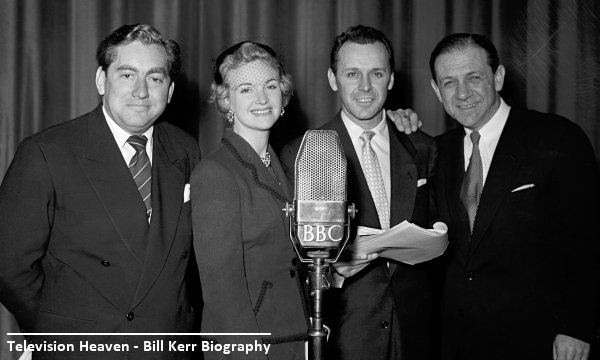 Kerr was cast as an Australian lodger in the BBC radio comedy series Hancock's Half Hour . At first he was cast as a fast-talking wise-guy, but he gradually adopted a laconic Australian drawl and his character became a slow-witted simpleton who was often the butt of his co-stars' jokes. "It was much better for Tony to bounce off," Kerr said. Bill Kerr and Tony got on very well. "He was marvellous when he had about three or four gin and tonics. He was then the most delightful man."
Looking back at that period of his life Kerr later recalled that it was a wonderful time for him. "It was a marvellous period of my life." But when Hancock finished Kerr found himself typecast. "It took me a long time to convince anyone that I could do something else." But Kerr got a break when he was cast as the Devil in the original West End production of Damn Yankees , directed by Bob Fosse. He appeared in a touring production of the play The Teahouse of the August Moon in 1956. He also worked with Spike Milligan and appeared in Milligan and John Antrobus's stage play The Bed-Sitting Room , which opened at the Mermaid Theatre on 31 January 1963.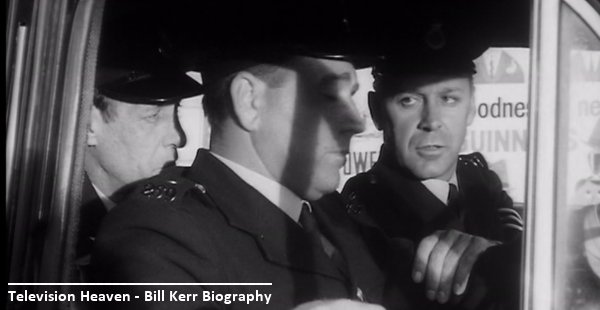 Also, in 1963 Kerr was cast in the Galton and Simpson penned movie The Wrong Arm of the Law starring Peter Sellers, Bernard Cribbins and Lionel Jeffries. Bill played the head of the IPO Mob, a gang of crooks who were committing robberies against other felons but disguised as police officers. He also played a number of 'straight' roles including Giles Kent in the Doctor Who adventure The Enemy of the World. Then in 1972 he co-starred with Anthony Newley in the long-running Newley/Bricusse musical, The Good Old Bad Old Days .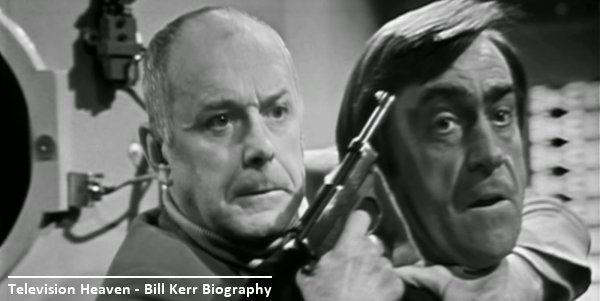 But in 1979 Kerr decided to move back to Australia, settling in Perth where his son William lived. "I was offered a couple of jobs and was fortunate enough to get into a couple of films including Gallipoli and A Year of Living Dangerously " (both directed by Peter Weir). He also worked on the Australian stage during the 1980s, in musicals such as My Fair Lady, where he received excellent reviews as Alfred Doolittle. In addition to his serious roles, he also continued to appear in comedies including the film The Coca-Cola Kid in 1985 and in 2001, he appeared in the Australian comedy Let's Get Skase . He also appeared in Glenview High and the 1998 television comedy series Minty. In 1980 Bill played the part of Douglas Kennedy in the soap opera The Young Doctors.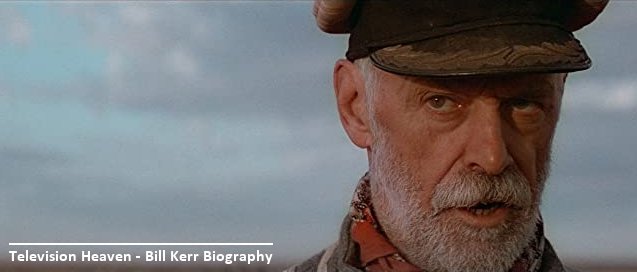 On 26 January 2011 Bill Kerr received the 2011 Walk of Honour in Wagga Wagga. Interviewed by Ed Doolan a few years later, he said "The sad thing is that when I see old movies I'm in the whole cast is dead. I say 'I'm still here. I'm not ready for the big wrap party in the dress circle yet.'"
Bill Kerr passed away at his home in Perth aged 92 years. His son Wilton Kerr said his father was born to perform. "The most generous, happy, loving man, different to the gruff-voiced man you'll find in the roles that he would play," he said. "Generous with his affection, just his life, general positivity, if I could be half the man he is, I'd be a very happy guy." Wilton said his mother heard his father laughing just before he passed away. "Mum said she could hear him laughing to Seinfeld, and that was one of his favourite shows. He said he wasn't feeling too well quite recently and he was just quietly watching television in his room," he said.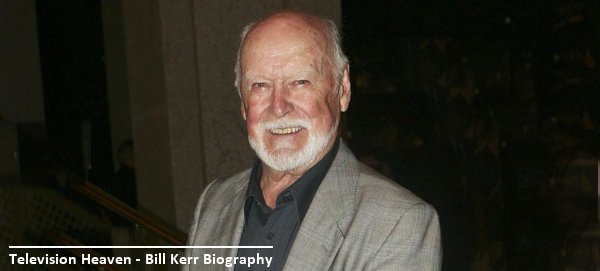 Bill Kerr carved himself an enduring place among an elite generation of comedians who changed the face of British comedy after the Second World War. His passing was an untimely reminder that that particular golden age of comedy is becoming a distant memory. Although not of the comedic stature of Hancock or Sid James, Bill was an essential part of the comedy chemistry that entertained a generation of fans at a time when radio comedy was king. 
Published on June 8th, 2020. Written by Marc Saul for Television Heaven.