Bread
1991 | United Kingdom
Review: Brian Slade
Despite a glowing early success with The Liver Birds, in 1986 television writer Carla Lane was struggling to find a successful comedic vehicle for her talents. Butterflies had been a huge success, but subsequent efforts including Solo, The Mistressand I Woke Up One Morninghad not been as well received. But just as she had done with flatmates Beryl and Sandra back in 1969, Lane drew upon her home city for one of the highlights of her career, the ratings hit comedy Bread.
Telling the story of the Boswell family doing battle with family dramas and up against the world, Bread revolved around the family matriarch Nellie, played in dominant fashion by Jean Boht. Nellie was family through and through, the whole epicentre of her universe being her kitchen from where she kept her offspring in line with a heavy dose of maternal advice, wanted or not. In the same kitchen sat the ceramic chicken, designed for mere groceries but instead used to collect cash from the house's occupants – somewhere between a church collection and council tax for the home.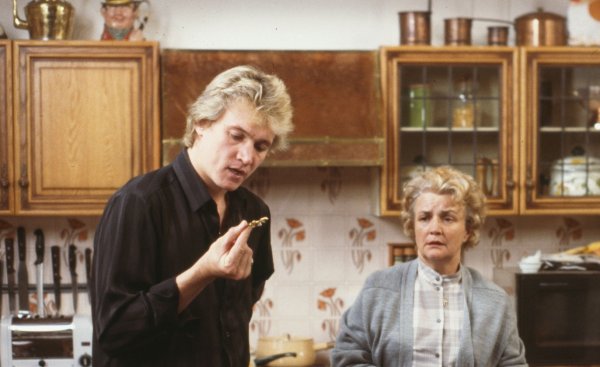 Of Nellie's offspring, Joey Boswell was the laid back, leather-clad smooth talker who tried to play peacekeeper and guidance councillor to his usually wayward siblings. A smiley 'Greetings' lay in wait to commence any conversation, friend or foe, and became one of many quoted lines from the show. Joey was the 'go to' guy whenever the other family members had issues, which they always did
Joey's three brothers and sole sister all battled their own problems. 'Our Aveline' usually dressed in outlandish outfits and consistently attracted men not deemed worthy, until she eventually commenced a relationship with a protestant vicar, much to the concern of devout Catholic Nellie. Of the remaining three brothers, poetic Adrian was forever dreaming of what he saw as a better life away from his surroundings, frequently losing himself in the fine arts. Jack was the most level headed of the boys, and the hardest worker at his antiques business, while the most troublesome was the youngest, Billy, who ironically became the first parent despite his immaturity.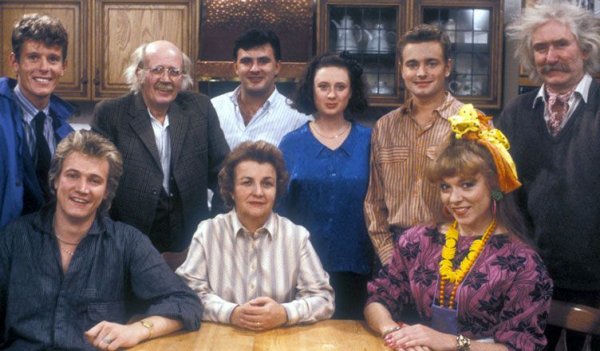 Nellie's husband was a bad apple in the form of Freddie, who had taken off with 'that tart' Lilo Lil. Freddie is frequently in and out of favour with the family, but Lil remains a foe to Nellie to the final episode. The last member of the clan is Grandad, who lives next door. Telling people to 'p*ss off' was a frequent line from him and it was seen as somewhat risky for what was largely a family show. More frequently remembered is his frustrating calls after the family bring his dinner in from next door – 'where's my pudding?'
Despite Carla Lane's affection for Merseyside, Bread wasn't immediately seen as being very helpful for the area's perception. Complaints abounded about stereotypes long before such criticisms became commonplace. The idea that Liverpool consisted primarily of terrace houses bursting with dole-fiddlers and dodgy dealers did not sit well with many. However, the inherent cheeky charm of the array of characters saw it through early scepticism and before long, Bread was regularly sitting at the top of the ratings.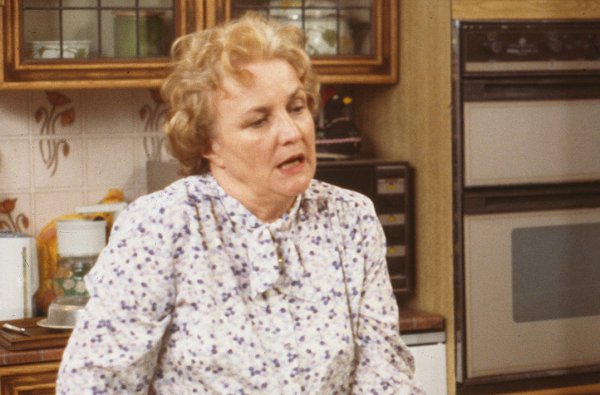 Looking back there are more than a few similarities between Bread and Mrs Brown's Boys. The mother figure constantly trying to fix the problems of her offspring, often suspicious of the female partners not necessarily good enough for her boys, the sole daughter with whom she regularly locked horns, and of course the continual support of Grandad, whose past remains a mystery in both shows. But where Mrs Brown's Boys goes for primarily slapstick comedy and single-situation episodes, Bread was more crafted around long-running storylines with a more sincere core.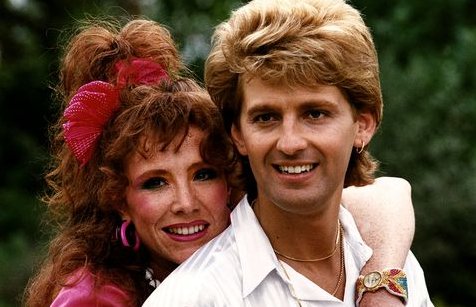 Frustratingly for the BBC, after four series two of the main cast departed. Peter Howitt left for pastures new and became a hugely successful director, but having charmed his way into living rooms up and down the country, his character of Joey Boswell was just too heavily associated with Howitt's own performance and image, and successor Graham Bickley stood little chance of maintaining the same levels of popularity. Faring slightly better was Melanie Hill, who took over the role of Aveline from the wonderful Gilly Coman. Losing two of its ensemble cast was always going to be a difficult challenge, and although it survived through three more series, Bread was a shadow of its heyday when it ended in 1991.
Breadwas certainly of its time, and a look at the way it ended now doesn't leave one with a particularly cosy feeling that all worked out for the Boswell clan. The final episode culminated in some home truths fired at Nellie from her boys as they left the family home for pastures new and she faced the accusation that her control over them had been more insufferable meddling than caring. But beyond the accusations of stereotyping and some of the rather dated terminology from Grandad (with lines that would have been seen as unacceptable in It Ain't Half Hot Mum), there is no doubting that Breaddid strike a chord with many millions of viewers.
Families do argue, families fall out and families reconcile, but they inevitably face the world for one another, and for that reason Bread retains a nostalgic warmth as Carla Lane's most successful sitcom.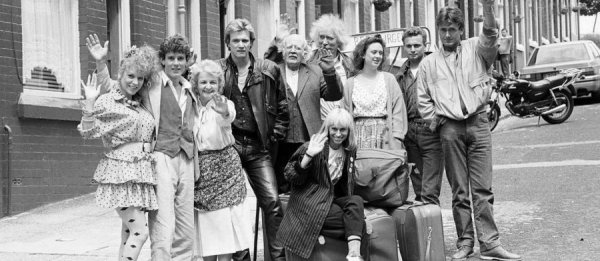 About Brian Slade
Born and raised in Dorset, Brian turned his back on a twenty-five-year career in IT in order to satisfy his writing passions. After success with magazine articles and smaller biographical pieces, he published his first full-length work, `Simon Cadell: The Authorised Biography'. 
  Brian is a devoted fan of the comedy stars of yesteryear, citing Eric Morecambe, Ken Dodd, Harpo Marx and Dudley Moore amongst his personal favourites. He was drawn to the story of Simon Cadell through not only `Hi-de-hi!' but also `Life Without George', a programme he identified with having grown up in the Thatcher era.  
Published on March 16th, 2020. Written by Brian Slade for Television Heaven.