Dave Allen at Large
1971 | United Kingdom
Review - Brian Slade
If you believe all the retrospective documentaries about television comedy from the 1970s then it would be easy to think that comedians and their writers were able to get away with murder. Be it Michael Bates blacking up in It Ain't Half Hot Mum, Frank Spencer emerging from a vat of tar to greet an Indian family in Some Mothers Do 'Ave 'Em, or the rantings of Alf Garnett, you could easily be led into thinking that the BBC escaped largely unscathed.
However, there was one show that seemed to manage to garner as much criticism as it did praise and yet today it is looked upon fondly as one of the finest proponents of sketch and stand-up comedy the corporation ever produced. From hysterical monologues to sketches that had its star banned from his own country, along with accompanying death threats, it's safe to say thatDave Allen at Large induced opinions from everybody who ever saw it.
Dave Allen himself had already achieved success when he began his …at Large series for the BBC in 1971. Born in Dublin in 1936, Allen had moved away from his father's career choice of journalism, opting to tread the boards at Butlins holiday camps. After toiling in working men's clubs for a number of years, he achieved some success on New Faces and he toured extensively with musicians of the day, striking up a friendship with the Beatles in 1963. It was this year that saw him get his own tv show in Australia, and despite already courting controversy with his material, his rise to stardom continued with a number of shows in the UK on commercial television.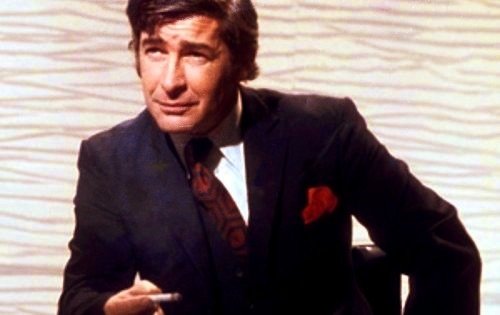 Having taken him away from ATV, the BBC initially placed him on BBC 2 with The Dave Allen Show, but a shift to BBC 1 on Sunday evenings, and a change in title to Dave Allen at Large saw his meteoric rise ascend greater heights.
Watching Allen in full flight was the comedy equivalent of watching Sinatra in a nightclub. There was something edgy about his performances and material, but people couldn't get enough of it. With glass in one hand and cigarette in the other (except for the earliest series where he also armed himself with a clipboard of his material), Allen would combine monologues with segways into a vast array of sketches as comical and irreverent as anything Spike Milligan or the Monty Python team would produce.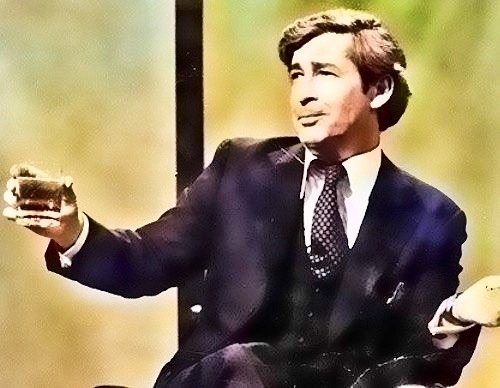 Allen's comedy was entirely observational and for the majority of the time harpooning religion or political figures of authority. He had been brought up in Ireland by Catholic nuns, an education that he found appalling. Physically beaten in all manner of ways by the nuns, he despised the idea that children as young as seven should be bullied into confessional and that the physical fear from those purporting to praise a loving God should be so extreme.
Aside from the material, the style of the show carried a new level of quality. The number of sketches filmed for each series was estimated to be towards the 250 mark and the vast majority were location sketches, marking them out from the more traditional studio equivalents. Given the number of religious settings, it certainly made for a more realistic edge to the appearance. Multiple writers submitted ideas for the programme, but Allen himself would regularly jot ideas on anything to hand as he observed the comedy in day to day situations – receipts, laundry tickets – these often contained the key ideas of upcoming sketches.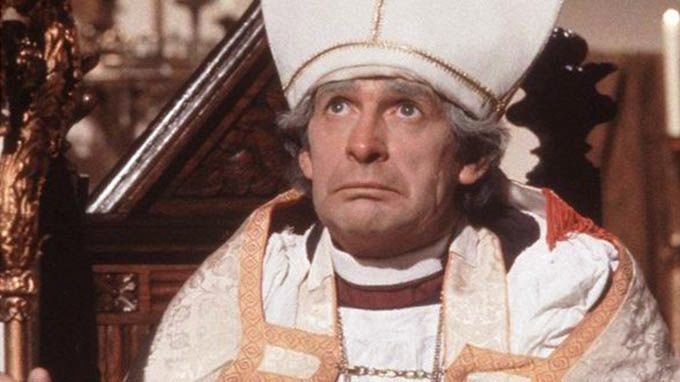 Inevitably, with Allen pushing the boundaries ever further as the show's popularity increased, the complaints came in. Religion it seemed was one topic that prompted a backlash. Allen knew that the BBC gave him a lot of leeway in his material, just as they knew that their star man couldn't be controlled or there would be no show. Complaints hit their peak and took a more sinister turn however after one particular sketch. Allen playing the Pope standing at the top of a flight of steps, removing his robes in front of his cardinals to the famous David Rose penned The Stripper. It was a step too far for some, not least back home in Ireland. Allen himself was banned from returning there and both he and the BBC began to receive death threats from the IRA.
Allen himself said that he respected religion but disliked what he saw as brainwashing and being told what he should think. The controversy around his successful shows would never go away, receiving further rebukes long after Dave Allen at Large when using the 'f' word on a subsequent BBC show.
Dave Allen at Large conjures many memories for those old enough to remember it. It was the kind of comedy that children watched if they could, feeling adult in getting some of the comedy while the more edgy material went over their heads. Many parents of course saw the edgy material and simply found it hysterical. Despite the subjects of the lampooning, there is still a warmth about this Irishman sat on a stool just telling funny stories about people and it is somewhat of a mirror of Allen's youth, where his education was based around fear and physical reprimands while his home life was surrounded by affection and the tales regaled by his father to entertain his family.
Sadly, repeats of Dave Allen on nostalgia channels are almost non-existent. Allen himself disliked the idea of repeats, opting to allow only one complete second showing of his material. Whether that has any influence over the memories people have or not is open to conjecture, but there's no question that at its peak, it was impossible not to find something to talk about in one of the BBC's most irreverent shows of the 1970s – Dave Allen at Large.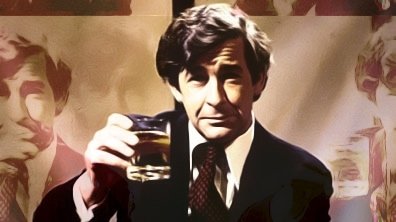 About the writer of this article:
Born and raised in Dorset, Brian Slade turned his back on a twenty-five-year career in IT in order to satisfy his writing passions. After success with magazine articles and smaller biographical pieces, he published his first full-length work, `Simon Cadell: The Authorised Biography'.
Brian is a devoted fan of the comedy stars of yesteryear, citing Eric Morecambe, Ken Dodd, Harpo Marx and Dudley Moore amongst his personal favourites. He was drawn to the story of Simon Cadell through not only `Hi-de-hi!' but also `Life Without George', a programme he identified with having grown up in the Thatcher era. 
Published on August 26th, 2020. Written by Brian Slade for Television Heaven.