La Femme Musketeer
2004 | USA
"On the whole, Dumas would have approved..."
Review: John Winterson Richards
There is nothing new about sequels and franchises. In 1719, Daniel Defoe, the Father of the British Novel, followed up his very successful 'Robinson Crusoe' with the considerably less successful, and now generally forgotten, 'The Farther Adventures of Robinson Crusoe' within months - it is interesting to note how they managed to get books published far more quickly in the days before our improved technology.
Although purists among writers might scorn the idea of reusing their most popular characters, the desirability of building on success was not lost on that perpetually impecunious literary entrepreneur Alexandre Dumas pere over a hundred years later after he struck gold with 'The Three Musketeers.' He followed it up with 'Twenty Years After' and then 'Ten Years After,' which is better known as 'The Vicomte de Bragelonne' but which could just as easily have been 'The Son of Athos,' for that is who the eponymous Vicomte is.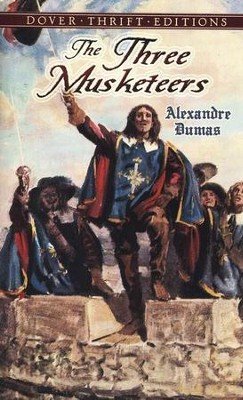 The idea of a generational shift in a sequel has many attractions. The purist can compromise in good conscience. If his original work completed his hero's journey, the sequel need not disturb that. A well constructed protagonist does not become ridiculous by going through more adventures than anyone could bear in a single lifetime. There is also the option of introducing a younger protagonist who might appeal more to what we would today call the "young adult" market. However, a writer should be careful about that: one of the reasons that a story like 'The Three Musketeers' appeals to youngsters is that they begin to see themselves as companions of the hero or heroes, practically a Fifth Musketeer. There is a danger that a poorly conceived juvenile lead might get in the way of that. Wesley Crusher, anyone?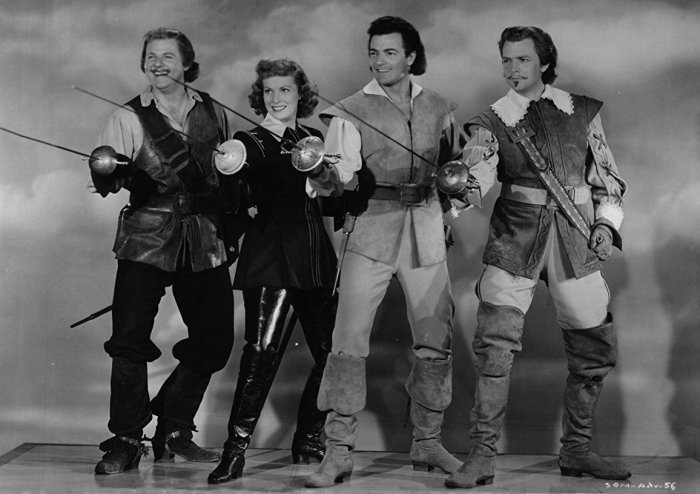 Nevertheless, it can be very effective if done properly, and from its earliest days Hollywood saw the potential of a film about a previously unmentioned "Son of" a profitable protagonist. The Three Musketeers are a case in point, beginning with 'The Sons of the Three Musketeers' in 1952 - except one of the sons is actually a daughter, played engagingly by the lovely Maureen O'Hara.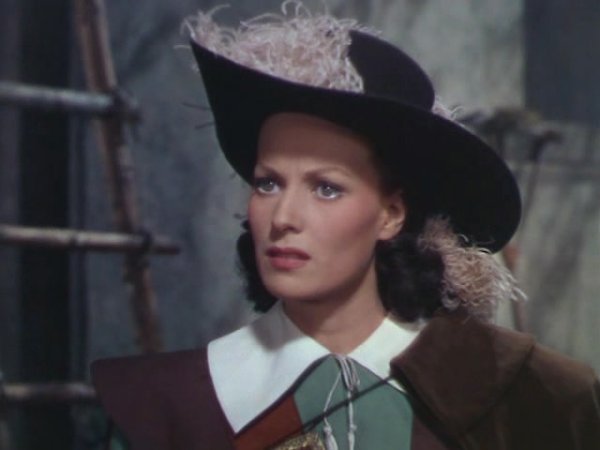 Similar projects followed so the precedent was well established by the time Hallmark came to consider their own Musketeers "miniseries" in 2004. Towards the end of the previous decade Hallmark had developed a winning formula: filming out of copyright literary classics abroad in unfamiliar but relatively cheap locations with familiar but relatively cheap faces.
To be honest, the formula was getting a bit stale by that stage, far from the glory days of The Odyssey and Merlin. A Hallmark "miniseries" was no longer the "event television" it had been, and, whether it was cause or effect or a vicious circle of both, locations and cast were getting slightly less prestigious.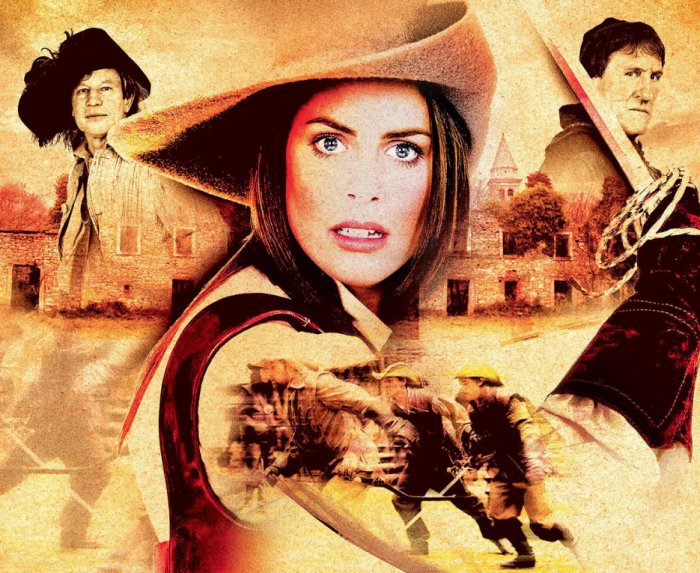 The title of La Femme Musketeer is something of a warning - it makes no sense in English or French: it is in fact a sort of "Franglais," a pastiche of both. It also warns us what to expect in terms of plot. It follows the 1952 'The Sons of the Three Musketeers' premise by making one of the offspring of the Musketeers, in this case d'Artagnan, a daughter.
This is not in itself a bad idea. In 1952, they knew how to handle it by acknowledging that it would be something extraordinary. In 2004, they are forced to take what might work only as a novelty far too seriously. It is possible to believe that in the 17th Century the daughter of an experienced swordsman might indeed be trained to a high level of competence by a uniquely indulgent father. That might be a good introduction to an interesting exploration of the role of women with unusual talents and desires in a culture very different from our own.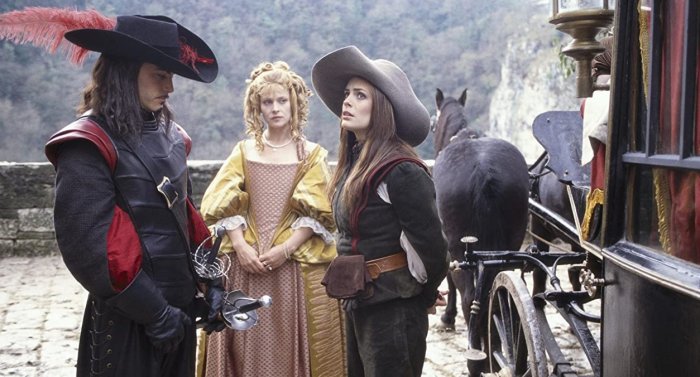 Any hope of such authentic drama is destroyed almost immediately by the way the viewer is asked a accept a number of 21st Century assumptions that shatter all sense of credibility: a slightly built woman is not merely a good fencer but appears to have the superpowers necessary to overcome multiple trained opponents in combat; people keep mistaking her for a man when she clearly is not; her male friends seem to have no sexual interest in her whatsoever in spite of her obvious attractiveness; she looks as if she sets out on her missions with an unseen hair stylist and makeup artist who have access to the latest beauty products; and it is implied that it is actually within the realm of contemplation for a woman of that time and place to be enrolled openly in a military formation (there are genuine cases of women enlisting but only when well disguised as men). She is an unmistakably modern woman trying to break a "glass ceiling" three hundred years before it was even conceivable.
Tales of female empowerment in unusual circumstances can be uplifting but it is positively annoying when the historical truth about the status of women is misrepresented in this way.
All this makes La Femme Musketeer practically unwatchable for a long time, but the viewer who sticks with it may begin find it rather enjoyable in a brainless sort of way.
The main reason for this is the cast. Most of the principals are experienced British actors and they take their work seriously. They treat even a script of variable quality with respect. They know the story makes no sense, but they throw themselves into it anyway. Their professionalism, combined with what comes across as a genuine sense of fun, begins to lure the viewer in.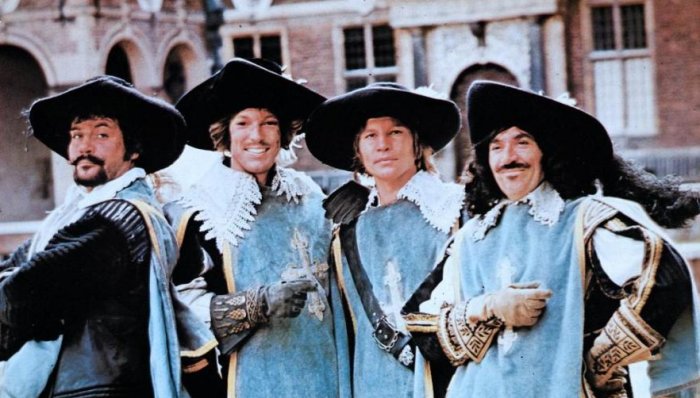 Michael York is one of the most likeable of actors, on screen and off. He is probably most famous for having played d'Artagnan in the definitive film version of the 'The Three Musketeers,' directed by Richard Lester, and its two sequels, 'The Four Musketeers' and 'The Return of the Musketeers,' the last a loose adaptation of 'Twenty Years After' (a very underrated novel that has, for some reason, never been filmed properly). He was persuaded to return to the role for 'La Femme Musketeer' and slips easily back into it, like it is a well worn fencing glove.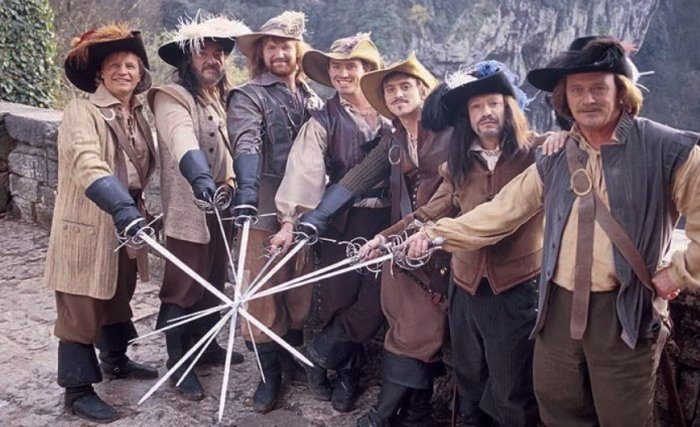 He is given strong support by the well cast trio of Christopher Cazenove, Allan Corduner, and John Rhys-Davies as the now ageing Athos, Aramis, and Porthos. Casper Zafer, Niko Nicotera, and the aptly named Andrew Musselman do well as their respective sons, and it is not their fault that they are almost inevitably upstaged by the older generation.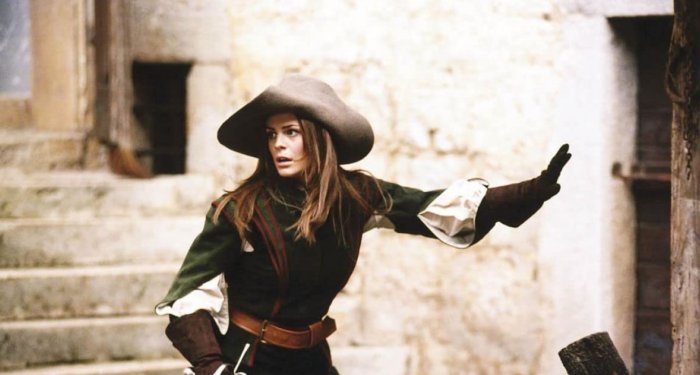 Susie Amy, best known as Chardonnay in Footballers' Wives, works hard to make the ludicrous character of Valentine credible and, if no one could ever achieve that, she does at least succeed in making us care about her. Hers is in fact a committed and technically accomplished performance which, in a more serious production, ought to have cleared the way to the top division. As it is, she is an actress who deserves more respect than she sometimes gets.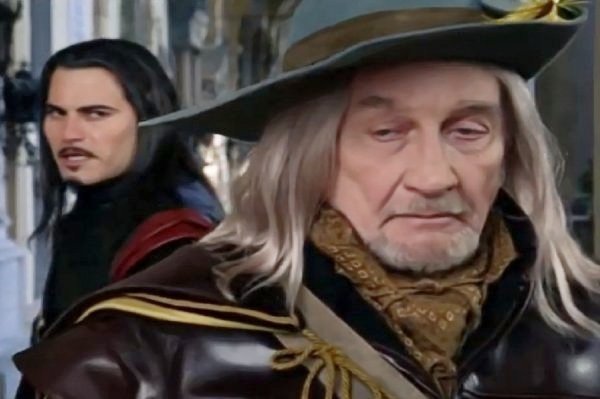 Gerard Depardieu, the biggest name in the cast, is Cardinal Mazarin. Dumas viewed Mazarin, perhaps unfairly, as a second-rate Cardinal de Richelieu. Mazarin was indeed as sneaky and avaricious as Depardieu plays him but he also had de Richelieu's ability and his sincere devotion to his Monarch. William Gaunt is a more honest Minister, Nick Brimble is an honest General, and Roy Dotrice an honest Captain of Musketeers, obviously based on the historical de Treville who features in the first novel. Marcus Jean Pirae is a superbly hissable villain with hints of something deeper beneath that is never really explored.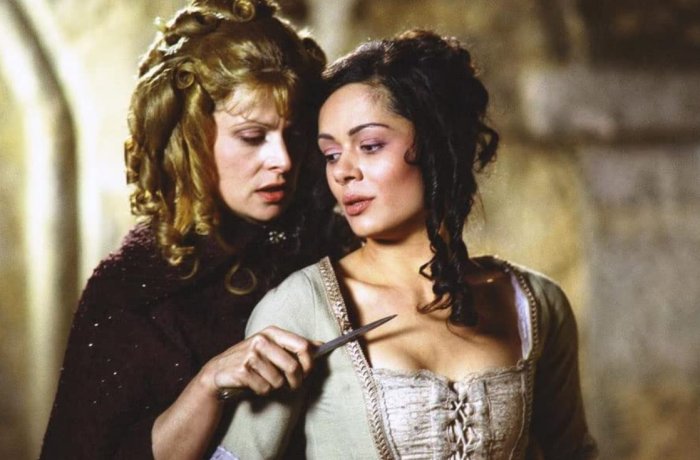 Clemency Burton-Hill is poignant as Mazarin's niece, who really was Louis XIV's first love as shown here: one of many important points the script gets wrong, however, is that their affair was never consummated, incredible as that seems given Louis' subsequent record - so the error is perhaps understandable. Nastassja Kinski is Mazarin's confidential agent, Lady Bolton - basically "Milady" de Winter from the original novel under a slightly different name.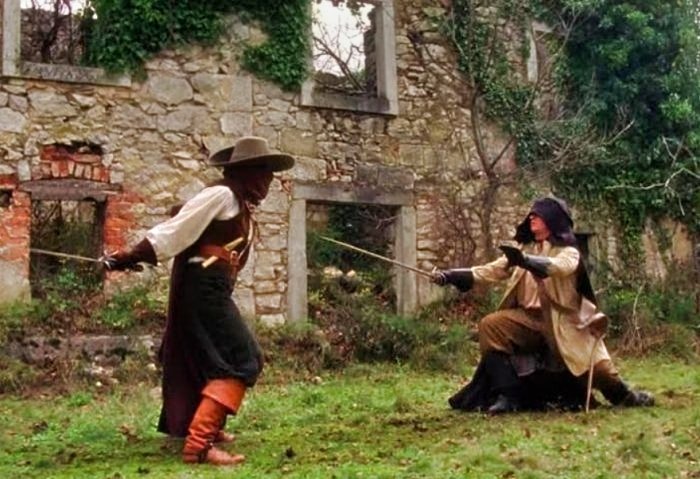 Indeed, it is interesting to note how much the script relies on the first novel rather than the sequels for its plot. Part One is particularly reliant on repackaged episodes from 'The Three Musketeers,' including a duel between a brash newcomer and a Musketeer being interrupted by the Cardinal's Guards, and the "Milady" character stealing incriminating evidence about Queen Anne of France from a Duke of Buckingham.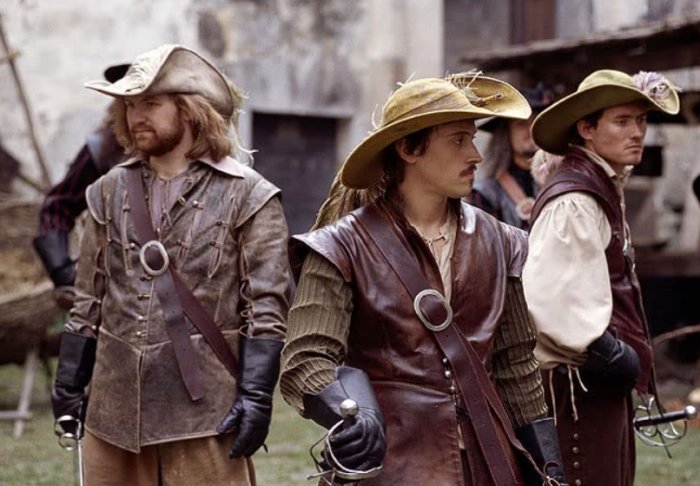 There is one thing that La Femme Musketeer takes from 'The Three Musketeers' that it gets absolutely right: the tone. On the whole it is a jolly tale of friendship but there are also well judged moments of darkness to counterpoint all the jollity. Getting the balance right is not easy. Dumas was particularly skilled in this regard and the "miniseries" does well to imitate him.
The Croatian locations are very attractive, and they are photographed with light and colour appropriate to the subject matter. While it is possible to carp at some period details, one gets a passable sense of being in Mid 17th Century France. The fight scenes are generally well handled. The music is suitably stirring.
On the whole, Dumas would have approved, or at least smiled as he pocketed his royalties, remembering that he put his name to many worse projects when he was short of a Franc.
Published on March 20th, 2022. Written by John Winterson Richards for Television Heaven.