The Judy Garland Show
1963 | United States
Judy Garland didn't deserve to have a failed television series on her resume. But there it was–so much promise that came to a crashing halt in less than a year–and there was plenty of blame to go around.
The personal problems of the temperamental and insecure Garland no doubt contributed to the demise of The Judy Garland Show after just one season. She reluctantly agreed to do a weekly series to get herself from under financial debt. But CBS executives (specifically the so-called "Smiling Cobra," network president James Aubrey), were also at the scene of the crime with a poor scheduling decision, frequent demands and "suggestions," coupled with behind-the-scenes turmoil and plenty of hiring's and firing's.
The original concept was a fun, relaxed hour with an incredibly talented woman and a few of her deserving guest stars. The final episodes were the closest to Judy at her best–belting out a song, with no skits or big production numbers. By then, Garland and CBS were estranged, and The Judy Garland Show ended after just 26 episodes. Fortunately, all of those programmes have been preserved on home video so that new generations can see for themselves what a remarkable entertainer Judy Garland truly was.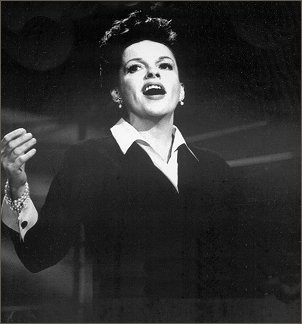 Although she had made her mark in both recorded music and film, the former child star was going through a difficult time by the mid 1950's. Several divorces, insecurities and her long-time battle with prescription drugs and alcohol had taken a toll. Her much lauded performance in the 1954 film "A Star Is Born" was passed over for an Oscar and her production company lost money on the project. In 1955, Garland made her television debut on the inaugural episode of CBS' anthology Ford Star Jubilee. It was the network's first-ever full-scale broadcast in colour and both ratings and critical acclaim were very good. Soon after, Garland signed a three-year, $300,000 deal with CBS for more specials–but the entertainer's only appearance during the contract was a live performance on the Ronald Reagan-hosted General Electric Theater. CBS and Garland soon after hurled lawsuits at each other.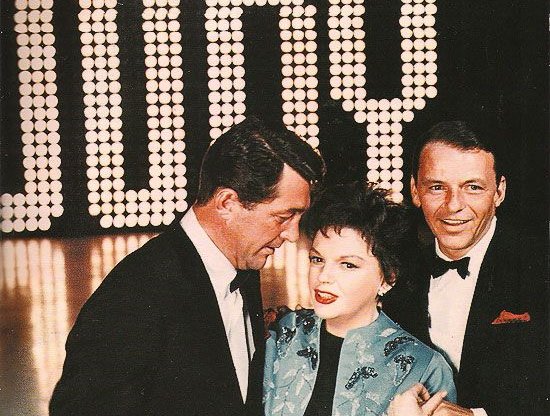 In 1961, both sides dropped their legal challenges and negotiated a new agreement for Garland to appear in two new CBS specials. The first, airing in 1962, was simply called The Judy Garland Show, and featured Frank Sinatra and Dean Martin as her guests. The show did extremely well with both critics and audiences, and at the end of 1962, Garland signed a deal with CBS to appear in 26 episodes of a new weekly variety show, scheduled to begin in the fall of 1963. (Under the deal, CBS paid her production company Kingsrow Enterprises $140,000 a week; Garland herself earned about $30,000 a week). She needed the work: The lady who made the song "Over The Rainbow" famous was several hundred thousand dollars in debt to the Internal Revenue Service for back taxes. The hope was the series would put Judy back on solid financial ground and give her an income for life.
In early 1963, Garland appeared in her second special for CBS, which served as the pilot of sorts for her upcoming series. It was entitled Judy Garland and Her Guests Phil Silvers and Robert Goulet; it also won critical acclaim and good ratings.
Initially, Garland's new show was to be produced in New York City by several producers including Gary Moore Show head honcho Bob Banner and Bill Hobin, who produced NBC's Sing Along with Mitch. But CBS ended up giving the job to a young George Schlatter–who had been producing The Dinah Shore Chevy Show and would go on to create the even more successful Rowan & Martin's Laugh-In and Real People. Others hired for the show included Mort Lindsay, who would conduct the orchestra; singer-songwriter Mel Torme, who arranged the music and appeared as an occasional guest; famed costume designer Edith Head; and comic Jerry Van Dyke (the brother of sitcom star Dick Van Dyke) as a regular performer in comedy sketches. The show would also have musical numbers by Judy and/or her guests, along with several regular features, including "Born In A Trunk" (a number from her film "A Star Is Born", where she would look back at a period in her long career) and "Tea For Two," where Judy would do a brief interview with one of her guests. 
The Judy Garland Show was originally set to be produced on the East Coast, but Garland wanted to stay in the Los Angeles area, so CBS redesigned Studio 43 at the network's Television City facility in Hollywood for Judy's needs. CBS spent thousands of dollars on a revolving stage, a dressing room/trailer designed to look like Garland's Brentwood, California home; and a corridor from the dressing room to the stage that was painted to resemble the Yellow Brick Road from arguably Garland's most famous film, "The Wizard Of Oz." Production began in June 1963 (the first taping featured former "Andy Hardy" film co-star Mickey Rooney as Garland's guest). Schlatter had taped five complete episodes before CBS let him go. James Aubrey felt the Schlatter-produced shows were too glamorous, and he wanted Garland to be seen as more "down to earth" by the audience. Schlatter was replaced with another famed producer–Norman Jewison. He vowed to–in his words--"make the sacred cow less sacred." One of the changes he made was to have Jerry Van Dyke make fun of Garland's faults–her concerns about her weight; her reputation for being unreliable; and the low points of her long career.
The Judy Garland Show premiered September 29th, 1963 on Sunday nights at 9:00 PM. She would follow the popular Ed Sullivan Show (giving CBS two complete hours of variety on Sundays). But she would go head-to-head against NBC's very resilient Western family drama Bonanza (which ranked as the fourth most-popular series the previous season). But at least initially, all seemed promising for Garland and her new show. CBS aired the Jewison-produced seventh episode as the series opener (featuring actor/dancer Donald O'Connor as her guest). Reviews were positive for Garland herself; the first episode scored a very respectable rating against Bonanza(though it did not beat the Western on the popularity charts). But critics didn't like the shows variable writing and they had nothing but negative opinions of Jerry Van Dyke's role on the show. CBS executive Mike Dann responded to the critics:
"We have decided that [Judy] should never appear in sketches and never play any character but herself. And she'll be singing more songs, more medleys, more standards. Songs are her babies. We told her what we think and she's listening. She's far too insecure about television to exercise her own judgment. She knows what's good for her."
But CBS executives felt THEY knew better, and they continued to tinker and play with the show's format, firing some key behind-the scenes staffers, and giving "advice" to Garland. She was actually summoned to the network's New York offices to be told that she was touching her guest stars too much!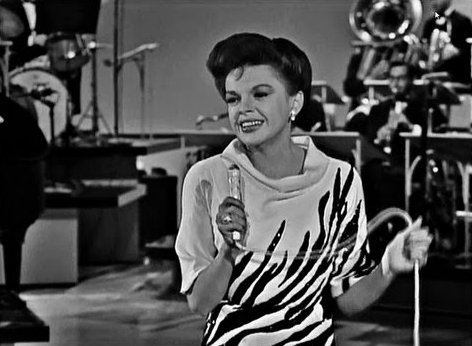 Meanwhile, the ratings for The Judy Garland Showbegan to slip after a promising start; it wasn't long before the show had just half the audience of rival Bonanza. By November 1963, the NBC Western was the second highest-rated series on television (and the only non-CBS programme among the top 15 shows). By contrast, Garland's variety hour ranked 66th out of 80 programmes in prime time on the Big Three networks. Aubrey refused to shift the series to another time slot, away from Bonanza (he reportedly didn't like Garland). CBS again cleaned house after Jewison's commitment with CBS ended; he was replaced with producer Bill Colleran. Out went Jerry Van Dyke and the insult humour; in came Judy just singing by herself and with her guests. Not long after, Mel Torme was let go (he filed a breach of contract lawsuit).
But as 1964 began (or maybe even earlier), Aubrey had apparently made up his mind: The Judy Garland Show would not return to CBS for a second season. Despite all the difficulties, Garland pressed on, doing some of the best television work of her career. Some of the final shows were simply Judy singing alone, no guest stars or silly skits. But on January 22nd, 1964, Aubrey announced the cancellation of Garland's variety show (the CBS version of events claimed the star asked to end her commitment so she could be with her children). 
Garland gamely went forward with fulfilling her contract with CBS, despite a lack of support from her network and television audiences. But she was distraught and could not complete the final show. Matters weren't helped much when on the night of taping, Aubrey's top assistant delivered an orchid plant to Garland's dressing room with the attached message: "You were just great. Thanks a lot. You're through. Hunt Stromberg Jr." The final show was never completed; producers added material from previous shows to complete the programme and Garland's contract with CBS.
It proved to be the final straw for this sensitive, troubled woman who was arguably one of the greatest performers of her time. The Judy Garland Show was designed to give the entertainer a financial boost. But her managers, Freddie Fields and David Begelman, allegedly misappropriated funds and embezzled from Garland, leaving her nearly broke. Worse, the failure of the show only fuelled Garland's well-known addiction to alcohol and prescription medicines. She continued to work so she could have basic necessities and pay back taxes. But Garland's final husband found the actress and singer dead in the bathroom of their London home on June 22nd, 1969. The final coroner's report concluded Garland died "of a result of an accidental overdose of sleeping pills."
And no doubt, heartbreak over the fate of her sole television series may have been a contributing factor.  
Trivia:
Six years after the cancellation of The Judy Garland Show, Mel Torme wrote his own version of what happened behind the scenes: "The Other Side Of The Rainbow with Judy Garland on the Dawn Patrol." Some critics called it a self-serving version of events by the talented singer known as "The Velvet Fog;" Garland's family filed an unsuccessful lawsuit against Torme, who died in June 1999.
A more restrained (and balanced) look at the series can be found in Coyne Steven Sanders' 1990 book "Rainbow's End: The Judy Garland Show."
The third episode taped (which aired November 17th, 1963) featured Garland's daughter Lisa Minnelli; she also appeared on the Christmas show which aired December 22nd, 1963. Set at a replica of the Garland home, it also featured the star's other children, Lorna and Joey Luft, along with Mel Torme, Jack Jones and Tracy Everitt.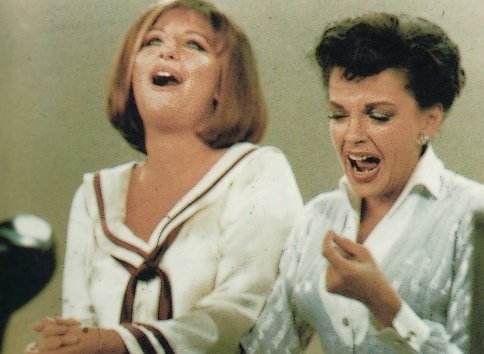 The episode that aired October 6th, 1963 was a show of riches. Garland's guests that night were the veteran Broadway star Ethel Merman and an up-and-coming singer named Barbra Streisand (who would become a household name in 1964 with her career-making portrayal of entertainer Fanny Brice in the Broadway musical "Funny Girl"). Streisand was nominated for an Emmy for her appearance on The Judy Garland Show.
In the 2003 Ewan McGregor/Renee Zellweger film "Down With Love" (a homage to the Doris Day-Rock Hudson romantic comedies of the late 1950's and early 60's), a clip of Judy Garland is featured as part of the plot. According to the film, Garland sang the title song during an appearance on The Ed Sullivan Show. Not so. That clip was actually from one of the final episodes of The Judy Garland Show. (The Garland song was included on the home video version of "Down With Love", but was not included in the film's CD soundtrack.)
Published on May 31st, 2019. Written by Mike Spadoni (2008) for Television Heaven.