Tripper's Day / Slinger's Day
1984 | United Kingdom
Review: Brian Slade
Comedy writer Brian Cooke had produced a chain of hit sitcoms with writing partner Johnnie Mortimer, so when Thames secured Leonard Rossiter for the lead in a rare solo writing project, it seemed like the show, Tripper's Day, had the ingredients for a sure-fire hit. But it's a programme that along with its enforced successor, Slinger's Day, is remembered for the wrong reasons.
Brian Cooke enjoyed remarkable writing success with Mortimer. From Father Dear Father through to Robin's Nestvia Man About the House and George and Mildred , the pair rarely missed a beat. But in the early 1980s, both had a stab at solo writing, with very different levels of success. Mortimer created Never the Twain, which enjoyed eleven series on Thames, while Cooke had more mixed results . Keep It in the Family managed a five series run for star Robert Gillespie from 1980 to 1983, so when he moved onto a new vehicle set in a supermarket, it seemed safe to assume that he would repeat the success.
At the top of the cast was one of sitcom's finest. Leonard Rossiter had achieved career-defining success as Rigsby in Rising Dampand Reginald Perrin in The Fall and Rise of Reginald Perrin . Rossiter's catalogue of theatrical success was extensive, so he could afford to be particular about the television roles he took, and clearly when accepting the role of Norman Tripper in Cooke's latest sitcom, he saw something he could make a success out of.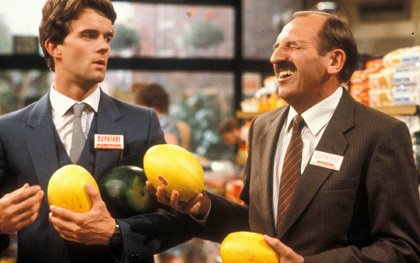 Set in a supermarket chain called Supafare, Tripper's Day is a single-setting comedy focussing on the manager's attempts to deal with a lethargic and dysfunctional staff who are keen to do their jobs with the minimum of effort and seemingly to the lowest possible standards. Tripper himself is therefore seen as the devil incarnate.
Throughout Rossiter's only series at the helm there are no real story threads, other than Tripper's awkward relationship with tea lady Hilda Rimmer (Pat Ashton), the depth of which is never fully revealed or explored. Elsewhere, Gordon Gostelow plays a hopeless security guard, Alf Battle, that Tripper wants to be retired, while the remainder of the staff are lazy cashier or warehouse workers.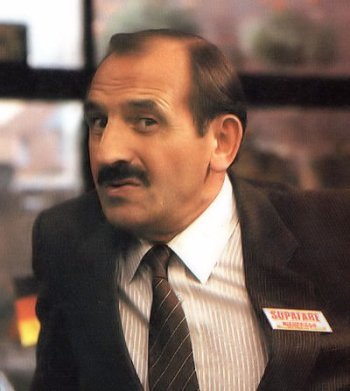 There are weaknesses with Tripper's Day that undermine the talent of Rossiter. From its synthesised theme tune, through dodgy camerawork and missed cues (a cashier pretends to take money from a customer in the first episode when the actor has placed his character's cash on the conveyor belt), there are a remarkable run of production values that suggest a low budget. But perhaps the principal problem is the lack of investment in the characters. Most of the staff are merely involved in cutaways for corny gags that carry no relevance to the story and are merely intended to emphasise their laziness.
Rossiter battles well and his sneering energy does make Tripper himself a fairly believable character, on course for a meltdown due to the incompetent characters that he is surrounded by. It's entirely possible that if circumstances had been different, Rossiter may have been able to work his comic genius into the scripts for further series, but fate had other plans. Between the airing of the second and third episode, Rossiter collapsed during a performance of Loot at the West End and passed away at just 57 years old.
Ordinarily, a show that had received a very tepid audience response and lost its one star name would be due to be cast aside. However, the decision was made to continue with the programme for two more series with a different man at the helm. There is a rather ironic moment in the early stages of the very first episode of Tripper's Daywhen Tripper is running through his staff meeting agenda. On announcing the installation of a new security camera, he advises the more troublesome staff that the camera is, 'not for would-be Bruce Forsyths to practice their jokes in front of.' But Bruce Forsyth is exactly who the producers turned to in order to bring the show back.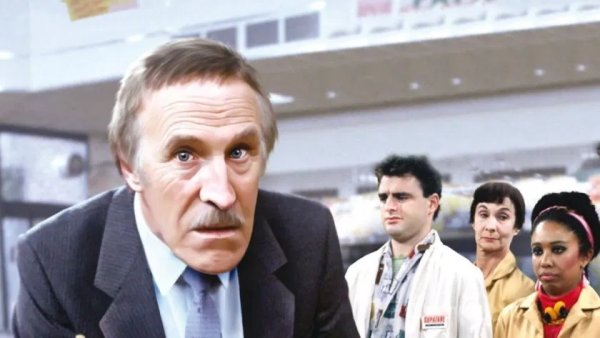 Forsyth had become a massive name on television and by the mid-1980s could pretty much pick and choose his next projects. As his one and only television sitcom, the now retitled Slinger's Day sees Cecil Slinger take over at Supafare with no mention of the fate of Tripper. Some staff have departed, most notably security guard Alf and tea lady Hilda. A big plus for the show is the arrival of David Kelly to add some loveable mischief as new security man Fred, always keen to find a way to a drop of the hard stuff. There's no explanation offered for why Mr Christian (Paul Clarkson), who was trainee manager in the first series, has not been promoted. He simply continues his role as subservient right-hand man to Slinger.
In the first few episodes, Forsyth seems to struggle. His entire career included, indeed needed a rapport with the audience, but in Slinger's Day that is at least initially stifled. However, series creator Brian Cooke handed over the writing reins after a couple of episodes, primarily to Vince Powell who had a string of successes under his belt for Thames. From here on, the series picks up. There are less pointless cuts to the minor characters for misfiring jokes, and the subsequent writing seems to focus on how to bring out the best of Forsyth's energy and physical mannerisms.
There are large swathes of action for the two series that Forsyth stars in that cry out Generation Game . In one episode, as he lines his staff strategically for an impending Royal visit, when he places one member of staff he says to her, 'now, you stand there my love,' and the Forsyth we knew was thriving. In another episode, he and two other staff members rush an impatient customer through the checkouts with a three-man routine of throw-charge-pack which only needs, 'didn't they do well,' at the end of it.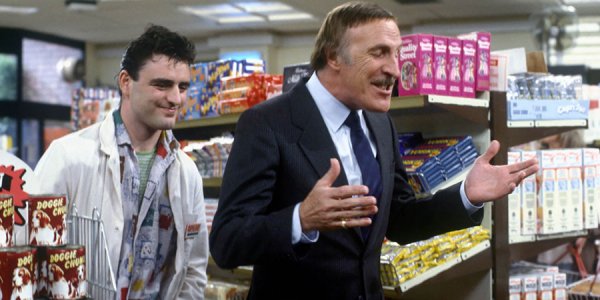 Not everything hits, and indeed Powell himself is guilty of some material recycling. In an episode where area manager 'misery-guts Morris' is coming to visit the store, Slinger believes it can only be about giving him a promotion to a nearby store. The routine is a carbon copy of misunderstandings used in A Sharp Intake of Breath some years earlier, right down to the 'misery-guts Morris' name, the location of the new role (Watford), and the embarrassment of dictating into a machine his real opinions of Morris and not erasing them before Morris gets to hear them. But despite the misses, Slinger's Day definitely benefitted from playing to its star's strength and Forsyth claimed that a third series would have been made had his career goal of his own variety show not been in the offing.
When reviewing the careers of Rossiter and Forsyth, tribute programmes tend to gloss over the two incarnations of this sitcom. The notoriety for Rossiter is that his death came during its airing, and for Forsyth it was his only dalliance with scripted television comedy. It's true that neither Tripper's Daynor Slinger's Day is the crowning glory of either star's career, and the Tripper's Day version in particular struggles with weak support, but it does nonetheless allow one to see both Rossiter and Forsyth in a different light to their most renowned successes.
About Brian Slade
Born and raised in Dorset, Brian turned his back on a twenty-five-year career in IT in order to satisfy his writing passions. After success with magazine articles and smaller biographical pieces, he published his first full-length work, `Simon Cadell: The Authorised Biography'.
Brian is a devoted fan of the comedy stars of yesteryear, citing Eric Morecambe, Ken Dodd, Harpo Marx and Dudley Moore amongst his personal favourites. He was drawn to the story of Simon Cadell through not only  `Hi-de-hi!' but also  `Life Without George', a programme he identified with having grown up in the Thatcher era. 
Published on April 20th, 2020. Written by Brian Slade for Television Heaven.