The Umbrella Academy - Season 3
This review contains some spoilers for season three and considerable spoilers for season two.
Review – Daniel Tessier
Somewhat delayed by the restrictions of Covid-19, the third season of The Umbrella Academy has now arrived for streaming on Netflix, and things have changed. The second season ended on a storming cliffhanger, with the six surviving Umbrellas arriving back in their own house in 2019, around the time they originally left, only to find that it's no longer their home: it is now the Sparrow Academy. Ben (Justin H. Min – After Yang), their late brother, is alive, as is their overbearing and abusive father, Sir Reginald Hargreeves (Colme Feore – Trudeau, House of Cards).
Very loosely based on the third volume of the comic series, subtitled Hotel Oblivion, season three of The Umbrella Academy keeps things fresh and interesting by introducing a new cast of characters and bringing in new and surprising developments for the existing ones. Dropping the Hargreeves family into an altered timeline, without any support but each other, means that they have to rely on each other more than ever. This is, for the Hargreeves, is something of a challenge.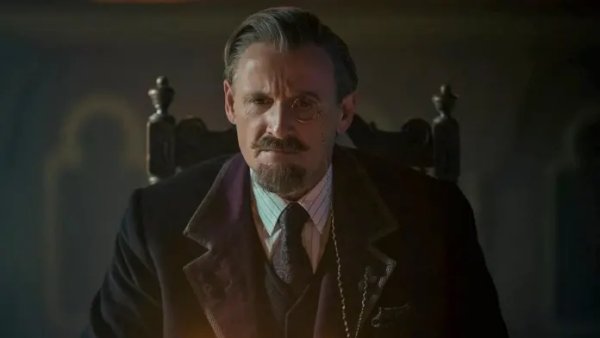 Having met and been thoroughly disappointed in his children in 1963, Sir Reginald made a decision to adopt a different set of the miraculous children who were all born on the same day in 1989. The Sparrows are, on the face of it, a well-oiled machine with concerning power over their city. Having never met Ben (due to his being decidedly ghostly at the time), Reginald still adopted him, but in this timeline, the loveable and supportive Ben has been replaced by an obnoxious, aggressive... well, dickhead is the word the others use, and they're not wrong. Min gives a brilliant performance that has hints of the quiet, insecure Ben beneath the surface. In this reality, Ben is Number Two of the Sparrow Academy, having been pushed out of first place due to his complete inability to lead.
Number One on this team is Marcus (Justin Cornwell – Training Day), an aggressive but mostly reasonable super-strong athlete; Number Three is Fei (Britne Oldford – Skins, American Horror Story, Ravenswood) a stoic and powerful Odin-like figure who uses a flock of ravens as her eyes and weapons; Number Four is Alphonso (Jake Epstein – Degrassi: The Next Generation), a disfigured man who reflects others' attacks back on them; Number Six is Jayme (Cazzie David – Eighty-Sixed), a sullen goth who spits hallucinogenic venom, leading to some of the most entertaining scenes of the season; and Number Seven is Christopher, who for reasons unexplained, and no doubt baffling, is a floating, sentient cube.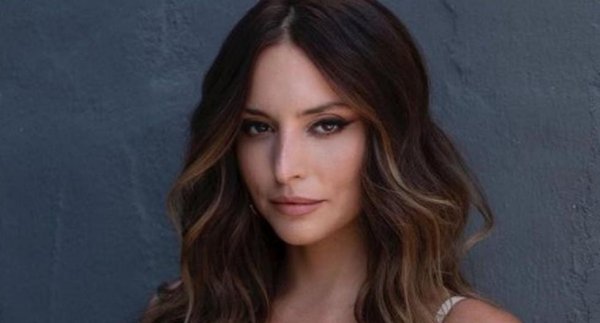 The most approachable member of the Sparrows is Number Five, Sloane. Played by Genesis Rodriguez (Big Hero 6, Entourage, Made in Hollywood), Sloane is a sweet-natured young woman who is potentially the most powerful of the Sparrows, and her ability to manipulate gravity makes her the only one able to go toe-to-toe with Viktor. She is the only one not to be immediately suspicious of the Umbrellas, and shares a strange, whirlwind romance with the naïve Luther (Tom Hopper – (Game of Thrones, Black Sails, Merlin). Luther's willingness to listen to the Sparrows, not least due to his attraction to Sloane, puts him at odds with most of his siblings (the Hargreeves really should stop hooking up with members of their own bizarre extended family). 
For all their disfunction and mutual aggravation, the Umbrellas do provide a lot of support for each other in this new reality. Most notable is the emotional journey for Viktor – formerly Vanya. To reflect Elliot Paige's high-profile transitioning, the series writers (headed by Steve Blackman and supported by the original comics creators Gabriel Ba and Gerard Way) decided that Number Seven would also transition, as part of his ongoing realisation of his identity. Paige was reportedly happy to continue playing the character as Vanya, but the writers were committed to telling this story. They worked with Paige to tell the story, and the show handles it beautifully. It's not played as some huge revelation or source of drama and angst, but as a simple moment of truth that all Viktor's siblings accept and honour. At various times the different siblings have issues with Viktor, but never because of his gender identity.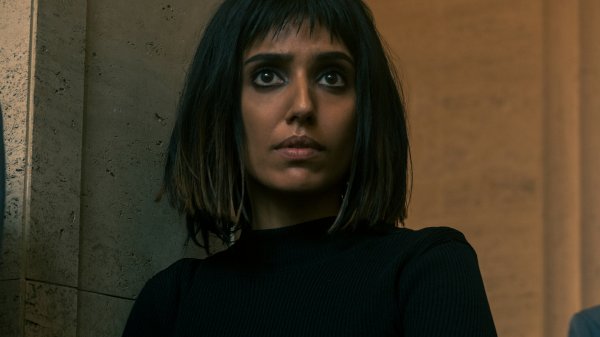 Other members of the family face some challenging times. Diego (David Castaneda – Switched at Birth, El Chicano) gets a shock when his ally/enemy/lover Lila (Ritu Arya – Humans, Doctor Who) shows up out of the blue, sporting a new haircut and a twelve-year-old son. She dumps young Stan (Javon Walton – Euphoria, Utopia) on Diego and intends to vanish (although, in the event, she doesn't get far), intending to see if he can cut it as a father. To his credit, once the initial shock subsides, Diego handles Stan very well, even when he does accidentally kill someone.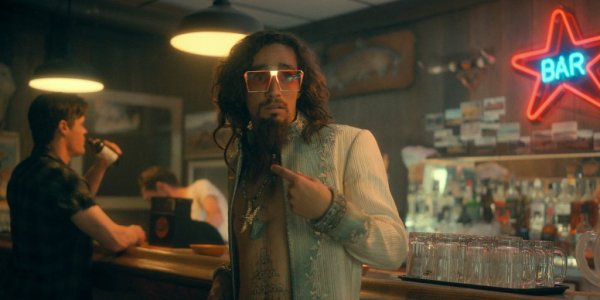 Klaus (Robert Sheehan – Misfits, The Borrowers, Young Offenders) at first seems to be managing reasonably well. Having lost Ben as his ghostly confidant, he surprisingly manages to bond with Sir Reginald, who in this timeline has been kept drugged by his adoptive children. Without his power, Reginald is almost nice, albeit still eccentric and unpredictable. Once he's off the medication, however, his true nature reasserts itself. Klaus latches onto his father and genuinely begins to learn and heal under his tutelage, only to be betrayed at the last. Still, Klaus continues to become more and more powerful, Sheehan proving that, be it The Umbrella Academy or Misfits, you just can't keep a manic superhuman down. It's also Klaus who discovers that the siblings weren't merely left un-adopted, but were never born in this timeline, due to another unexpected influence.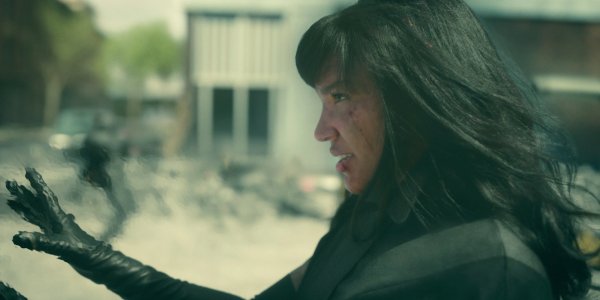 It's Allison (Emmy Raver-Lampman – Central Park, Untitled Horror Movie) who has the hardest time of it, and also who deals with it the worst. Having given up her husband in 1963 to return to the twenty-first century, she tries to find Claire, her daughter from her first marriage (which happened many years after her second – keep up). She fails to take into account that with everything changed in this reality, her daughter was never born, leaving her mourning the loss of the two people most important to her. As time passes and the extent of the changes in the timeline become clear, and the family begin to learn who has been responsible, Allison turns vengeful and cruel. When her jealousy over Luther's relationship with Sloan gets the better of her, she begins to abuse her power to influence others' minds. Five, speaking to Viktor, points out what you call a superhero who thinks that they, and only they, are right and uses that to justify their actions: a villain. It's a near miss, but Allison comes close to becoming this during the season.
Aidan Gallagher (Nicky, Ricky, Dicky & Dawn), now eighteen, is far past the stage that he can realistically play a thirteen-year-old, but he is still endlessly entertaining and astonishingly convincing as the old man in a young man's body, Number Five. Understandably having had enough of trying to save the world lately (from his perspective, the entire three seasons take place over less than a month), Five decides he's going to retire. Predictably, this does not last long, as the paradox of the siblings existing in a timeline where they were never born creates a kugelblitz (a genuine cosmological term for a radiative singularity) which now threatens the entire universe.
The final superhuman to become involved is the mysterious Lester Pocket – an extremely powerful but troubled old man, whose true identity is pretty obvious to anyone who's been following the series all the way through. Played quietly, sympathetically, but not without a sinister touch, by Callum Keith Rennie (Due South, Californication, Battlestar Galactica), "Lester" is a catalyst for much of the drama and chaos that follows both versions of the Hargreeves family around. A note also to recognise the still remarkable performance by Jordan Claire Robbins (Man Seeking Woman, 12 Monkeys) as Grace, the Hargreeves' android mother, who continues to surprise in yet another iteration of her character.
With their family home now occupied by the Sparrows, the Umbrella siblings make their base of operations in the Hotel Obsidian, a luxury tower where anything goes, and which has a mysterious connection to Sir Reginald. The one constant in the hotel is the front desk manager, Chet (Julian Richings – Supernatural, Kingdom Hospital), who seems remarkably unperturbed by the bizarre goings on in and around his establishment. While their immediate problem is the kugelblitz, the siblings find themselves drawn into a far deeper plot that reaches back to their very beginnings.
Season three boasts some fantastic concepts, brought to life by cinema-worthy effects, and, as always, a spectacular soundtrack. The core cast are tremendously impressive throughout, bringing new depths and surprising characteristics to their already heavily-explored roles. It remains a wonderfully entertaining fantasy series with a relatable, if warped, take on the ups and downs of family relationships, and while it's often brutal, it's never cynical. However, this season never quite reaches the heights of the first two. While the previous seasons boasted the excellent Kate Walsh as their central villain, the Handler, the third season wants for a single, focal baddie, and takes some time to settle down and decide just who the Umbrellas should be fighting.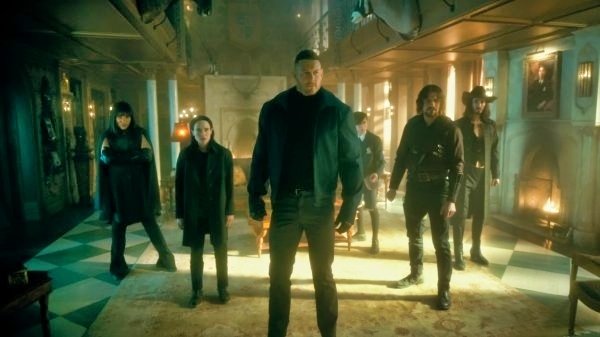 The season immediately kicks off with a dance-off between the two families, a wonderfully fun scene but also the series' latest attempt to outdo the now-iconic Tiffany dancing scene from the first episode, which is evidently impossible to beat. That said, in terms of fighting theatrics, although there's plenty the season admirably doesn't try to outdo the ridiculous bloodbaths of the first two seasons and provides a slightly more sedate storyline. Ultimately, the main issue with the season is that it doesn't really seem to be about anything. The first season was about sibling rivalry and toxic family dynamics, and while that's always present, it's more business-as-usual here than a true exploration. Season two was about how far we've come as a society since the 1960s, and how much further we have yet to go. The third season plays with concepts like identity, religion, tyranny, manipulation and moral flexibility, but never fully invests in any of them.
Nonetheless, it's extremely well-done, endlessly watchable stuff, until the last episode which does provide an anti-climax. While the ending to this season could stand comfortably as an end to the series as a whole, it wouldn't be a very satisfying one, and there are still many huge questions hanging over the story which are begging to be answered. Fortunately, Blackman has planned a fourth and final season to tie up the Hargreeves' story. Netflix would be foolish not to pick it up.
Published on June 30th, 2022. Written by Daniel Tessier for Television Heaven.