Edward the Seventh
1975 | United Kingdom
A prime example of the lavish and epic period dramas that British television is famed for, Edward the Seventh fulfilled its early promise with a superb cast, excellent story telling, sumptuous locations, colourful costumes and high production values as it told, not only the story of a damaged child who rose to be a much loved king during his reign, but also a period of the British monarchy in a golden age of immense social, political and industrial change - and when the country's Empire stretched far and wide.
That Edward achieved so much in his all too brief reign is testament to his indomitable spirit of character, bearing in mind his often uncompromising upbringing and loveless relationship with his mother who once complained about his "systematic idleness, laziness – disregard of everything".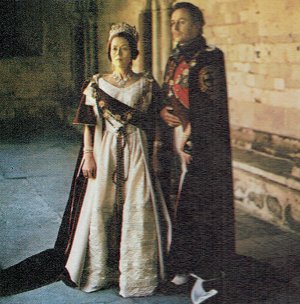 The throne Victoria inherited was weak and unpopular, damaged by the mental illness of George III and the unruly excesses and indiscretions of his offspring. Vowing never to make the same mistake with their own children, Victoria and Albert set about constructing a regime for their eldest son, Prince Albert (Bertie) Edward, that was particularly deplorable, and which would shape the rest of his life.
It was Prince Albert who concocted Bertie's educational programme and by the age of seven the young prince was fluent in English, French and German. At seven his proper education began, and he lived his life in one of almost complete seclusion except for the company of his tutors. Friendships with other children of a similar age were forbidden by his parents in case they lead those friends to believe in 'feelings of equality' with the future king.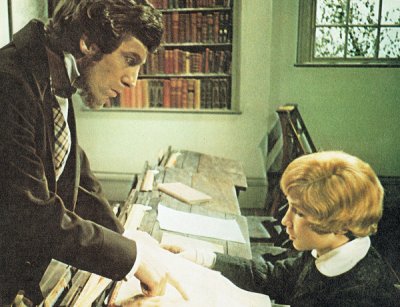 Deprived of normal company and given a learning timetable of five one-hour periods -Monday to Friday throughout the year- in order to pump knowledge into him, Bertie became paralytic with nerves. Unlike his sister, Princess Vicky, who he knew was the favourite of his parents, he did not excel in his studies. Reports were sent to his parents of "ill temper", "disobedience" and eventual "mental collapse." The answer to this was to expand his tutorials from seven to eleven hours a day.
Eventually, Bertie was sent to study at universities in Oxford and Cambridge. Between those studies, hoping to pursue a career in the British Army (his mother eventually vetoed the idea), he was sent to Curragh in Ireland, for military training. Whilst there one incident would have a profound effect on the Royal Family.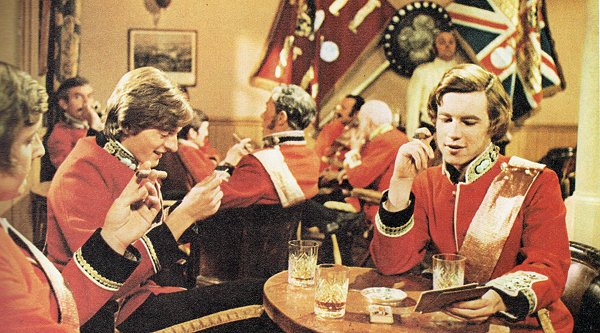 Living near the camp was an actress by the name of Nellie Clifden. The couple indulged in a brief sexual relationship and when Bertie returned to Cambridge the news reached Windsor. Outraged by the scandal, Prince Albert although ill with 'flu' hurried to the university city to admonish his son. Upon returning to Windsor, Albert's condition deteriorated rapidly and the 'flu', (which in fact was typhoid), proved fatal. Victoria though, blamed her husband's death over the 'terrible pain' of the affair. She later wrote of her son - "I never can, nor shall, look at him without a shudder."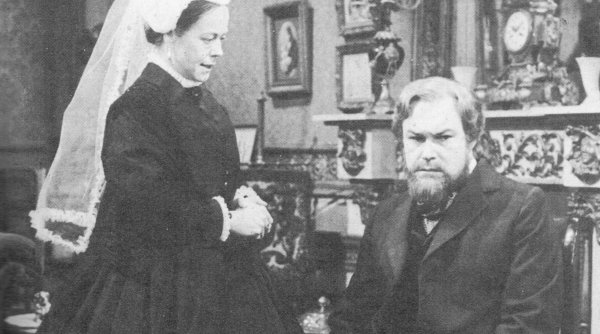 In 1863, Bertie was married to Princess Alexandra of Denmark. It was an arranged marriage. Within a year he became bored with her. After the birth of their first son Alexandra succumbed to an inherited family condition of deafness and was increasingly fatigued. Through most of her second pregnancy she was bedridden with rheumatism. Bertie dealt with this by staying out increasingly late and socialising with friends that the Queen called "pleasure-seeking and immoral."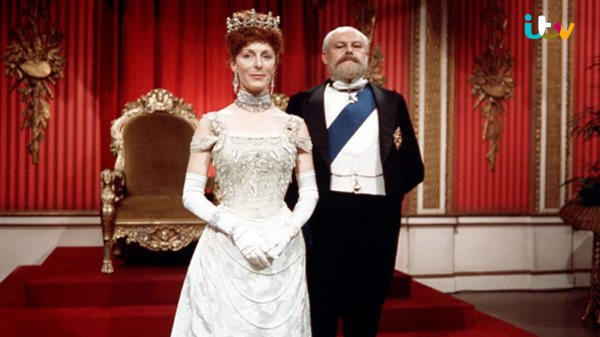 There followed affairs and scandals, as Bertie, not allowed to undertake any serious royal duties by his mother, grew restless and bored. He was sixty years of age before he took the throne. When he did, he chose to reign under the name of Edward VII, instead of Albert Edward—the name his mother had intended for him to use declaring that he did not wish to "undervalue the name of Albert" and diminish the status of his father with whom the "name should stand alone".
As king, Edward VII proved a greater success than anyone had expected. In his short reign he brought the monarchy out of the four-decade long doldrums at court imposed by Queen Victoria after the death of Prince Albert. He made the monarchy more visible to the public, was largely influential in garnering support for naval reforms which were critical to the Navy's successes in the First World War, travelled extensively on Royal Visits paving the way for his government to forge diplomatic alliances with France and Russia, and he ensured that his second son and heir, George V, with whom he enjoyed a perfect father-son relationship, was better prepared to take the throne.
Realising the potential of an epic tale, ATV purchased the rights to Sir Philip Magnus's biography of Edward. It was then down to Cecil Clarke and David Butler to compile the storylines for nine of the thirteen episodes and put together their 'bible' - a break-down of the story, a list of characters, plus sets and locations.
Permission was sought from, and granted by Buckingham Palace to take cameras into the Royal gardens at Sandringham and Windsor and further access was given to view the archives at Windsor where numerous leather-bound books of official records of functions, and watercolour paintings which were particularly useful for costume design, are kept. Furthermore, there were pictorial records which allowed the design team to make exact replicas of clothes worn by the main characters and designer Ann Hollowood went to Kensington Palace where some of Victoria and Alexandra's dresses are still stored.
The production was directed by John Gorrie, who wrote the remaining four episodes, and further locations were used including Norfolk, London's Duke of York Theatre and Shepperton film studios where the movie Oliver! was shot. In all, 120 sets were designed for the series.

For casting the title role went to 40-year-old Timothy West, whose father Lockwood West had previously portrayed King Edward in an episode of Upstairs, Downstairs that was devoted to a royal visit to the Bellamy household. Interviewed at the time Timothy West said, "I was quite daunted by the idea of going back to being 22, perhaps more than I should have been. I only began to feel really comfortable in the part about the end of episode six, when the King is 26 or 27." For the series, West had five different wigs and ended up with his own hair cut short and bleached grey.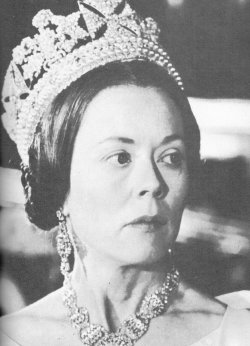 Annette Crosbie perhaps best remembered as the long-suffering wife of Victor Meldrew in One Foot in the Grave, portrayed Queen Victoria. It was a demanding role for the actress who portrayed the Queen from the age of 22 to 82. In the opening episode she wore a dark brown wig, artificial nose and padding to build up her figure. Her make-up artiste, Pat Hay, was full of admiration for her. "Under that much make-up you get hot and sweaty. You have to be careful because it peels off very easily. We wanted to avoid building up the face artificially, but in the end we had no alternative. The body was so padded that the head, without alteration, would have look disproportionate."
Crosbie herself spoke of her discomfort of so much padding and of the costumes she had to wear. "I actually start off with padding. My bosom was never remotely Victoria's size. So I start with a little and end up…bizarre.
"Even so, I never wore enough padding to bring me up to Victoria's actual size. Her bust, towards the end, was almost sixty inches. And if you are small, as she was, and put on all that weight – well, we all know what Victoria looked like.
"The costumes were just inconvenient. They take up so much room. You don't have room to spare, particularly when sets are filled with big, heavy furniture. Put three ladies on those sets, and with those frocks, and believe me it was everyone for herself.
"You couldn't go into the studio canteen, because the furniture of today is simply not built to be brushed past. You take everything with you. So I stopped going to the canteen very early on and sat in my dressing room. Even that was difficult. There was only one dressing room I could use, because it had the only lavatory wide enough for me to get into."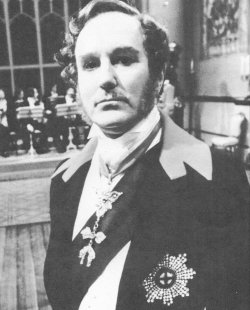 Robert Hardy was cast as Prince Albert. After playing the role he joked that it was some weeks before he stopped talking with a German accent. He stated that from the moment he read the scripts he became hooked on the part. A chance meeting with an elderly friend in Harrods left Hardy with an impression of Albert that was probably widely held. When the friend enquired what Hardy was doing and he replied that he was playing Albert he was told "Terrible fellow. My father knew him well."
"That initial distrust still lingers," said Hardy. "He was, after all, a German princeling, virtually penniless. But worst of all a foreigner. Despite his efforts to fit in, his eventual mastery of the language and his considerable achievements, he remained a 'foreigner' to the end and, in fact, only broke through the aristocracy barrier by actually riding hounds."
After playing the role Hardy said he felt as though he knew him well. "He was never a happy man…I suspect he could have had latent homosexual tendencies but instead was married to this dynamic woman with powerful sexual needs. She must have been quite demoralising. He was a sensitive man. A man of immense nobility. He loved his children and was very good with them, except his son. He was hopeless with Edward, which was one of the tragedies of his life.
"The more I came to know Albert the more apparent it became to me that his marriage was one of his greatest misfortunes. Sometimes I think he had a sort of death wish, and his marriage was only part of that. He did after all die of typhoid caused by the drains at Windsor Castle. His room was directly below Victoria's bathroom!"
The other main character in the series is Alexandra, played by actress Deborah Grant as a teenager and Helen Ryan from her early twenties to the age of 65. Ryan had to wear two corsets for Albert and Alexandra's wedding scene. "One to keep my waist in (Alexandra had a 22-inch waist), and another to give me an hour-glass figure."
Also in the cast were established and distinguished actors such as Sir John Gielgud (as Benjamin Disraeli), André Morell, Jane Lapotaire, Michael Hordern, Harry Andrews, Nigel Havers, Geoffrey Bayldon and Carolyn Seymour. The large cast also included actors who were later to find fame in other television programmes; Felicity Kendal (The Good Life), Charles Dance (Game of Thrones), Gareth Thomas (Blake's 7), Gwyneth Strong (Only Fools and Horses) and Francesca Annis (Lillie) as Lillie Langtry, a role she recreated in 1978 for a 13-part London Weekend Television series in which her relationship with Bertie was covered in greater detail.
By the nature of her long reign, Queen Victoria is featured in the first ten episodes and Bertie's reign as King is covered in the last three episodes. Annette Crosbie was rewarded with a BAFTA for Best Actress. The series, which was sold to 56 countries around the world (in the USA it was shown as Edward the King), was also awarded BAFTAs for Best Drama Series and Best Design.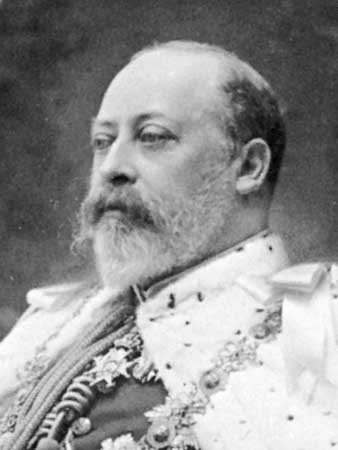 With a careful eye for historical detail, a superior script and exceptional performances Edward the Seventh stands today as a high watermark in quality British drama.
Published on January 1st, 2020. Written by Laurence Marcus - actors quotes from TV Times special 'Edward the Seventh' published in 1975. for Television Heaven.