The British viewing public has always held a great affection for character actors; the performers whose faces are instantly familiar and whose names may, or may not, be just as well known. Victor Maddern was just such an actor. From an early age, producers and directors recognised his star quality, his dependability, and his ever-reliable ability to give a performance that was essential to the success of any production. He was, along with a select few, one of those character actors who were the backbone of the British film and television industry, who could slip from drama to comedies with great ease in his more than 180-plus screen productions - as well as enjoying a theatre career that most would envy. He was in such demand throughout the 1950s and 1960s that one sometimes wonders how he managed to fit it all in. When he passed away in 1993, the entertainment world lost a talent that was described by The Telegraph as being possessed by an actor who had "one of the most distinctive and eloquent faces in post-war British cinema."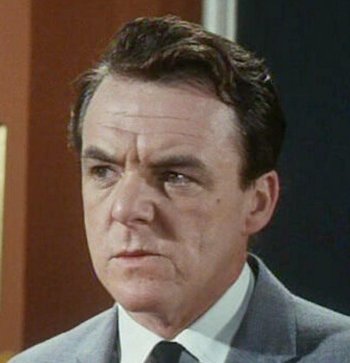 Victor Maddern was born in Seven Kings, Ilford, Essex (now a part of Greater London) on 16 March 1928. He was one of three boys. His father was a bus conductor, but Victor had different ambitions, although his father may well have influenced his later career, according to Victor's daughter, Julie White: 'He (Victor) was rather sad that he didn't get on as well with his mother who was very difficult to please and (it seemed) that whatever the boys did nothing was ever good enough for her. He would have got his acting inclination from his dad, because he said he used to make little stages and theatres and puppet things - but he was a bus conductor, and everyone used to wait for his bus, and they'd let the other busses go by because he was such a character.'  
After leaving Beal Grammar Boys school in Redbridge, in 1943, Victor, at the age of 15, decided that his country needed him and he joined the Merchant Navy to serve in the Second World War where he stayed until the end of hostilities and beyond, only leaving when he was medically discharged in 1946.
Not wanting to return to normal 'civvie' life, Victor decided to pursue a career as an actor and won a bit-part in a 90-minute 1946 BBC production, Morning Departure, which was broadcast live from Alexandra Palace. Whether or not Victor's previous experience in the Merchant Navy helped him land the part is unknown, but the story takes place partly inside a submarine, which is trapped on the sea floor after sinking, and partly in the offices ashore, and was set during the Second World War – over two days in October 1940. As was common for that era, with no tele-recording available to the BBC, the play was transmitted live on two dates; Sunday 1 December and Tuesday 3 December.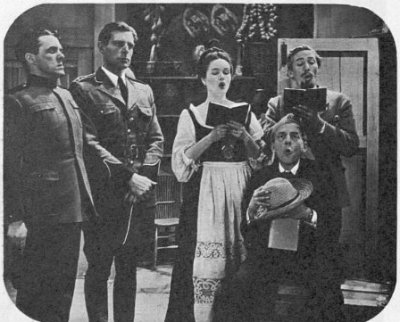 Soon afterwards, Victor auditioned for, and landed a place at the Royal Academy of Dramatic Art (RADA), and following his graduation moved into rep, touring in plays around the country. "While he was in RADA, to pay his way, he taught at acting classes and he went to Goodmayes, where my mum went to church, and taught their drama group," says Julie. "And that's how my parents met. My mum was very protected at that time. She wasn't allowed to go out and meet boys and was expected to look after her mum, almost like a servant." When Victor and Joan Neuville started seeing each other, her mother insisted they had to be chaperoned and she made it quite clear that she didn't want them to get married. She made all sorts of excuses why they couldn't, no matter how flimsy those excuses were. "On the particular day when they planned to wed, she said they couldn't because it was the church bazaar, and she'd come up with things like that."
Years later, after Joan passed away, Julie and her sisters were going through her things. "My sister Gilly found all these love letters he'd written to my mum and on reading them it was obvious that they were very close. He was a really good writer and he loved her so much and the way he expresses himself in these letters is amazing." Examples of how difficult Joan's mother was also comes out in these letters, such as how much difficulty they had in trying to keep it secret from her. "They had a post-box somewhere and when mum went on holiday with her parents, they'd organised a post-box where she could receive his letters. He wrote to her every day." They were married in 1949.
Later that year, on 27 August, the Gloucester Journal reported that Victor had come to the attention of one of Britain's most respected filmmakers: '"He stood out like a sore thumb", said director John Boulting when describing a performance he saw given by 21-years-old Victor Maddern. So impressed was John by Victor that he immediately offered him a small part in his new thriller Seven Days to Noon. This is Victor's first professional engagement - he has just finished studying at RADA - but if John's hunch is right then he is set for a successful career.'
Boulting quickly cast Victor in the role he was familiar with when Morning Departure was given the big screen treatment in 1950. The film starred Nigel Patrick (who had also performed in the TV version), Richard Attenborough, Kenneth More, George Cole, and John Mills. Victor had his first screen credit as Leading Telegraphist Hillbrook. His second Boulting Brothers film followed that same year in the thriller Seven Days to Noon. Once again he was in uniform, this time as army private Jackson.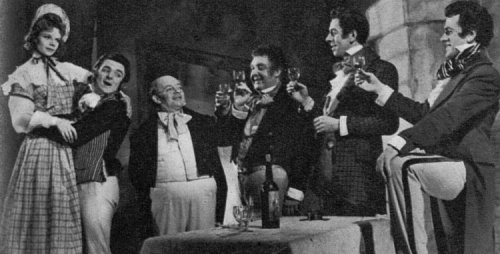 Victor, it seems was destined to portray military types, usually cast as sergeants or corporals, as well as privates, seaman or airmen in many of his films. He carried with him an air of authority that often saw him cast as lower ranking officers, but on stage he managed to throw off this kind of typecasting with great ease. In July 1950 he appeared in The Gentle Gunman by Roger MacDougall, performed at the Arts, Cambridge, and in September 1951 he was at The Royal, Aldershot, in The Picture of Dorian Gray – an unusual version of Wilde's novel as it cast a female actress, Sorrel Carson, in the role of Gray. The Trial of Mr. Pickwick on 15 May 1952 at The Westminster, in which he played Sam Weller, also starred Dandy Nichols, Melvyn Hayes, Geoffrey Bayldon, and Jill Bennett. The Stage, in its review, picked him out; 'Victor Maddern, looking possibly rather smarter than Sam Weller should look, has the right quality of Cockney perkiness' Between this period, Victor appeared in no less than fourteen TV and Film productions.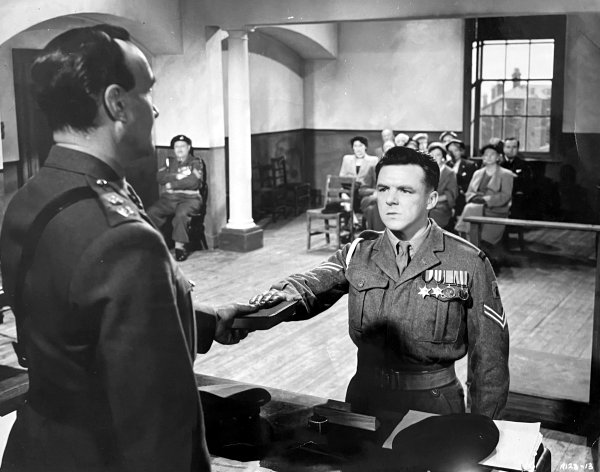 His performance in Carrington V.C. at the Westminster (August 1953) had the Illustrated London News picking him out as 'a character that Dickens might have enjoyed.' Showing his versatility, Victor appeared in Sheridan's musical play The Duenna at the Bristol Old Vic in July 1954. 'Victor Maddern distinguishes himself as the most Cockney of the men-servants in this eighteenth-century Seville' reported the Daily News on Thursday 29 July 1954. Another ten filmed productions fell between this period and in December 1956 he played a wife-oppressed gardener at the Aldwych Theatre, playing alongside Bryan Forbes and Jill Bennett.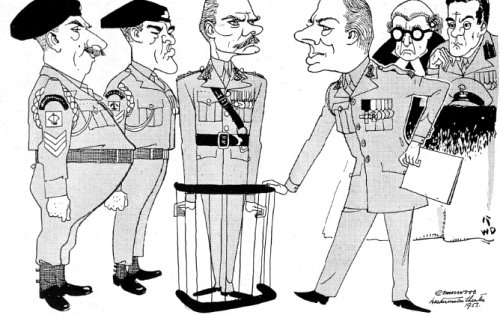 In 1957, Julie got the rare chance to watch her father during filming. "I was in Barnacle Bill, - I was on the beach with my younger sister and my mum, we were digging sandcastles or what-have-you - we were just some of the extras, but I hadn't seen it since I was about five, and a friend of mine bought me the DVD a little while ago and when I watched that scene I shouted, "There I am!" I got paid £8 for that which was quite a lot of money in those days."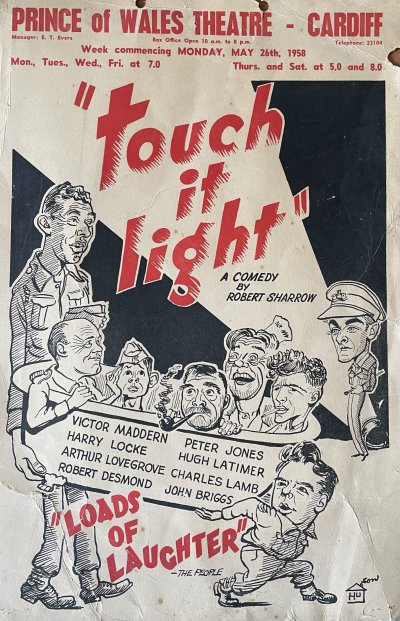 In 1958, following a run at the Strand Theatre, the company, which comprised Victor, Hugh Latimer, Peter Jones, Jon Pertwee and Johnny Briggs, took to the road with Touch it Light – first to the Prince of Wales in Cardiff, then the Manchester Palace and then at the King's Theatre Southsea. The Hampshire Telegraph, reviewing the play, made special mention of Victor who played "Tommo" - a not particularly bright or articulate example of the British soldier 'but played by Victor Maddern, he makes you sympathise with him in his somewhat heavy attempts to keep his small authority and a little discipline. His blank, uncomprehending expression is wonderful.'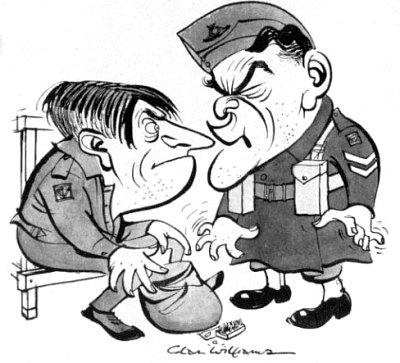 Following a tour of Dispersal - a play about the R.A.F. starring Victor, Daniel Massey, Stratford Johns, Peter Bowles and Jill Bennett at the Belgrade Theatre Company, Coventry in 1959, The Stage enthused over his performance when he took the lead in Seaman Leading at the Oxford Playhouse in June 1960. 'For all those who appreciate barrack room, dock-yard humour, the play will obviously attract, particularly if they also relish the slap on the jaw delivery of Victor Maddern.'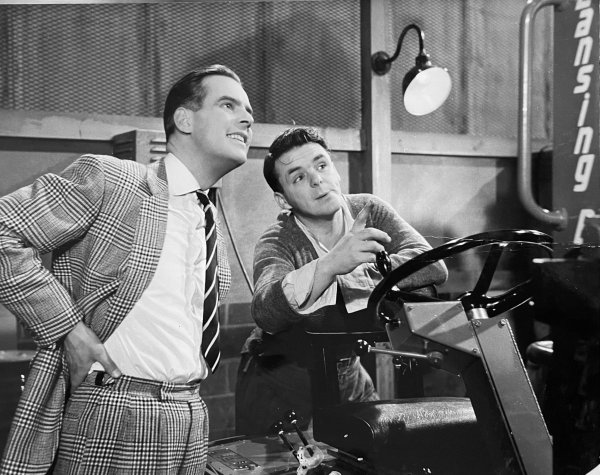 It was John and Roy Boulting's decision to get Victor to switch to comedy and have a chance to show the other side of his acting talents. They cast him in their classic management versus unions satire I'm Alright Jack in 1959, which starred Peter Sellers in possibly the best role of his career. Ian Carmichael also starred in the film and became a close friend. As a result of that switch, in 1960, Victor landed his first television series – the sitcom Mess Mates which starred Dermott Kelly (The Arthur Haynes Show), Fulton Mackay (Porridge), Archie Duncan and that other prolific character actor Sam Kydd (Orlando). The series, made by Granada Television, concerned the crew of a small and battered cargo ship, SS Guernsey, plying around Britain's coast, which is led by the Mate, 'Tug' Nelson (Victor), a work-shy Cockney schemer who has the gift-of-the-gab and an eye for a dodgy deal. Later that year, Victor was cast in the first of his five Carry On films.
Away from comedy, more serious drama roles were performed on stage – as the First Grave Digger in Hamlet, at the Strand from 20 June 1961, starring Jeremy Brett, and in April 1964 in Caligula at the Phoenix theatre with Kenneth Haig in the lead role.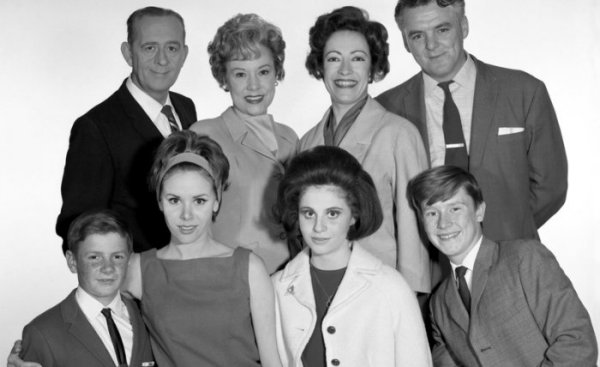 In 1962, Victor, along with British actors Dennis Waterman and Judy Carne were cast in a US television series which attempted to break new ground for situation comedy. Fair Exchange was a hands-across-the-ocean comedy concerning two middle-class families. Eddie Walker (Eddie Foy, jr.) and his wife Dorothy (Audrey Christie) were based in New York whilst Tommy and Sybil Finch (Victor and Diana Chesney) lived in London. Eddie and Tommy had been wartime buddies and now had teenage daughters who wanted to experience new surroundings. So it was agreed that the two girls would swap families for a year. Scenes alternated between the US and Britain, although the entire series was shot in America. "It became a joke," says Julie, "they had this mews house and every time there was an English scene, and they opened the door, there was this sheet rain." Expectations for the series were obviously high. "We went to America for eighteen months. We stayed in Hollywood." She and her younger sister went to school there. "When we went out there, we were potentially going to be out there for five years."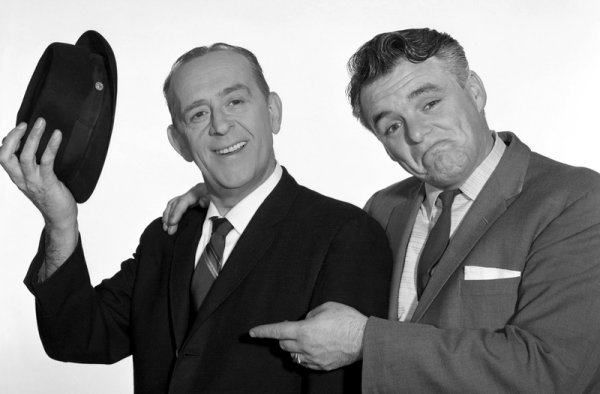 The series begun as an experiment in full-hour comedy but only ran for three months before being cancelled. CBS received so many complaints from viewers about the cancellation that they brought it back the following year in a more conventional thirty-minute format, but it did nothing to improve its fortunes and Fair Exchange was cancelled for a second time. This time permanently. The series was never broadcast in the UK. However, Victor did make one other appearance on US television in an episode of Perry Mason as jewel smuggler Gilbert Tyrell, in the 1963 episode The Case of the Floating Stones.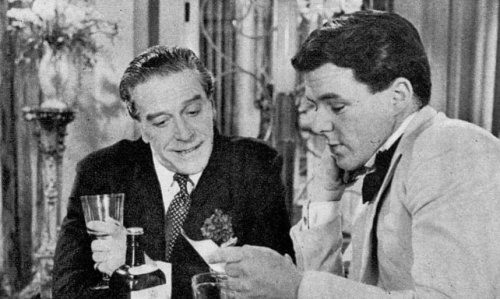 In August 1964, Victor starred in a single play on BBC2. Broadcast just a few months after the channel had begun broadcasting, The Unknown Citizen merited a mention in The Stage which once more enthused over his performance. 'The more things change, the more they remain the same. Here we are with a brand new channel, a brand new UHF system, all the new techniques, new faces, new names, and up comes a play--a very good play, very well done--that takes us... right back to the days when sound radio did its very best dramatized documentaries. The Unknown Citizen had all the finest qualities of the sound documentary plus several visual ones of its own. Victor Maddern gave a remarkable and haunting performance that in the cinema or the theatre would have admirers of fine acting queuing at the box office for weeks. In the theatre, his final speech alone would guarantee him a dozen curtain calls.'
In The Unknown Citizen, Victor played an alcoholic tramp – "he was very proud of that." Says Julie. "He had to work himself into the part, so he was quite happy." The drinking side of the role hid a secret that he managed to keep from the public. "The entertainment world, being very much part of the social and entertainment industry and being surrounded by the after work hospitality has its consequences and he was not immune to it." He began drinking heavily.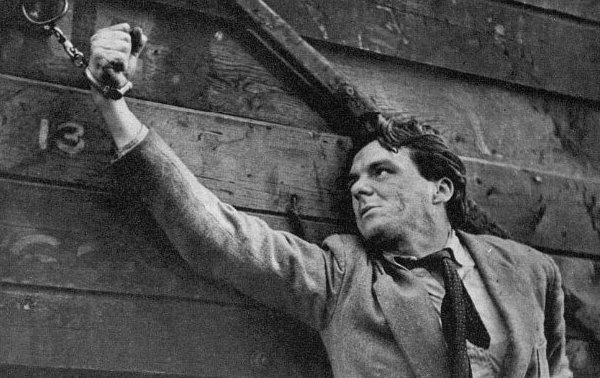 "Although he never lost any work over it. I remember when he was trying to get himself dry again, he'd go to bed for a week and we wouldn't see him. Then he'd come out and be alright for a while. He'd never drink while he was working at all, but it must have been very tough to switch it on and off. He understood alcoholism and he was allergic to drinking it." Victor was wise enough to deal with it before it became a problem. "Thus (he) turned to AA (Alcoholics Anonymous) for Support because he didn't want to be a victim. Every path leads us somewhere and his led to helping others to handle their own problems. Sometimes he'd get a call in the middle of the night to support his AA 'buddy' who might be struggling, and he'd talk them through it or visit them. Because he got help when he needed it, he was always ready to help anyone else. I am very proud of him for that." According to Julie, Victor wasn't drinking for the last ten years of his life. "My mum had to make sure she didn't put sherry in the trifle or brandy in the Christmas pudding because she was so frightened of setting him off again. He was never a violent drunk, just a jovial drunk. Every pub in the vicinity knew him well." 
In order to further repay the help he'd had from AA, Victor organised a charity record to raise funds for the organisation. "His first idea was to get his celebrity friends to recite The Lord's Prayer because it would be different for each of them, but then decided it would be a bit boring, so they ended up doing their own things." His charitable work also included being a Freemason.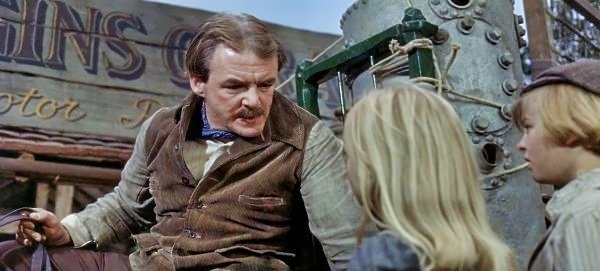 Throughout the 1960s it seemed as though Victor Maddern was hardly off our screens. On television he had parts in The Avengers, The Saint, The Baron, Harry Worth and Doctor Who ("We went to the set when he was in Doctor Who and they let us view it from the top. It was quite fun"). In 1968 he appeared at the beginning of Chitty Chitty Bang Bang as the scrap merchant who wants to buy the broken car in order to "put her in the clapper and crush her up!" Also in 1968, he began a long association with the comedian Dick Emery, and up until 1981 appeared in twenty of The Dick Emery Show series, more often than not playing the exasperated son-in-law of Emery's old soldier, Lampwick.
Victor's appeal showed little sign of diminishing in the 1970s with parts on television in Softly, Softly: Task Force, Six Dates with Barker, Paul Temple, Crown Court, Dixon of Dock Green (for which there is a famous out-take in which Victor struggles to say the words "down Dock Green nick"), and You're Only Young Twice. In March 1970 he won praise again for his stage performance in My Darling Daisy at the Lyric theatre in Shaftsbury Avenue. Although the play was not so well perceived by the critics, the Sunday Mirror found column space to note that Victor as a vulgar American bounder Frank Harris 'enlivens the tedious drawing-room air.'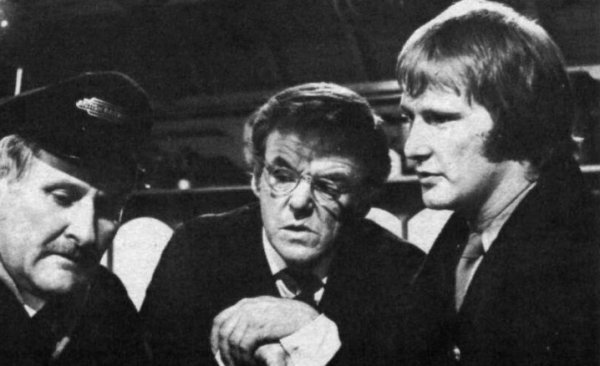 In 1971 he appeared in a three-handed play on ITV titled The Signalman's Apprentice, which was made by Anglia. His co-stars were Dennis Waterman and Peter Vaughan, but it was Victor who was once more singled out for praise by Patrick Campbell writing for The Stage: 'In Brian Phelan's sadistic tale of violence and murder in a disused signal box. Victor Maddern carried off the acting honours with his deeply etched study of a limited brain trying to cope with events outside either its experience or its control. His Alfred was truly alive with all its bitter pathos of the assistant signalman who, 'in forty years, has never been taught the emergency bell signals.''
As the 1970s drew to a close, Victor played Long John Silver in Treasure Island at Lambeth Town Hall and as the 1980s began he could be seen in the Southern television daytime soap Together, which was set in a sheltered accommodation block run by an on-site warden ("The walls would move - we were so embarrassed - we didn't want him to be in it.") But as the 1980s progressed Victor Maddern began to take things a little easier. He did two stints in the highly successful Agatha Christie play The Mousetrap - the longest-running production in London's West End. There were appearances in That's My Boy, In Loving Memory, Agatha Christie's Miss Marple, The Beiderbecke Tapes, and a run in a children's drama titled C.A.B. In August 1985 he appeared in Fighting Chance at the Apollo – a play set in a rehabilitation centre for those suffering neurological disorders. In the 1990s there were roles in The Bill and EastEnders and one final screen appearance, in 1992, in The Darling Buds of May.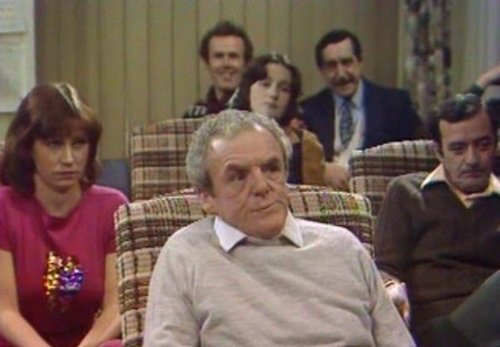 Looking back now, Julie remembers the life that she and her three sisters had with their mother and father. Julie was aware that her dad was famous but following an incident at school when she was five, she kept it fairly quiet. "I was at school and I must have been boasting about it because a boy grabbed my hat and threw it over the wall. I was in tears and thought 'I've had enough of this' and became quite reluctant to say anything after that." But having a celebrity father didn't necessarily mean having a celebrity lifestyle. "We didn't have a showbiz life although we used to meet showbiz people from time to time. He was an honorary chairman at a football club in Hornchurch and was friendly with Jimmy Greaves. Once a year they would have a charity match - Victor Maddern's Celebrity Team which he compiled, so we used to get people like Frank Ifield, Jeremy Brett (who Julie had a soft spot for), Des O'Connor and others who would all bring their families and come to our house before going to the match."
Despite his somewhat gruff screen personae, Victor Maddern was very different at home. "Both parents were a little distant because when he was working they were away and when they were home or working in London we saw them at weekends," says Julie. "We had a nanny and a housekeeper, but because of that we had special time together at weekends, so we didn't feel as though we missed out on anything."
"I went to convent when I was eight and the others went to drama school. But they didn't continue, although my younger sister became a drama teacher, and she is still teaching. When I was growing up I always wanted to be an actress, I wanted to be Hayley Mills, actually, and I think dad would have like that as well, although he never pushed me into it. But I was too shy, even though I thought it was expected of me and used to pretend. From the age of twelve I was always doing my mum's hair and I was always good at that even though I was not trained. She was always complimented on her hair, but she never said that I'd done it and dad said, 'I think you ought to do that' and he got me a job at his hairdresser at Philip of Mayfair in Brentwood, and I was Philip's apprentice and I've been in hairdressing from the age of fifteen."
Besides acting, Victor ran a mushroom farm in Essex for a while. "It was too successful" says Julie. "My mother ended up having to pick all the mushrooms, and sometimes if there was a bank holiday or something and people didn't want to come, there was three great big, long sheds of mushrooms and she'd be out there all day and into the night. So that ended and then he tried to have a rabbit farm. He used to say 'we must have the only gay rabbits, because they won't breed.' He had a contract after that to collect scrap wood and he had machinery to remove all the nails, then sand it. There was always something going on."
He and Joan also ran Scripts Ltd, which turned the lines for films such as The Inn of the Sixth Happiness and Lawrence of Arabia and television programmes including London's Burning into working scripts. "They started that early on when we were very young. It was my mum's business really. They printed scripts and they had these up in London - great big print machines that'd take up a whole room. The scripts he got were hardly readable or they were rubbish and he saw a market for that, and they became very well known for supplying scripts to all the well-known studios. My mum would have authors come in with their manuscripts and they'd proofread them and have them ready to send to their publishers. She did all Joan Collins as well as Jack Higgins' work and they had two old ladies with her, so these three ladies were doing all this work on their own. Jack Higgins used to visit them and apologise for all the swear words in his books and they told him not to worry. "We type those with our eyes closed" they said. They did this until computers came along and the studios could do their own."
His wife was also on hand to help Victor in the roles he played. "My mum had a photographic memory, which was amazing, so when he was learning lines, she'd play all the other parts off the top of her head and he'd be learning his bit."
In 1991 Victor opened a public speaking school, The Talking Point, which coached people in public speaking and numbered many politicians among its clients. By this time, Victor was finding it difficult to land many acting parts due to his refusal to do shows with too much profanity or unnecessary violence. "He made a point of it, and he was adamant that he was blacklisted because of it for several years. Towards the end of his career the BBC wouldn't have him because (they decided) he was a troublemaker. That was before he went into The Mousetrap and that's why he went back to the theatre. When he came out of that he wasn't offered work. But he was a man of principle and stood by his beliefs."
He was quite a spiritual man and his Christian beliefs stayed with him all his life. "My nana got remarried and my step-grandfather was Canon Hugh Smith of Goodmayes who was the Chaplain-General of Prisons, and my dad and he would talk into the late hours of the night about all sorts of things. After my nana died, my parents looked after him."
In the early 1990s, Victor, who had previously moved to Suffolk with his wife, began to be concerned by his health. "We'd all go and stay there for BBQ's and Christmas and on one visit mum said dad was experiencing pins and needles in his face and he thought it was because his glasses were pressing on his nose. He had a motor home, which he crashed or scrapped along the side or something because his spatial awareness had become impaired." Seeking medical advice, Victor went for tests, and he was diagnosed with a brain tumour.
"He had an operation and we went to visit him in Barts and he was talking about producing a play and he was talking about all the things that were going on as if this was really happening. He talked about all the actors and the things they got up to and this whole thing, as if it was real, which it wasn't. The last thing he did was in Darling Buds of May in which he played a fairground owner, a friend of Pa Larkin (David Jason) who took the fairground to the village and then he was beaten up by some yobs, and he had this bandage round his head and when we saw him in hospital, he had this bandage round his head exactly the same as in the programme." He was later transferred to St Joseph's hospice. "We went there once or twice but he wasn't aware. He was unconscious and there was a lovely young man sitting beside him holding his hand. Soon after he passed away quietly." Victor Maddern died on 22 June 1993 – he was just 65 years old.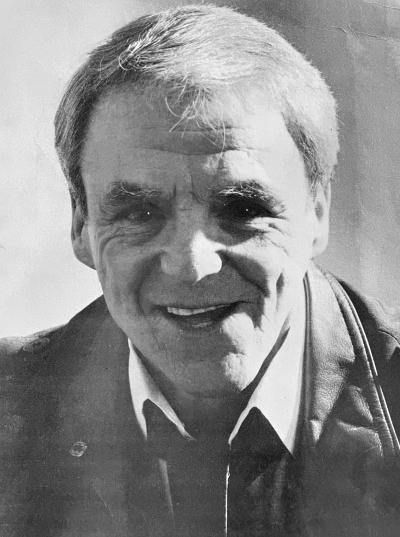 "He had a good life, he lived it thoroughly. My mum lived another seven years after that." Julie remembers the happy times with her father, and often thinks of him in semi-retirement, sitting on his lawnmower at his Suffolk home.
'If ever there was a character actor that epitomised the post-war British film industry, it was Victor Maddern,' wrote Henry Hardcastle. 'His craggy features were known to everyone who visited the cinema between 1960 and 1980 or watched television up until 1990, yet few could remember his name.' This is certainly true as far as modern audiences are concerned, but at the peak of his career, Victor was a well-known actor who added quality to any production, either in minor roles or as a leading man, and for a career that can only be described as prolific, his name fully deserves to be remembered.  
"I'm always surprised when people remember him because he was just my dad," says Julie, "but people obviously thought highly of him, which is lovely."
Published on July 29th, 2022. Written by Laurence Marcus with special thanks to Julie White for Television Heaven.