Chelmsford 123
1988 | United Kingdom
Review: John Winterson Richards
The situation comedy set in Ancient Roman times has become something of a sub-genre of its own. It began, of course, in Ancient Rome itself, with the stage plays of Plautus and Terence, which were then topical. Yet it is strange how that tradition has continued, and how comedy keeps returning to High Republican and Imperial Rome more than to any other time and place.
Feature films include 'A Funny Thing Happened on the Way to the Forum,' 'Carry on Cleo,' 'Gladiatress' and 'Horrible Histories: Rotten Romans,' while on television we have had Up Pompeii - later also a film - Plebs, and Chelmsford 123 in between them.
All these projects are based on the same basic gag: the old Romans are portrayed as being much like modern Britons, or rather how modern Britons perceived themselves when they were filmed (the film version of 'A Funny Thing...' was an Anglo-American production with more of an Anglo feel to it).
There are obvious parallels. Britain had an Empire like Rome, and was proud of it like Rome - and indeed liked to compare her Empire with Rome's - but by the 1960s that Empire was well into its own Decline and Fall, again just like Rome. At the same time, Britain had a strict class system like Rome's, but also a subversive tradition of mocking it - so, surprisingly, did Rome: Plautus, the father of Latin comedy, was a carpenter and Terence was a freed African slave.
Most significant of all is that, beneath all their grandeur and pomposity, both had a vulgar streak. In the 1960s, as working class traditions were entering the British cultural mainstream, hitherto the exclusive domain of the upper and middle classes, academics began to be more open about the Roman equivalent, long suppressed by respectable classical scholarship. Frankie Howerd's cunning slave Lurcio in Up, Pompeii is straight out of Plautus, but also a recognisably 1960s figure.
By the late 1980s, it was no longer possible to play out modern class conflict using the analogy of slavery. So Chelmsford 123 uses the relationship between the occupying power of Rome and the native peoples of a conquered province - in this case, ironically, Britain - to satirise the perceived class divisions in the United Kingdom under Margaret Thatcher.
It is perhaps paradoxical that this was the work of actor-writers coming from a fairly left wing show who had then taken that most Thatcherite of paths by setting up their own company.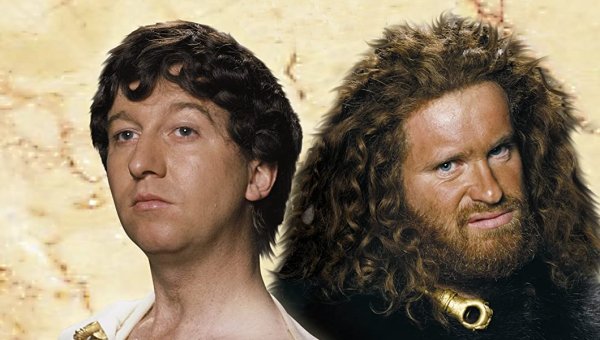 Jimmy Mulville and Rory McGrath had been working together for five years on Who Dares Wins, Channel 4's valiant attempt to fill the gap left by the BBC's Not the Nine O'Clock News, with which both had connections as well. Other Who Dares Wins alumni included the talented composer Philip Pope, who was also to star in Chelmsford 123, and Tony Robinson, in whose career Roman Britain was to play a significant but altogether different role.
In 1986, Mulville and McGrath, together with Mulville's future wife, founded Hat Trick Productions. Although Hat Trick was destined for a long chain of successes, including Drop the Dead Donkey, Whose Line Is It Anyway, Episodes, and Have I Got News For You, that was all in the unforeseen future. Meanwhile, Chelmsford 123 was the new production company's first actual commission.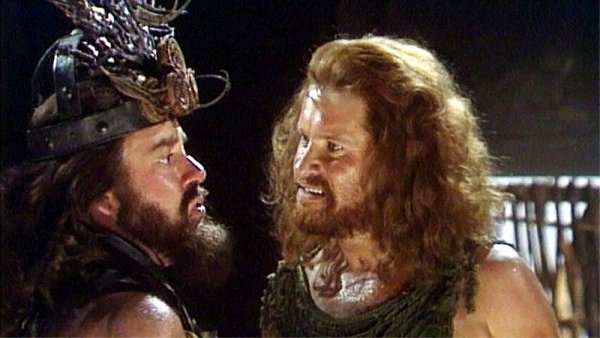 In format and style, it is a fairly straightforward "situation comedy." It is only the situation that is relatively unusual. Ambitious Roman aristocrat Aulus Paulinus, played by Mulville, finds himself effectively exiled to the low status province of Britain. He is at least given the rank of Governor, but this proves to be something of an empty title because it is the wily local chieftain Badvoc, played by McGrath, who is really running things around the provincial capital of, er, Chelmsford.
Aulus Paulinus seems to be an amalgam of three real life Roman Governors of Britain: Aulus Plautius, the first to hold the office, who led the successful invasion of the island in 43 AD; the truly formidable Gaius Suetonius Paulinus, whose textbook suppression of the Boudicca Revolt in 60 AD was as ruthless as it was efficient; and Aulus Platorius Nepos, who really was the Governor of Britain in 123 AD, and who built Hadrian's Wall. Mulville's Aulus, however, is not quite so accomplished as any of those three gentlemen.
Badvoc has no historical equivalent. Although it is a matter of fact that, in Britain as elsewhere, the Romans preferred, where possible, to rule though local tribal chiefs or kings, they left no one in any doubt who was in charge. So the situation presented in Chelmsford 123does not exactly represent historical reality.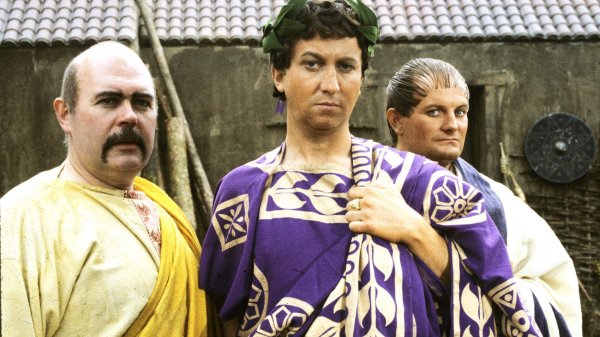 Nor is it meant to do so. As usual with this sort of show, it is really all about modern Britain. There is no real ethnic distinction made between the Roman and British characters, except the former talk and act more like upper or middle class Britons of the 1980s, while the latter talk and act more like working class Britons of the 1980s.
Aulus is therefore the newly appointed manager, eager to make a success of his post, and Badvoc the cunning foreman, more concerned with looking after his own interests and maintaining his leadership among his fellow workers. It is a universal comic paradigm.
Both actors knew what was expected in these roles and delivered. Not knowing either of them personally, one suspects Mulville was playing Jimmy Mulville and McGrath was playing Rory McGrath. If this is not the case, then it is a great tribute to their acting skills that both fitted their parts so perfectly. It was the first time they shared the leading roles in an episodic production, and it is a pity that it turned out to be the last. They had the chemistry of a great comic duo.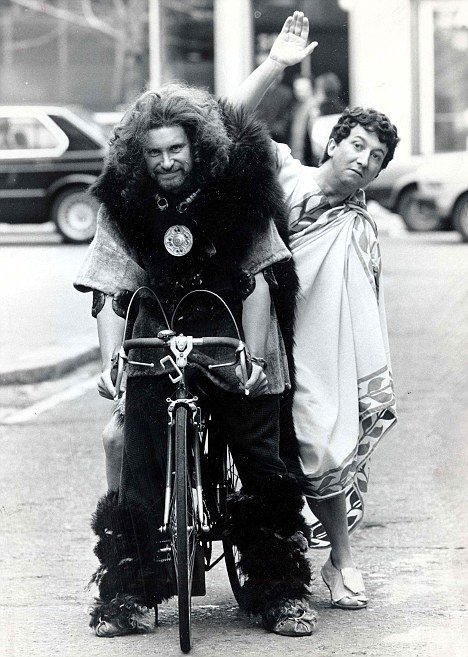 In the event, Mulville, doubtless encouraged by the success of other producing projects that followed soon after Chelmsford 123, became more interested in that side of his work and has appeared in front of the camera relatively infrequently since then. By contrast, it seems McGrath became bored with production and eventually left Hat Trick.
If Chelmsford 123 is therefore best considered as Mulville's apprentice work as a producer, it shows that the one gift he had from the start was an appreciation of talent. The show had a memorable supporting cast and the actor-producers, to their great credit, were not afraid to share the laughs among the rest of the characters.
Perhaps to give himself a bit more confidence in his first production, Mulville brought the experienced Philip Pope over from Who Dares Wins to be his character's "exposition guy" in the form of Aulus' slimy brother-in-law Grasientus. It was a wise decision. Pope added value in the role - and also wrote the theme tune.
For Badvoc's "exposition guy" Mungo - the Many Surnamed - they went in another direction and selected the then relatively unknown Neil Pearson. He made good use of the opportunity. Hat Trick were so impressed that they went on to cast him in their next big "sitcom," the highly successful Drop the Dead Donkey, which was his major breakthrough. After that, there were a few years when he seemed to be in everything.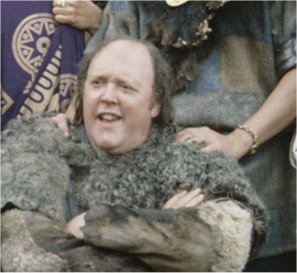 Howard Hew Lewis played another Badvoc henchman, Blag, as a brainless hulk - at around the same time that he was playing a very similar character, Rabies, in Tony Robinson's hugely entertaining children's programme Maid Marian and Her Merry Men for the BBC. In real life, Lewis was in fact a noted bibliophile.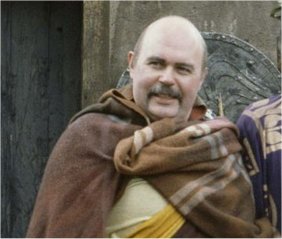 Geoffrey McGivern was great fun as an entrepreneurial Welsh druid, who sold, among other things, military jockstraps. Apparently you had a choice of  styles: "Skull of Doom," "Death Hawk," and "Dopey the Frog." Guess which was the only one he happened to have in stock.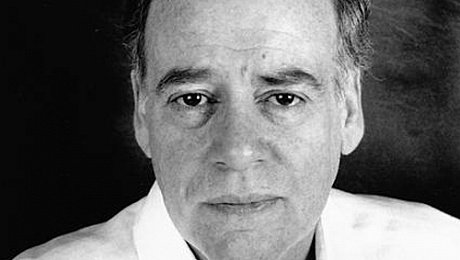 National Theatre of Brent veteran Robert Austin deserves credit for investing the word "Romford" with more feeling than anyone in history. It is a pity that more use was not made of his character, a Roman with a foot in both camps, having married a Briton.
Being shown on Channel 4, which was not much watched at the time, Chelmsford 123 never quite reached the "cult" status it might have attained had it been on the BBC. Nevertheless, it was a well observed, well written, and well played satire, and had a lot of very funny moments which tend to stick in the mind and be fondly remembered by those who watched the show ...even if the memory of Rory McGrath charging over a hill stark naked but for a "Dopey the Frog" military jockstrap is one that you might wish did not stick in the mind.
It deserved to be better known at the time and deserves to be better appreciated now. Viewed in retrospect, it is more about the 1980s than about Roman Britain, and as such it really is a minor classic, so to speak. Plautus and Terence would surely have enjoyed it.
John Winterson Richards
John Winterson Richards is the author of the 'Xenophobe's Guide to the Welsh' and the 'Bluffer's Guide to Small Business,' both of which have been reprinted more than twenty times in English and translated into several other languages. He was editor of the latest Bluffer's Guide to Management and, as a freelance writer, has had over 500 commissioned articles published.
He is also the author of 'How to Build Your Own Pyramid: A Practical Guide to Organisational Structures' and co-author of 'The Context of Christ: the History and Politics of Rome and Judea, 100 BC - 33 AD,' as well as the author of several novels under the name Charles Cromwell, all of which can be downloaded from Amazon. John has also written over 60 reviews for Television Heaven.
John's Website can be found at John Winterson Richards
Published on May 21st, 2020. Written by John Winterson Richards for Television Heaven.